Wondering about how to make money online for free? You are at the right place. Free money-
making ideas may seem like an oxymoron in the real world, but they are completely possible in the
cyber world where the rules of the game are different. You can create an online business without
investing anything and turn it into a million dollar company.
The internet has made it possible for anyone to earn income from the home. You don't need to have a
large amount of capital to establish an LLC to make money online. There are a plethora of online money
making opportunities that require no investment.
How to Make Money Online FREE or without Paying Anything?
The online world is bustling with money-making opportunities. All you need to do is to look in the right
direction to find effective ways to earn income online. Here are some useful online money-making ideas
that will allow you to earn a living.
1. Monetize Your Blog Site For Quick Cash
A great way to earn money online is to monetize your blog site. If you love expressing your thoughts in
an engaging manner, you should definitely consider this option.
A lot of people are blogging and making tons of money.
You can select any topic that you think your readers will find interesting and start writing. You can write
about cooking, travelling, adventure, games, business, sewing, and other interesting topics.
You don't need to have an MA in English or a copywriting certificate to start blogging. Just open the MS
Word or whatever word processing software you're using and start typing your thoughts.
Once your blogging site attracts a lot of online traffic, you can monetize it in many different ways.
Sell Product or Services — You can sell your own products or services to customers through the
website.
Affiliate Program — You can sign up for affiliate programs such as ShareASale Affiliates, Amazon
Associates, Shopify Affiliate Program, and StudioPress Affiliate Website. With affiliate marketing,
you will get paid for sales or traffic generated from the referrals.
AdSense Program — AdSense programs include Google AdSense, Media.net, AdBrite, PopAds,
Infolinks, and PopCash. These are contextual ad networking sites that pay you when users click
on or view the ads.
One important thing that you should remember is to diversify your blog site income source. A lot of
people have narrated the horror of having their AdSense account banned that put a stop to their online
income. You should monetize your blogs in different ways so that the disappearance of any one source
of income doesn't feel like a ton of bricks falling on you.
2. No Investment Freelancing Gigs
You can also earn an income online by offering services through freelancing websites. This is a great
opportunity to earn a living as a freelancer. You can offer accounting, web designing, graphic designing,
website development, copywriting, editing, fashion designing, and many other services to customers
through a freelancing site.
The best freelancing sites include Freelancer.com, Hubstaff Talent, Fiverr, Freelancer, and Upwork.
To offer freelancing services, all you need is a reliable internet connection and a laptop or PC. You
should determine how much money you will charge to the customers as a freelancer.
You need to create a portfolio website to attract customers. The portfolio site should contain samples of
your recent work. You don't need a paid hosted site with a custom domain for your portfolio page.
You can create a website and domain without paying anything by signing up for a free account on
Wix.com or Weebly.com. The page should contain three sections including About Me, Portfolio, and
Contact me page.
3. Do Online Surveys For Money
Not many people know that they can make a decent living by simply filling out online surveys. You can
participate in online survey programs by signing up with Swagbucks, Toluna, OnePoll, LifePoints, i-Say,
and Google Option Rewards.
The online survey sites pay you for each survey completed. To make the most money, you should sign
up with multiple paid survey sites. You need to cast your net wide since you won't qualify for all the
surveys. In addition, you should also consider creating a separate email for survey sites so that you can
receive all the emails in one place.
4. Create An Online Consulting Service
You can also set up online tutoring or consulting business without investing anything. There are lots of
different areas for offering consulting business. You can offer business, accounting, or legal consultation.
Moreover, you can also offer consultation for networking, IT, and implementing a green business
process.
Make sure you have the credentials to back up what you are offering. People won't trust you unless you
have a solid experience and successful track record in the field. Consider taking online courses to build
up credibility regarding your services.
The best thing about offering consultancy services is that you don't have to leave the office to provide
services to the clients. You can offer services through online chat and video conferencing tools. If you
have solid experience and knowledge regarding a particular subject, people will be willing to pay big
bucks for your workshops or classes.
5. Leverage Social Media To Make Money Fast
Today, digital media has become the mainstream advertising medium for most businesses. Small and big
businesses are spending thousands of dollars on promoting their products and services through social
media marketing. You can offer social media management services to companies. If you know how to
make Facebook, Twitter, or Instagram posts, you won't find any difficulty in managing social media
campaigns of businesses.
Apart from offering social media marketing services, there are lots of other ways in which you can earn
through various social platforms.
You can become a global influencer if you have hundreds of thousands of fans on social media channels
such as YouTube, Twitter, Facebook, or Twitter. Experts foresee that social influencing will become a
$10 billion market by 2020.
To connect with brands, you can sign up with Brandwatch. Signing up for an account will allow brands to
find your profile. You can communicate with the brand through the platform and negotiate payment.
In addition, you can directly connect with brands to promote their products through your social media
channel. In fact, most influencers have said that sponsored content makes up the majority of their
online income.
Another way you can monetize through the social media page is by promoting affiliate products of
unknown brands. You can head over to ClickBank to find products that you can promote on your site.
Also, you can find products to promote at Amazon Associate.
You should consider joining YouTube Partner Program if your videos receive lots of online views. To
become eligible for the program, you need to have more than 1,000 subscribers and over 4,000 public
watch hours in the past 12 months.
Lastly, you can make money through your social media channel by promoting your own products or
services. You can promote your eBook, video course, app, or any other products to your social media
followers.
6. Make Money By Doing Podcasting
Not many people know that podcasting can help them earn money online. If you're good in communication skills, you can monetize it by creating podcasts.
The fact is that podcasts have become increasingly popular, particularly in the US. Nearly half of the US
population listens to podcasts on a regular basis. If you are able to build a large following, you can use
the medium to make money online.
First, you should select a popular niche market for your podcasts. For instance, a lot of people like
fishing. You can gain a sizeable following by creating podcasts regarding fishing. Other interesting
podcast topic ideas include pet training, healthcare, tech news, and gaming world.
You will have an easier time building audiences if you target a niche market. Once you have selected a
topic, you should create a script for the podcasts. While you can also speak what's on top of your mind,
it won't likely result in the best impression.
Try to make the podcasts interesting by including facts and examples. This will help you create a loyal
following for the podcasts. Also, make sure that you use a high-quality microphone with noise
suppression feature for recording the podcasts.
Once you are able to build a loyal following, you can monetize the podcast channel in different ways.
Get a sponsor — You can get sponsorships to make money from podcasts. Podcasts such as $100 MBA
show and Entrepreneur on Fire generate thousands of dollars through sponsors.
Promote Products/Services — You can promote your own or affiliate products and services on the
podcast channel. For instance, if you are a business consultant, you can ask listeners to visit your
website for discounted prices on workshops or counselling sessions. You can also sell audio-books to
your listeners.
Virtual Summit — You can organize a virtual summit or digital conference that podcast audiences can
attend for a small fee. This is how I managed to do various events like Traffic Millionaire Summit, were i was able to
generate about $20,000 plus income and increase my email subscribers by 3,000.
Make Money Fast Today
The online world is full of money making opportunities. All you need to do is to look at the right place
for the right opportunity. The post will serve as an inspiration for you to make money online.
Remember that success in the cyber world requires the same traits required in the real world – patience
and persistence. You need to work on the potentially profitable money-making idea and keep trying
until you see money rolling in your bank account.
About The Author
Your Millionaire Mentor
Shaqir Hussyin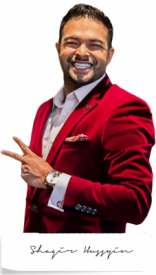 Shaqir Hussyin is the founder and CEO of Shaqirhussyin.com & Funnels.com Nicknamed the "Backpack Millionaire", he's invested $350,000 into his own education and training. Whilst traveling to 100+ countries, Shaqir has built over 10+ million dollar brands and attracted over 500,000+ subscribers.
His signature program is now available at: CreateDigitalCourse.comspecially designed for aspiring entrepreneurs wanting to start their online business with their very own high paying product.
Shaqir is also a highly sought-after speaker and direct response "Sales Funnels" global leader you can meet in person. His work has impacted over 100,000 businesses in 65 different countries. Connect with Shaqir on Instagram, YouTube, LinkedIn & FB Group.

https://wealthacademy.com/wp-content/uploads/2019/07/make-money-online-free-1.png
315
560
Shaqir Hussyin
https://wealthacademy.com/wp-content/uploads/2018/02/logo-plain.png
Shaqir Hussyin
2019-07-23 09:05:22
2019-07-12 02:35:19
How to Make Money Online for Free