Want to make money online? Well today you'll learn how to make money online as a beginner in 2019. Let's face it, e-commerce is growing at an unbelievable rate. In the US, consumers spent nearly $513.61 billion on various e-commerce websites in 2018. Worldwide online sales amounted to nearly $2.86 trillion, and this figure is expected to double by 2021.
The above e-commerce trends show that most buyers prefer to buy online. If you want your slice of a
trillion-dollar pie, you should invest in an online business today.
Fortunately, you don't need to invest a large sum of money to create an online presence. The post will
reveal a few tips on how you can make money online without much investment.
Setting Up An Online Store To Make Money
One of the best ways to earn money online is to set up an online store. The best thing about online
businesses is that you don't have to invest a lot of money to create an online store. With just a few
hundred dollars worth of investment, you can start a business and earn a substantial amount of profit.
You can set up an online business by following these three simple steps.
1. Create a website
2. Host the website online
3. Market the business
It's that simple!
While setting up a business is easy, ensuring its success is a whole new ballgame.
So, how can you create a successful online business? How do you know which business will click and let
you break away from the 9-5 rat race? What steps are required to achieve online business success?
While there are no hard and fast rules for becoming successful online, here are some tips that will
increase your odds of becoming a successful online entrepreneur.
1. Beginners Must Do Research First Before Making Money
Before you take the plunge into an online business, you first need to discover a successful business idea.
This requires carrying out detailed market research.
Find out what are the needs of the target market that you can meet better than the competitors. You
should study the target market profile, including preferences, problems, and frustrations. For this,
consider carrying out an online survey.
The survey will reveal hidden business ideas that you can
capitalize to become successful.
2. Create a Digital Marketing Blueprint
You can't be a successful online entrepreneur unless you come up with a solid digital marketing plan.
Without advertising your business to your target market, you can't make money online.
The three pillars of a successful digital marketing blueprint include the following.
 Search Engine Optimization
 Social Media Marketing
 Content Marketing
The overarching goal of these different yet highly related marketing elements is to funnel a maximum
number of traffic towards your website. These are interrelated elements and you can't be successful
with just one or two of the strategies.
You need to optimize your website for search engine visibility. Moreover, you should leverage from the
immense popularity of social media sites to build a large online following. You can read the post here to
know how you can double your traffic from social media sites such as Facebook, Twitter, and Google+.
Lastly, content marketing will help you attract relevant targeted audience to your site. You should
regularly post blogs on your website. But don't let the blogs sit pretty on your site! Advertise those blogs
by emailing them to the list of subscribers. Boosting blog traffic will have a positive impact on your
website's search engine ranking.
3. Remain Persistent
The third important strategy you should remember to make money online is that success is achieved
only through persistence.
A lot of business owners don't make a profit until one or two years after setting up an online business.
You need to continuously test and optimize your online business strategies according to market
demand.
Successful business owners persist past challenges and stick to their vision despite facing overwhelming
obstacles. If your value proposition is made after a throughout market research, you should not be
discouraged and stick to your vision. With a persistent approach, you will become a more experienced
entrepreneur and know what it takes to build a profitable online company.
Having said that, you should know when to quit and pursue a new business opportunity. Don't be scared
to change course and start a new online project if success seems unachievable.
4. Consider Other Creative Ways To Make Money Online
Setting up an online store is not the only way you can earn money online. There are a lot of other ways,
you can earn money in the cyber world.
Here are some of the less well-known ways you can earn money online without investing money to
create an online store.
Tips to Make Money Online Without Investment
Make Money Online with PayPal
If you want to make easy money, PayPal is your best friend. A lot of companies offer money through
PayPal for carrying out different tasks. Some of the sites that offer PayPal cash reward points include
PrizeRebel, GrabPoints, OpinionOutpost, MyPoints, and Survey Junkie.
All you have to do is to register a PayPal account and sign up with the companies offering PayPal cash
free of cost. Next, you have to carry out various tasks such as playing games, completing offers,
downloading apps, or watching videos.
Carrying out each task will allow you to earn points. Once you receive a certain number of points, you
will receive cash via your PayPal account.
Make Money Online with Google
Google is another great platform for earning money from home. The online search engine giant provides
a lot of opportunities for people to make money. Let's take a look at just some of the money-making
avenues that will let you earn big bucks with Google.
Search Engine Evaluator
Not many people are aware that Google uses the services of companies such as Appen, LionBridge, and
KarmaHub to improve search results. You can join these companies to earn guaranteed pay online.
The job is not difficult and you can earn consistent money by becoming search engine evaluator.
All you need to know is how to use a computer and use Google's search feature. If you have made way
to this post, you probably know how to do the job.
Your job is to make sure that the search engine returns the most relevant results from the user's
queries. You can earn $12 an hour and sometimes more depending on the tasks.
Google Opinion Matters
Google Opinion Rewards is another great job opportunity to make money online. You just have to
download an app to earn money.
Once you have downloaded an app, you have to take online surveys. You will get a notification about a
new survey once a week. The surveys will contain a mixture of user opinions and reviews regarding a
particular merchant.
After completing each survey, you will receive a credit to your PayPal or Google store account. The
credits can be up to about a dollar that will serve as supplemental income for you.
Google AdSense
Google AdSense is a time-intensive yet highly rewarding online money making tactic. To make money
using this technique, you need to create a blog site, and publish informative blogs regularly.
The blogs can be about anything such as politics, cooking, hobbies, and entertainment related topics.
Next, you should sign up for Google AdSense and place ads on your site.
You should market the online blog site online through social media channels such as Facebook, Twitter,
Reddit, and Quora. Once your site starts receiving a lot of traffic, you can earn thousands of dollars
without doing anything. You will get paid every time users click on AdSense ads on your website.
To earn money through this strategy, you need to create blogs for a specific audience. The blogs should
be informative and meet the information needs of the target market. The more online audience you
attract with your online blogs, the greater will be the revenues.
Sell Digital Content on Google Play
You can also make money online by selling your software and books through Google Play. A lot of
programmers earn thousands of dollars every month by selling their software through the digital
medium.
Moreover, if you have an interest in creative writing, you can publish your books on Google Play through
the Google Play Books Partner Center. With over a billion Android users from more than 50 countries,
you can reach audiences not possible before through this program.
Google Work from Home Jobs
You don't have to live in Silicon Valley to work for Google. The company occasionally offers work from
home positions. You should regularly visit the career site of Google to know about any work from home
opportunities.
Just enter the words 'remote' and 'telecommunicate' to find out about work-from-home jobs. Once you
find a job, you can click on the Apply button and fill the online Application form.
YouTube
YouTube is a Google-owned video site that is also a great resource for making money online. The site is a
gold mine with billions of active users.
To make money through YouTube, you need to have a creative flair and regularly come up with
interesting viral videos.
You don't need to invest in the expensive video recording device to make videos. A mobile camera can
be sufficient for creating YouTube videos. You can upload your videos on your YouTube channel and
apply for Google AdSense program explained earlier.
If your videos go viral, you can earn a lot of money. For instance, one YouTube channel owner from
Honolulu Hawaii had earned nearly $17.5 million in 2018. There are dozens of other YouTube channel
owner from different parts of the world notably Logan Paul, PewDiePie, Jacksepticeye, and JakePaul also
make millions of dollars from the online video sharing platform.
About The Author
Your Millionaire Mentor
Shaqir Hussyin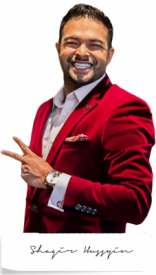 Shaqir Hussyin is the founder and CEO of Shaqirhussyin.com & Funnels.com Nicknamed the "Backpack Millionaire", he's invested $350,000 into his own education and training. Whilst traveling to 100+ countries, Shaqir has built over 10+ million dollar brands and attracted over 500,000+ subscribers.
His signature program is now available at: CreateDigitalCourse.com specially designed for aspiring entrepreneurs wanting to start their online business with their very own high paying product.
Shaqir is also a highly sought-after speaker and direct response "Sales Funnels" global leader you can meet in person. His work has impacted over 100,000 businesses in 65 different countries. Connect with Shaqir on Instagram, YouTube, LinkedIn & FB Group.

https://wealthacademy.com/wp-content/uploads/2019/07/how-to-make-money-online.png
315
560
Shaqir Hussyin
https://wealthacademy.com/wp-content/uploads/2018/02/logo-plain.png
Shaqir Hussyin
2019-07-18 09:15:30
2019-07-10 18:37:36
How to Make Money Online for Beginners 2019