Wanting to make money online but don't know how to d it? Stop looking around and start learning how to make money online quickly implementing the steps shown here.
The internet is bustling with opportunities for making easy money. All you have to do is to look in the
right direction to find out how to make money online. But you should also know that not all online
opportunities translate into demonstrable benefits.
Some opportunities are like a mirage in the desert. They look good at first, but when you sink your teeth
into it, you will find your entire efforts amount to nothing.
So, how can you find the right online opportunity to make money online? What are some of the
profitable online opportunities that are worth exploiting? How can you make money from home? You
will find out the answers to these questions here in this post.
Online Money Making Tips | How to Make Money from Home
1. Start A Blog Site Designed To Make Money
Creating a blog site is a great way to make money online. There are many people who make outlandish
income through their blog sites. Their annual income exceeds what is made by many C-level executives.
Consider CopyBlogger founded by Brian Clark that had started out as a simple one-man site in 1998. The
blog site evolved over the years and now rakes in ten million dollars annually. There are many other
examples of successful blog sites such as TechCrunch, Mashable, Moz, Engadget, and Huffington Post
that that make 8 figures income annually.
To become a successful blogger and make money online, you need to go through these steps.
Step 1. Select a blogging platform such as WordPress.com
Step 2. Register a domain name using BlueHost or GoDaddy
Step 3. Design your site to make it look attractive. You can use the free WordPress website
editor to design your site.
Step 4. Create useful blogs for users.
Note that you won't have to pay anything for setting up a blog site except when registering a domain
name. However, you don't have to pay a thousand dollars for the domain name. You can purchase a
domain name with a .com extension and privacy protection for just $20.
You should not only create blogs but also promote them to your online audiences using social media,
forums, and other online mediums.
Once your site starts attracting a lot of traffic, you will be able to earn money through ad networks such
as Google AdSense. In addition, you can promote affiliate products to earn income.
A lot of bloggers are making money through their blog posts by arranging events such as conferences,
workshops, or even parties. You can charge your blog readers or find a sponsor for the event.
2. Sell Digital Products Online
Selling digital products is another great way to make money online. If you have flair in writing, you can
write a fantasy novel, or any other genre for that matter, and sell on Amazon for free. You can also
publish your books on AuthorHouse that will take care of the task of promoting your eBook. Other good
self-publishing platforms you can try include Lulu, Blurb, CreateSpace, and Virtual Bookwork.
In case you don't have any interest in writing books, but are expert in coding, you can make a program
and sell on Android or iOS marketplace.
Just make sure that whatever you select for selling online, it should be useful to the readers. Don't
assume that your readers will like your digital product. You should first listen to your readers to know
their needs, and then sell a digital product that satisfies their needs.
3. Sell Physical Products Online
You can also make money by selling physical products on platforms such as eBay, Craigslist, and Amazon
Prime. You can sell just about anything on these platforms. Moreover, you can create your own e-
commerce store for selling online.
A lot of websites also allow you to sell arts and crafts. Sites such as Bonanza, Art Fire, Zibbet, Folsky, and
Big Cartel allow you to sell different types of artisan goods online. You can sell homemade gifts,
ornaments, jewelry, designer clothes and much more.
Google offers lots of opportunities for making money online. You can connect your website with Google
AdSense to make money by displaying ads on the site. In addition, you can also make money by posting
viral videos on YouTube. You will receive money for every ad displayed to users who view your videos.
You can also sign up for Google Opinion Rewards program to earn money online. The company will pay
you $1 by PayPal account for each completed survey. While this isn't a regular income source, you can
gain easy money by signing up for the program.
5. Make Money Freelancing
Freelancing is a profitable online source for making money. You can offer IT, accounting, journalism,
creating writing, editing, and other services.
You can make thousands of dollars as a freelancer without even leaving your home. To attract users, you
need to create an appealing portfolio. Your online portfolio should consist of the following:
 Highlights past experience
 Shows your skills
 Includes educational credentials
 Clearly states what you can do to create value for users
You can offer freelance services on your own blog suite or freelance sites such as Trulancer, Guru,
Upwork, Freelancer, and Fiverr. Once you are able to build a good portfolio, you can make a lot of
money through freelancing.
4. Sell Photos Online
If you have expert photography skills, you can sell your professional photos on sites such as
Shutterstock, iStockphoto, SmugMug Pro, and Etsy. The sites allow you to cash in your passion for
photography.
Once you submit your collection of photos and they are accepted, you will become a stock photo
contribute. The stock photos can be sold to multiple users allowing you to earn a passive income stream.
Remember that making money by selling photos online is a numbers game. You need to upload lots of
quality images to different stock photo sites. The more pictures you upload, the greater are the chances
of making money online.
Another important tip when selling photos online is to use related keywords for images. Consider using
five to ten keywords for each image so that folks will be able to find your pictures online.
5. Make Money Through Social Media
Social media is another great platform for making money online. You can leverage from the loads of
connections you have made on social media by promoting goods and services.
People with a large number of social media connections are known as social influencers.
The global social influencer market is huge — worth around $6.5 billion. Moreover, a survey conducted
last year had revealed that around 44.7 percent of advertisers are focused on the social media channel.
A lot of global brands such as Unilever and others pay social influencers for promoting their products
and services on their social media page. For every 100,000 followers on Instagram, you can earn about
$1,000.
If you have a large online following, you should sign up with influencer marketing websites such as
BuySell Shoutouts and Brand Snob. These sites let you connect with advertisers who want to promote
their products or services to your online social media fans. This is another great avenue to earn a large
amount of passive income online.
6. Sell Online Courses
Online courses can also allow you to make decent money online. You can create an online course about
anything such as accounting, money management, copywriting, massage therapy, and cooking.
You should start by creating a course outline. Get input from other people on what they think should be
included in the course. Once the course outline is made, you can start creating a course.
Most courses are in the form of videos with a written script. After you have completed the course, you
can sell on sites such as Zippy Courses, Teachable, and Alison.
To know more about how to make money selling courses online, you should read the book Build a Six-
Figure Online Business Selling Online Courses.
7. Online Tutor Services
You can make a lot of money by offering online tutor services. With internet communication technology,
you can offer tutor services to anyone anywhere around the world.
Online tutors interact with their students through the webcam or WhatsApp software. You can offer
one-on-one or group coaching classes. The coaching classes can be offered through your own site or by
joining an online tutoring site such as FlexJobs, Chegg, Tutorhub, Skooli, and Brainfuse.
You don't need to have experience in teaching to offer online tutor classes. If you have experience in a
particular field, you can coach others by sharing your experiences. Most people would love to receive
coaching from a person with years of experience in a field.
8. Make Money Fast Today Online!
Remember that you have to behave like a marksman when looking for online money making
opportunities. You need to scan the cyber world for profitable avenues. And once you spot a profitable
prospect for making money online, you should aim and home in on the target.
Another important tip to make money online is that you shouldn't put all your eggs in one basket. Your
chances of success will increase significantly the more online business ideas you try.
And the great thing is that putting different online business ideas to practice is not difficult.
You are not constrained by cost when setting up an online business. Most of the online money making
ideas listed above don't require a large investment. You can start making money online without
investing anything.
Do you have any more ideas on how to make money from home? You are welcome to comment in the
box below.
About The Author
Your Millionaire Mentor
Shaqir Hussyin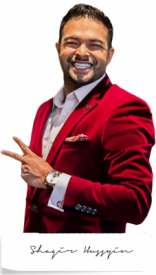 Shaqir Hussyin is the founder and CEO of Shaqirhussyin.com & Funnels.com Nicknamed the "Backpack Millionaire", he's invested $350,000 into his own education and training. Whilst traveling to 100+ countries, Shaqir has built over 10+ million dollar brands and attracted over 500,000+ subscribers.
His signature program is now available at: CreateDigitalCourse.com specially designed for aspiring entrepreneurs wanting to start their online business with their very own high paying product.
Shaqir is also a highly sought-after speaker and direct response "Sales Funnels" global leader you can meet in person. His work has impacted over 100,000 businesses in 65 different countries. Connect with Shaqir on Instagram, YouTube, LinkedIn & FB Group.

https://wealthacademy.com/wp-content/uploads/2019/07/make-money-online.png
315
560
Shaqir Hussyin
https://wealthacademy.com/wp-content/uploads/2018/02/logo-plain.png
Shaqir Hussyin
2019-07-19 09:38:00
2019-07-10 21:27:01
How to Make Money Online Quickly