Welcome To WealthAcademy;

Our business is guided by two simple principles:
We strive to give our customers that help them with achieving financial freedom using real world "results, not theory" based modern marketing and business building training that's not found in schools, colleges and universities.
We provide proven roadmaps, systems, frameworks, templates to make it easier and faster for our clients that are concise, rigorously tested with our own money (over $10M personal cash spent on marketing experiments)
These two things are the foundation for Implementation and Utilisation of our cutting edge training because the only way to achieve your goals is to first learn what's working and then actually execute on those new learnings.
We believe in a world of self-education, self-mastery and unlimited results.
Our mission is to push the human capital development of modern society so we create a movement of empowered entrepreneurs.
Knowing for being one of the fastest growing internet marketing training and business development companies in the marketplace, Wealth Academy generated over $10Million in sales in it's first 14 months with no outside funding…
Our CEO Shaqir Hussyin decided to take this mainstream and we've now set the standard when it comes to starting growing and scaling your online business by providing coaching, live events, implementation workshops, masterminds, done for you services and mentorship to help entrepreneurs build successful online businesses and live the life of their dreams using simplicity, technology, systems and mass leverage.
By 31st December 2021, we want to help
1,000,000 entrepreneurs start their online business training.
1,000 entrepreneurs to grow 6 figure businesses ($100,000+ per year)
100 entrepreneurs to get to 7 figure businesses ($1,000,000+ per year)
Our goals may be lofty, bold and ambitious, given our track record of helping tens of thousands of customers start their business, hosting over 100+ live events, and serving over 500,000+ entrepreneurs all over the world – we plan to achieve this.
What makes us different and BETTER than anything else that exists in the marketplace is that all our education and training materials have been created by in the trenches experts rather than theory.
We exist because we believe we can help the average person develop the high value skills needed to start their business using modern technology, social media & capitalising on the trends today so they don't get left behind.
WealthAcademy Has Grown A Community Of Over 500,000 Members In Over 100 Countries Since In The Last 5 Years…
Thousands Now Make An Extraordinary Living Online 




Who 

Never

 Thought They Could… Multiple Dozens Of Millionaire Students…
Could You Finally Create Wealth By Creating Digital Assets That
Could THIS Be Really Be The Most Brilliant Cash Flow Generating Formula
On The Planet?
(THIS Is For The Tremendously Ambitious Entrepreneur ONLY.
Please Do Not Proceed To The Rest Of This Page Unless You Have
The Courage To Place A Six-Figure, A Seven-Figure Or Even 8 Figure Price Tag
On Yourself From This Day Forward)
Over the last few years,
WealthAcademy.com
 has quickly grown into the largest private community of Internet entrepreneurs sharing the most powerful platform of resources and training available today. The CEO, Shaqir Hussyin sits at the helm of one of the most sought after marketing training companies on the planet, at the age of only 28 within a span of 7 years he grew his online empire from Zero To 7 Figures PER MONTH….What started as side hobby in his parents kitchen table turned into a $10M business in his early twenties, after becoming financially free and a newly minted multi millionaire, Shaqir decided to go out to start teaching others the formula to start their own business…
Now leading a team of upto 55+ team members from all over the world, this simple goal to help others  achieve entrepreneurial success, has quickly grown into the most powerful communities of Internet Entrepreneurs in the world. Leveraging and sharing each others experience and success.
Membership is private, by application only and by referral of existing member only. New member must be invited by WealthAcademy personal business advisors.
Imagine having access to simple step-by-step training, resources, and materials that have evolved and been honed and through hundreds of years of collective experience?
Imagine being able to get access to proven templates, tools, systems that can shortcut your success by Decades into Days…
To learn more about what a WealthAcademy membership can do for you, complete your Application Kit below.
97% Chance Of Success? Or 97% Chance Failure?
Where will you be in a year if you continue on the same path that you are on right now? Statistically speaking, there is a 97% chance you will fail on your own.
Where will you be in 5 years from now? Are you really happy with the last 5 years of progress of your efforts?
You could take the next five years to try and figure it out on your own or you could join our community and leverage the success of thousands of other entrepreneurs.
Over 160 Countries…
We are a powerful, dynamic community of go getting entrepreneurs who share one thing in common. (In fact this is about the only thing we share in common.)
We all share a strong motivation to create our only realities, unlike the millions, still standing around waiting for a bailout. We've helped people from literally all backgrounds learn how to create a pay check they deserve, desire and dream of using the internet…
Online Marketers
Coaches & Consultants
Network Marketers
Retirees & Baby Boomers
High School Dropouts
Landscapers
Construction Workers
Machine Operators
Teachers
College Professors
Chiropractors
Dentists
Retail Managers
Fast Food Employees
CEO's & Execs
Accountants

Authors
Speakers
Experts
Stay At Home Moms
Network Marketers
Internet Marketers
Salesman
Realtors
Mortgage Brokers
Loan Agents
Insurance Agents
Lawyers
Computer Programmers
Full-Contact Fighters
Corporate Executives
Bartenders

Doctors
Truck Drivers
Nurses
Actors
Police Officers
Telemarketers
Day traders
MLM's
Army Veterans
Stockbrokers
Real Estate Investors
City Workers
Restaurant Managers
Waiters
Secret Service
Many More From All Backgrounds…
We Are Waiting To Empower You
We Designed It That Way To Create Maximum Results In Minimum Time
We can't be certain that you're going to follow our instructions…
But what we CAN DO is make sure you have every possible resource, training, and tool required for the success you deserve… IF you are willing to work for it.
We want to empower you, but only if you are willing to help yourself.
Are you qualified?
Qualified in the sense that you are motivated and ready work for your success.
That you are not in search of a free ride, or a get rich scheme or money game.
That you are truly serious about business, and committed to doing whatever it takes.
WealthAcademy.com is an integrated system. An educational, training and interactive platform that comes with all of the training, tools, and resources you will require. Everything you require.
A large part of the genius is that its been designed to make some of the most complex and difficult aspects of marketing, automated and hands free, but what separates us from anything else is our personal attention and support of the educational process.
Members are assigned a personal business advisor who acts as a guide. We offer 24-7 support via our online community and is provided to all members along with unlimited access to our email and live chat support mechanisms.
With over 16,000+ members – you have a chance to join now…
Have you ever been stuck, left alone to figure it out?
Have you ever wished to be part of a growing, supportive and expert led community?
Have you ever dreamed of having your own Millionaire Mentor to help you avoid costly mistakes and get you the the fast-access?
With our community and the training and support we provide, you will never be alone.
Why Do I Have To Apply?
Why do I have to apply? What makes you guys so special? Everyone else is jamming up my email with free offers of every kind!
To protect the integrity of our system, we MUST be certain that the quality, and business integrity, of the entrepreneurs getting started is not compromised. In fact this is why we have gown so quickly with members in over 160 countries.
We are dead serious about protecting the integrity of our community and reject any application that does not meet our criteria. We don't need the money from just anyone/everyone. We appreciate the business and we want to protect our clients from the challenges most people face when starting online.
The "get-rich-quick" and "lottery mentality" individuals do NOT fit into this group. We honestly must do EVERYTHING in our power to make sure that these people do not get the opportunity to join WealthAcademy Community.
Longevity, Integrity  and Security are a far greater priority for us in order to accomplish our goal of creating 100 millionaires than any possible short term gains that might come from compromising our standards.
So again, we ONLY want highly qualified entrepreneurs getting started, hence why we have implemented an application process.
Not everyone is cut out be an entrepreneur. It doesn't make sense for you to waste time with someone that isn't serious about changing their life and financial future.
The application process allows candidates to make an educated decision without risking hundreds or even thousands of dollars to find whether or not this is the right business for them.
The application process simply helps determine if you are an entrepreneur. The same way it will for your interested prospects. If they are not cut out for this opportunity we DO NOT want them wasting money or their time!
Once you join WealthAcademy, we'll be teaching you how to go from employee to entrepreneur. We'll show you how to create ultra profitable digital courses, assets and service-based businesses that can scale to the next level.
–> WealthAcademy.com/schedule-my-call
Core Values
---
Our core focus is empowering our students with a totally immersive learning & implementation experience where there is an extreme focus on 7 Forces Of Total Business Mastery…
Teaching strategies, principles and fundamentals which stand the test of time.
In-depth training on cutting edge strategies that work today.
Ongoing guidance to ensure students stay on track with accountability.
Done for you marketing & sales services to fast track their success.
In house proprietary software that we've built from years of experience.
Creating raving clients & communities.
coaching, consulting & mentorship to help them take their business to the next level.
In short, we strive to help them become Weathified.
Are you ready?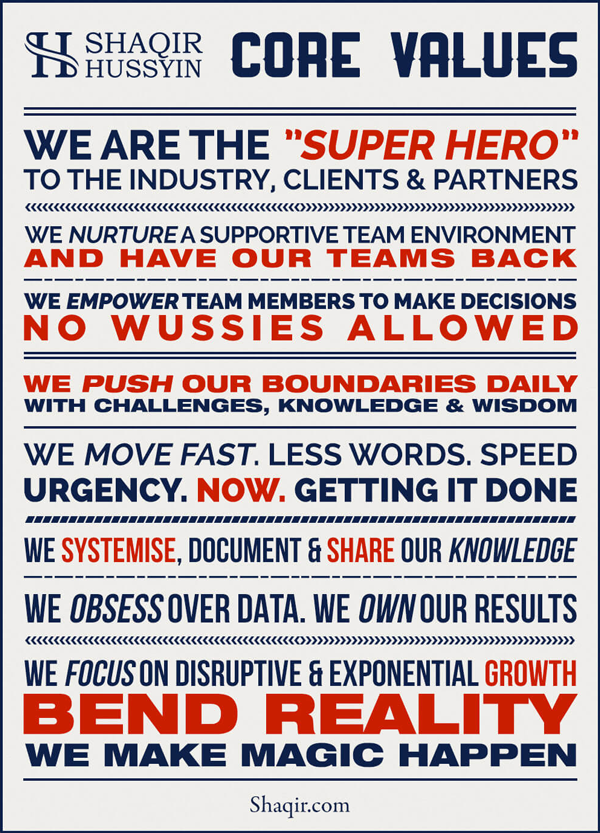 Growth. Opportunities. Recognition. Income. Fun.
We Attract Growth Hackers, Hustlers And Top Tier Talent That Make Waves.
Leading the company is our young, crazy serial-entrepreneur CEO, Shaqir Hussyin.
From a single, hungry and dedicated Individual in London, UK in 2009 starting out from his parents kitchen table to building an 8 Figure Empire with over 20 A-Player Team members collaborating seamlessly from different countries today.
Wealth Academy is one of the most respected, loved, and followed Internet Marketing Companies that lead this industry to provide cutting edge marketing and sales education, coaching, training, live events to entrepreneurs from all over the world.
We've been built the "ASIAN WAY", which consists of raw-hard work and Integrity.
Online Marketing Your Mom  Would be Proud of
We hire, recruit, train 30+ A Players in our company to create content.  We have combined
100+ years of expertise in business.
You get WealthAcademy…
Everyone wants to get ahead, create wealth, and succeed.  I'm sure you want to, too? There have been countless books written, endless speeches given, Trump has given his piece of success advice to Tony Robbins attendees by saying his main piece of advice in life is 'Get A Prenup", LOL.
Endless books are written, heck I even wrote the Backpack Millionaire to give people just like you a shot at getting wealthy and successful. Tons of courses are taught on the subject of how to make money and be successful.  In the final analysis, there is only one way to honestly and honorably make money over the long term, and that is to deliver value to others.
That means you must take advantage of mentors over mistakes.
That means you must be positioning yourself for the NEW economy.
That means you must find opportunities that increase your personal value to the world.
That means you must solve peoples problems and the more problems you solve, the more value you create.
That means everything you do, want to do, dream to do you must make it a focus on adding value to others.
For over 5+ years, across 6,000+ emails written to my subscribers and clients via my daily newsletter, I've had one core underlying focus which was to "leave them better off" when they found me.  That's my goal for you too reading this right now.
You see…
People will trade their money, which is simply stored up value, for products and services that they believe to have value to them.  The person who gets the money in exchange for those products and services can then go out and purchase things that they find valuable. It's kinda as simple as that. It's like you go to the restaurants because they serve you food, they solve your problem that you're hungry. So you must think as a problem solver, what are the problems you can solve and then get paid for it, handsomely.
Some people create value while others find it and deliver it to the marketplace. One of my favourite examples I share at the WealthAcademy LIVE Events is that a university lecturer may have 30 years of experience and expertise but only delivers his message to 30-50 people every day at the lecture hall. In his lifetime he may directly impact a few thousand or few thousand people at most.
Now compare this to the Gangham Video Song that reached nearly 3 BILLION views on YouTube. Are you telling me the guy who created the song has more value than the lecturer? Or is it that he knew how to LEVERAGE his value.
The formula I've taught for many years to thousands of people all over the world is Value x Leverage = Wealth. Creating value is the process of taking something or nothing and turning it into a product or service that will benefit others. To create wealth you have to either create systems yourself or leverage systems that solve other people's problems.
As I share, analyze this concept and dictate these words to you, I am hopefully creating value. You feel like this is valuable to read and you continue reading and being a member of our WealthAcademy Community. There was nothing on this site when I started other than my thinking on how can I create value for you.
People are as important as the value you create, imagine if Apple created the best phone (they did) but then no one actually had the opportunity to buy it. Having value and then being able to leverage it, share it, distribute it to the masses or to a pocketful of targeted people will determine how much wealth you create.  As you start your journey into entrepreneurship, go through your day today, and finally realize that value is the only marketable commodity.
Learning to LEVERAGE that value is what will free you.  So your job is to create and discover value within yourself after learning education that is demanded in the marketplace. Then learn to edit, package, productise that value, refine it, develop it further and promote it so it can be delivered with or without you.
Leverage that value in the marketplace so you get paid what you deserve, desire and dream about and then that's your solution for creating wealth.
Find your place in the world, add value to yourself, share it with the world. Become the best you. Become extraordinary. Redefine your income. Leave your legacy. Remember….
Value x Leverage = Wealth.

To the top.
Welcome to WealthAcademy.
Shaqir Hussyin

Speaker, Invester & Serial Entrepreneur
CEO, WealthAcademy
Author, Backpack Millionaire