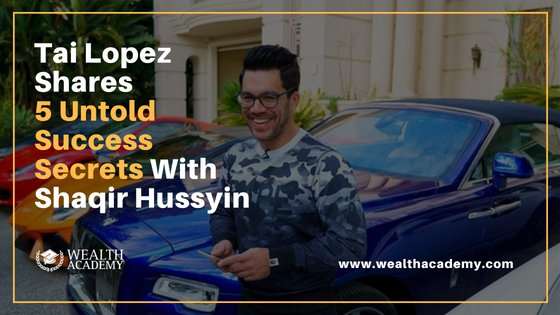 Wouldn't you like to learn how this social media "seen on everywhere" Tai Lopez guy gets traffic, leads and sales growing his social media empire? Well a while back we did a webinar** on this and people just went crazy.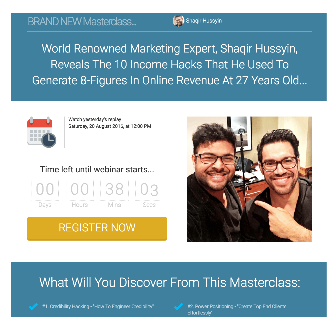 Even though we might do one again on the future, for now i wanted to share a couple of things i learned form him.
Tai Lopez has become very well known due to his 67 steps signature program. It starts off with a $67 product which provides incredible value for that price.
Then, there are various upsells and offers which range from $1,000 to $10,000 for this digital persuasion training programs.
At the end of his funnel are the high level $25,000-$50,000 mentorship programs.
**You can check out the webinar we did on the right here.
Here are the 5 little-known lessons from Tai's success that I've discovered:
Lesson #1 – Working Hard Doesn't Guarantee Success
When I met Tai Lopez, I could immediately sense he was a beyond your "average" smart guy.
The thing with him is that, at every level, he has massive leverage to having a great team, to investing in himself consistently, to always be hiring mentality, to putting out daily content.
However, this is not just hard work, but also smart work.
Why? Well, because the work he produces once – for example his YouTube Video – can now be seen by millions of people.
You see, our goal is never to work harder. And I'm not just referring to entrepreneurs, but people as a species.
And, here's the thing. Working hard doesn't correlate to success.
Tai Perfectly explains this in one of his YouTube videos: 
Here's the thing – the 10 richest people on the planet make more than 3.5 billion at the bottom. That's half the world!
It's insane to think that 10 people can make more money than half the people on this planet combined. 
So, take this fact into consideration for a moment. Then, think about how much work can these 10 people possibly do in a day?
If they don't eat or sleep, that's the maximum of 24h x 10 people = 240h.
Then, how much work can 3.5 billion people do, if they only work 1 hour a day. Three and a half billion hours!
So, it's obvious that the amount of work you put it doesn't guarantee success.
Working smarter is the key here. Figuring out ways to invest less effort, while gaining bigger benefits.
Lesson #2 – You Can't Catch All Opportunities, But You Can Certainly Catch A Few
There are so many amazing opportunities out there in the world…
Yet, so few people are actually prepared to seize them and reap the rewards.
The keyword here being "preparation".
How many times have you looked at someone successful and thought:
"Man, he/she had some insane good luck."
In some cases, you might be absolutely right.
However, in most instances, it goes beyond just being in the right place at the right time.
There's a famous saying, attributed to the Roman philosopher Seneca, that perfectly explains this:
"Luck Is What Happens When Preparation Meets Opportunity."
So, instead of wallowing in self-pity or envying those who appear more fortunate…
Prepare yourself for when the next opportunity comes your way.
They pop up almost every single day. That said, don't worry about catching each and every one.
Read and educate yourself first. Learn something new every day. Hone your skills and always stay up to date with the current trends.
Then, seize the perfect opportunity when it presents itself.
If you do the necessary preparation, you might just be that "lucky" guy who recognized the perfect opportunity and converted it into a lucrative business endeavor.
Lesson #3 – Maintain Your Physical Health
When building a business, it's quite easy to overlook the importance of physical health.
Yet, the state of both your mind AND your body have a tremendous impact on your business.
When I've first met with Tai, he shared that he's spent over $1 Million in his physical body transformation. Now, I'm convinced you don't need to do anything crazy like that. However, Tai's example goes to show the importance of physical health.
By balancing your health, your wealth and your social life you'll reach a state of eudaimonia. 
Which is a fancy word for "excellent life quality". Or as Tai Lopez calls it: "The Good Life."
Tai stresses out the importance of health in his "67 steps", for apparent reasons.
If you're not in the pink of health, chances are you won't be able to reach pique performance in your business.
If you're only eating junk food, not sleeping enough, and not exercising – you'll constantly feel sluggish, exhausted, demotivated, and you won't have the required levels of energy to get things done.
The reason I take this advice very seriously is because Tai lives what he preaches.
He's built a team of professionals in charge of his overall well-being, exercise routines, and diet.
And, apart from his jiu jitsu and daily swimming sessions, he never fails to dedicate at least 30 minutes to ensure his physical health is impeccable.
Lesson #4 – Tai Lopez Motto: If You Have Something To Do, Don't Wait Until You're 90
Throughout my career, I've men hundreds of different types of people.
But I noticed that most of them have one thing in common:
They're fantasizing and daydreaming about what they ideal lifestyle might look like.
They just keep adding stuff to their bucket lists, while never really doing anything about it.
I can't tell you how many times I've heard the sentence: "I wish I co do this or that."
And my response is always the same – What's stopping you?!
I adopted this mentality thanks to stuff I learned from Tai Lopez. He's what I would call a "man of action".
He doesn't wait for things to come his way. Instead, he goes out there and grabs them!
And that's what you need to do as well, if you want to be successful in today's world.
You have to go beyond planning and wishful thinking. There's only so much time we're given on this Earth.
Make use of every single second! So, whatever it is you're aiming for, get up and take action NOW.
If you're thinking that you're buried in responsibilities, then I hate to break it to you… But that's only an excuse.
There are 24 hours in a single day. You can't tell me, with all honestly, that you can't take an hour to invest in yourself, your hopes, and your dreams.
Want to build a lucrative online business? Take the first step today – even if it's simply reading about different possibilities.
Stop procrastinating and waiting for the perfect opportunity to fall into your lap.
Take action, and make it happen today. Don't wait until you're 90 – by then, it might already be too late.
Lesson #5 – You Must Have An End Goal
Like I mentioned, time is an extremely limited resource.  We never know how much we have left, and it always runs out faster than we expected.
So, make sure to use your time properly. To do so, you must first set a clear end goal in front of yourself.
Where do you want to be in 5, 10 years? What do you want to do? Where do you want to live? What car do you want to drive?
How would you like your everyday life to look like?
Once you've answered all these questions, think about HOW you're going to get there.
Create an actionable plan, and divide it into smaller milestones.
Make sure that you're working towards that end goal every single day.
Having a clear goal in mind (and preferably, on paper as well) will help you remind yourself why you're doing all this in the first place.
Simultaneously, milestones and smaller tasks will help give you a sense of accomplishment.
That way, instead of thinking about how much further you have to go to reach the end goal, you'll always be able to see how far you've already come.
And each day will be one step closer to achieving your dream!
Without a goal in sight, you'll feel like you're aimlessly wandering. It will be difficult to find a reason behind all the hard work you're putting in.
Whereas with an achievable end goal, you'll be more motivated, energized, empowered, and productive.
So, if you haven't already – write down your personal and professional goals on a piece of paper.
Place them somewhere visible, for instance on your work desk, to ensure that you're moving towards these goals every single day.
Conclusion
There you have it. These are the 5 biggest lessons for success that I've learned from the legend himself – Tai Lopez.
Which one was your favorite? Feel free to share your thoughts in the comment below. And don't forget to share this article with friends and family.
Liked this? Want my 1:1 help? Claim your FREE 30 minute Income Kickstarter Strategy Session – Click here.
About The Author
Your Millionaire Mentor
Shaqir Hussyin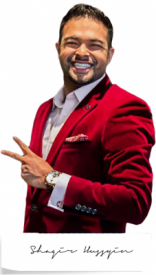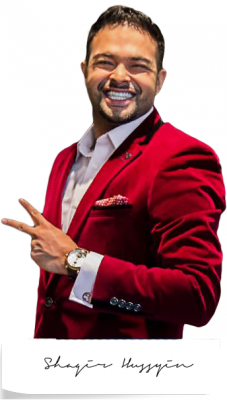 Shaqir Hussyin is the founder and CEO of WealthAcademy.com & Funnels.com. Nicknamed the "Backpack Millionaire", he's invested $350,000 into his own education and training. Whilst traveling to 100+ countries, Shaqir has built over 10+ million dollar brands and attracted over 500,000+ subscribers.
His signature program is now available: Max Income System; 14 Simple Steps To Making Your First Income Online 
Shaqir is also a highly sought-after speaker and direct response "Sales Funnels" global leader. Shaqir's work has impacted over 100,000 businesses in 65 different countries. Connect with Shaqir on Instagram, YouTube, LinkedIn & FB Group..
https://wealthacademy.com/wp-content/uploads/2018/07/Tai-lopez-And-Shaqir-Hussyin.png
315
560
Shaqir Hussyin
https://wealthacademy.com/wp-content/uploads/2019/11/logo-plain.png
Shaqir Hussyin
2018-07-26 09:15:49
2018-12-20 11:23:31
Tai Lopez Shares 5 Untold Success Secrets