Saj P is an incredible entrepreneur, a fantastic affiliate marketer, and an inspiration to hundreds of thousands of people in the online marketing industry. He started virtually from scratch, and managed to generate his first million by the age of 24.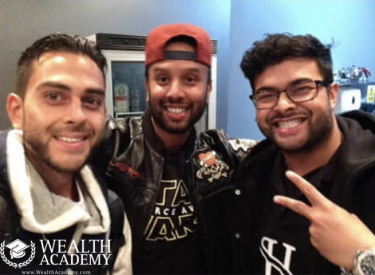 Since then, he's dedicated his time to educating and teaching aspiring entrepreneurs the intricacies of online marketing. Today, his education and publishing company boasts over 400,000 students from across the globe. Many of them had gone to build successful and profitable businesses, with some even scaling to multiple 7 figures.
From generating laser-targeted traffic and creating affiliate programs, to developing product launches and maximizing your affiliate profits, there's a ton you can learn from this internet rock-star.
Here are the 5 most powerful insights I picked up from Saj P:
1. "Find High Commission Affiliate Marketing Offers, Build High Converting Landing Pages And Learn How To Run Targeted Traffic."
As an affiliate, your entire business revolves around getting those affiliate sales and generating hefty commissions.
Therefore, when looking for business opportunities, Saj P advises to always aim for offers that provide high commissions.
It might take a bit of research, but there are tons of excellent products with commissions as high as 90%.
The reason is quite obvious: the higher the commissions, the more money you'll make. But, there's also one more benefit to these high commission offers.
With high ticket products that offer commissions above 75%, you can justify investing a large sum into promoting them.
In fact, often, with a single sale, you can cover that month's entire advertising budget.
And here's the thing: the more money you invest into marketing, the more people you'll attract. And the more people see your affiliate offers, the more sales you make.
It's a simple number's game. So, remember – in order to generate money, you must first invest it.
That said, make sure that you're targeting the right people.
If you're showing your ads to anyone and everyone, you'll quickly burn through your advertising budget, without much to show for it.
So, learn how to drive targeted traffic – get your offers in front of people you know are genuinely interested.
Then, send these people to a high converting handing page. You want to capture their email addresses, so you can keep promoting your affiliate offers to them in the future.
Tip: Affiliate marketing Meaning
Affiliate marketing is a type of performance-based marketing in which a business rewards one or more affiliates for each visitor or customer brought by the affiliate's own marketing efforts.
2. "My Biggest Insight – Most Successful People Make The Most Out Of Their Time"
When talking about success, Saj P often mentions that a certain mental shift is necessary.
You need to adopt the mindset of a successful person, in order to become one.
The first thing you need to understand the power of choice and individual responsibility.
This will help you create a life of prosperity and happiness, by giving you control of how you spend your time. 
This shift is both liberating and paralyzing at the same time.
YOU are responsible for what happens in your business.
On one hand, you'll be more empowered to take action and work towards your goal.
You'll stop procrastinating, and won't wait for someone else to do your work for you.
On the other, you hold all the strings in your hands. If you mess up, you'll only have yourself to blame.
In other words, you're completely free to do whatever you want, but you have to be ready to accept the consequences.
And the consequence (or cost, if you will) of every choice is time. There's only 24 hours in a day. And, sadly, we can't rewind time.
So, with every choice you make, you're investing time in it. Once you fully understand that, you'll be much more careful with how you spend your time.
In the business world, this translates to prioritization and eliminating non-essential tasks.
Time is one of your most valuable resource. So, invest it only in activities you know will pay off in the end.
3. Outsource Some Of The Work To Become Even More Successful  
Affiliates are most often lone wolves, so to speak.
They build, run, and manage their businesses all on their own.
And, although it's possible to find success as a solo entrepreneur, Saj P believes it's not the optimal approach.
You see, most affiliates are eager to get their business up and running. Understandable, but it often leads to their downfall.
And here's why: they rush everything, and end up with a hideous 1-page website, with 2-3 posts and dozens of banners.
And then they get frustrated because they don't understand how they're not making any sales.
But affiliate marketing is so much more than simply setting up a page and driving traffic to it.
You need to entice your visitors into making a purchase.
To do that, you need to provide massive value, have a visually appealing website and great offers, build and nurture your relationship with the audience through email marketing, etc.
It takes time, effort, and a certain skill set to pull this off. And more often than not, affiliates are lacking in at least one of these 3 departments.
So, what's the solution? Outsourcing a part of your work.
You see, you don't have to do everything alone.
You might be great at creating advertising campaigns, while having no clue about design.
Or, you might know how to create an awesome-looking website, but might not be a talented copywriter.
The thing is, you can always hire professionals to do the work for you. There are thousands of freelancers offering exceptional services, for a handful of dollars.
This frees up time for you to focus on other important activities. And, you'll get much better results with professional looking website, banners, and emails.
4. Create And Operate A Successful Blog
Blogging is one of the best ways to attract new leads and customers.
It provides you with an opportunity to showcase your knowledge and expertise, and earn the audience's trust by proving them with useful, relevant, and actionable information.
As Saj P suggests, you should always keep those words in mind: useful, relevant, and actionable. 
That's the key to success with a blog, regardless of what industry you're in.
Contrary to popular opinion, writing a couple of fake reviews and calling it a blog won't do you any good.
And I've seen countless affiliates do this, especially in the wealth niche.
They write a fake review where they bash one product, only to promote another offer that's pretty much the same as the one they just advised their audience against.
If your blog posts amount to these reviews, where you're saying negative things about one product, and then putting another one on a pedestal, the only thing you're going to get from your audience are rage-filled comments.
And honestly, you can't blame them. They came to your blog to learn something, not to have the second product stuffed down their throat instead of the first.
So, instead of trying to "trick" the audience into checking out YOUR affiliate product instead of another, what you need to do is provide actual value.
Say you decide to promote health supplements. Instead of simply reviewing a bunch of products, you can create educational, engaging posts that give valuable information regarding different foods, share meal plans, cool recipes, exercising routines, etc.
That way, you'll both position yourself as an expert in the audience's eyes, and earn their trust by showing them that you're actually out to help them solve a problem and improve their lives.
5. You Need Quality Traffic Which Converts 
Once you've got everything set up – website, banners, blog, campaigns, emails – you'll start getting a few sales here and there.
But, what's the next step? How do you scale your profits from there and get to that 6 or 7-figure income?
You need to start investing into better traffic sources. You can't expect to make a million if you're only relying on SEO and organic traffic.
There are various different ways to drive laser-targeted traffic to your offers: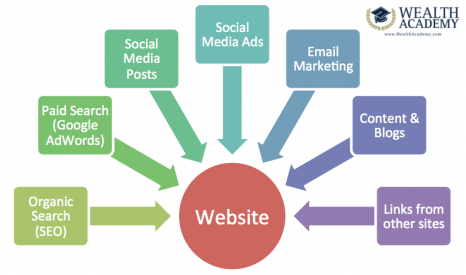 But first, you must educate yourself on all available options. Read blogs, attend webinars, complete courses.
Fully comprehend each strategy – PPC, social media marketing, Solo Ads, etc. – before you start applying them in your business.
Learn as much as you can from other successful entrepreneurs in your niche.
See what's working for them, and what your audience responds to the best. Swipe their most profitable tactics and best practices.
Test out different approaches to see what works best in your business.
Once you understand what works, the rest is easy. You simply need to start investing more in these proven strategies to get a bigger ROI and maximize your profits.
Final Thoughts
Affiliate marketing is deceptively simple.
Those who make the mistake of thinking it amounts to only selecting a good offer and creating a website to promote it, often find themselves throwing their money down the drain.
There are a dozen different tasks on every successful affiliate's plate.
First, you need to drive quality traffic to a high converting landing page.
This allows you to build a sizable mailing list, which you can use as an on-demand traffic source to promote any and all future offers to.
Before you can push the purchase, remember that you'll need to "lure the audience in" and earn their trust by providing massive value up-front.
And lastly, even if you're a solo entrepreneur, that doesn't mean you have to do everything all by yourself.
Don't be afraid to explore different options for outsourcing a part your work.
That way, you won't be overwhelmed or strapped for time, and you'll be able to give your undivided attention to the most important and urgent tasks.
I'm convinced these insights from Saj P will help you step up your affiliate game.
Which of them did you find most useful? Let me know in the comments below!
Liked this? Want my 1:1 help? Claim your FREE 30 minute Income Kickstarter Strategy Session – Click here.
About The Author
Your Millionaire Mentor
Shaqir Hussyin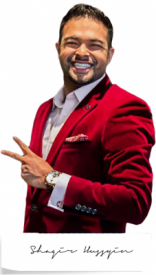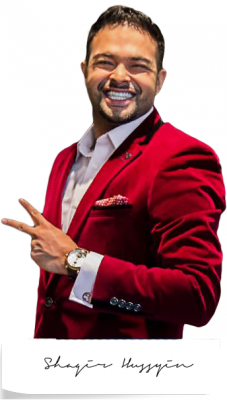 Shaqir Hussyin is the founder and CEO of WealthAcademy.com & Funnels.com. Nicknamed the "Backpack Millionaire", he's invested $350,000 into his own education and training. Whilst traveling to 100+ countries, Shaqir has built over 10+ million dollar brands and attracted over 500,000+ subscribers.
His signature program is now available:Max Income System; 14 Simple Steps To Making Your First First Income Online
Shaqir is also a highly sought-after speaker and direct response "Sales Funnels" global leader. Shaqir's work has impacted over 100,000 businesses in 65 different countries. Connect with Shaqir on Instagram, Twitter, YouTube, Snapchat, LinkedIn & FB Group.
https://wealthacademy.com/wp-content/uploads/2018/12/saj-p-affiliate-marketing-zero-resistance-marketing.png
315
560
Shaqir Hussyin
https://wealthacademy.com/wp-content/uploads/2019/11/logo-plain.png
Shaqir Hussyin
2019-04-05 19:00:35
2019-04-03 21:49:05
Saj P: 5 Insights To Win The Affiliate Marketing Game