Do you have a business idea that you want to launch online? Many online businesses started with a unique idea that with the right ecommerce platform grew into a successful online behemoth. So if you have an idea and you are thinking about setting up an online business but don't know what to sell online? Stress no more!
Because if you have nodded your head in agreement to the above questions, you are at the right place. 
The fact is there has never been a better time than today to set up an online business. All the tools are available online that you can use to set up an online business. 
But before you set up an online business, you need to first select the right business idea that will be a hit among the online users. 
In this post, we will share the top ten money making online business ideas that don't require a lot of investment. 
Top Ten Online Businesses
1. Small Business Consultant
Do you have any experience in running a business? Have you been associated with large businesses at a managerial position? If so, you must leverage from experience to earn online. 
With a small business online consultancy services, you will be able to use your skills to help other budding entrepreneurs set up a business. Consider offering your services to a niche as this will allow you to easily penetrate the target market. 
To win the trust of aspiring business owners, you should contribute regularly to social media sites such as LinkedIn and Quora.com. In addition, you can contribute to Business.com to gain credibility and win the trust of an online audience. 
2. Affiliate Marketing
Affiliate marketing is another great way to earn income online. The affiliate model is simple with potential to earn passive income. The best thing about this business model is that you don't have to invest in anything other than creating and promoting your site. 
With affiliate marketing, you don't have to keep inventory or handle shipping. Your only task is to bring customers towards the company and earn a commission. 
To make the most of the business idea, you should consider building multiple niche sites that focus on offering special products. The site should have dozens of different content that point to the site of the affiliate. The more products you promote on your site, the more income you can earn. It's that simple.  
3. Publish eBooks Online
Selling eBooks online is another profitable online business idea. You can write books on different topics such as cooking, carpeting, car tuning, plumbing, SEO, and much more.
 Writing a Book may take some time. But once finished and published, you can potentially earn thousands of dollars each month without any extra effort. 
Popular places you can sell your books include eBay, Amazon, Albris, WeBuyBooks, and Bookfinder. You can also create your own website selling books online. You can click here to read some tips on how to write books that will become a hit online. 
4. Online Marketing Consultants
If you like browsing through social media sites like Facebook, Instagram, Twitter, you can turn your hobby into a business. 
A lot of businesses –both brick-and-mortar and online – will be willing to pay top dollars for promoting their products or services online. If you have experience in digital marketing, you can offer online business consulting services. 
You can provide consultancy services to help companies build a digital marketing blueprint for success. Businesses can consult with you to manage their online presence, optimize content, and promote their brand online. 
5. Translation Website 
If you don't want to publish blogs or books, and you are fluent in multiple languages, you should consider offering translation services online. This is a great way to polish your foreign language skills and earn money along the way. 

6. Drop Shipping 
Drop shipping is another great online business idea. You basically offer products for sale online and purchase a product from a manufacturer for a lower price when someone places an online order. This is a simple business idea that has the potential to earn lots of money. 
Because of low margins, you should focus on selling a variety of goods. Selling a large number of items online will increase the potential of making a lot of money. 
7. Online Video Review 
A lot of individuals are earning thousands of dollars per month by monetizing their vlogs or video logs. Consider creating useful and engaging short videos, and leverage from YouTube's extended reach to make a lot of money online. 
You can create videos of different niches. The video can be product reviews or how-to videos regarding a topic of interest. Once you upload a video, you should enable the monetization option from the YouTube settings. Your videos will feature Google ads and you get paid when users view the ads. 
Another way you can monetize through YouTube videos is through paid sponsorships. This is a viable business idea if you have a large online following. Companies will pay you for promoting their products or services on your site. 
8. Sell Creative Art Online
If you have a creative talent, you should consider setting up a business selling arts online. You can make some money by selling your oil painting or digital photographs.  You can sell creative products online or upload the stuff on sites such as CafePress, Lulu, Teespring, and Zazzle. 
9. Home Baked Organic Food
Do you have a knack for cooking? If so, consider setting up an online business selling organic homemade food. With increasing people becoming aware of the health effects of processed food, you can easily win customers by selling what they like – healthy homemade food. 
10. Sell Online Courses
You can make a lot of money online by selling online courses. If you have experience in any area, you should monetize the experience by creating courses or teaching online. 
Successful Online Businesses Examples
The cyber world is full of online business success stories. A lot of entrepreneurs have been able to amass millions just by hitting upon the right business idea. Here are some of the online business success stories that will serve as a role model for you as you start your own online company. 
Affiliate Marketing Done Right
The Wirecutter.com is the perfect example of how much money you can make by setting up an online affiliate business. 
Brian Lam had created the affiliate marketing site in 2011. In just four years, the online site was generating about $150 million in affiliate marketing. He sold the site in 2016 to the New York Times for $30 million. 
The best thing about this online business success story is that Lam didn't have to go through the usual channels to start a business. He did not have to create a lengthy business plan or pitch his business for venture funding.  Furthermore, he only had to post only a few dozen articles to his site each month. But the payback was huge. 
DEVISE
DEVISE was created by Jeff Tailor, a successful online businessman who makes millions selling websites. What started as a little-known website design and digital marketing agency has turned into a million dollar agency with a successful online business model. The company creates websites, builds traffic, and sells them to large companies. 
In 2016, he had made seven figures selling a fitness website to an unknown buyer. 
Fluent in 3 Months
Fluent in 3 Months was created by Benny Lewis to help people learn languages from around the world. His site has been featured in National Geographic, Forbes, The New York Times, Business Insider, and many other popular sites. 
His success story shows that you don't need to have a lot of degrees or already an expert to start an online business. When he started out, he couldn't properly speak even one foreign language. Today his website attracts a large number of online visitors who are eager to learn about the secret to learn a foreign language in just 3 months. 
Liberty Jane Clothing 
A great example of making money by serving a niche segment is Liberty Jane Clothing online store. Founded by couple Jason and Cinnamon, the online business generates $600,000 a year. 
The business idea is simple: sell PDF files of mini doll clothing patterns. But the impact of the business idea is huge allowing them to rake in thousands from their online store. 
Raw Generation
Jessica Geier was able to make $96,000 per month selling unpasteurized juice blends. At first, she had difficulty coming up with the right taste. But her persistence allowed her to come up with a product that is today selling like hot cakes.  The success story if you stick to your business idea and keep trying, and success will surely knock at your door. 
Bearbrand
Eric Bandholz success story also shows how you can earn a lot of money by serving the unmet needs of the niche market. He had founded an online store selling beard maintenance products. 
His shop Bearbrand started generating $120,000 per month after just first year. The success of the online store shows two things. Firstly, you should not hesitate from serving a small target market. Secondly, keeping long facial hair is surprisingly popular among the men in the US!
Running Successful Online Businesses On The Internet And The Opportunities
The online marketplace is like a 21st Century goldmine. Anyone with the right business idea can make a large sum by setting a business online. 
The online marketplace has set an even playing field. You don't need to invest millions or have the right contacts to make it big in the cyber world. The online platform holds a limitless potential to make huge amounts of money. 
The business ideas and successful online business examples will serve as an inspiration to create your own million-dollar online business. 
About The Author
Your Millionaire Mentor
Shaqir Hussyin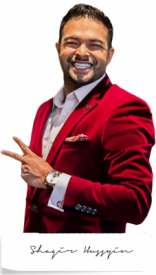 Shaqir Hussyin is the founder and CEO of Shaqirhussyin.com & Funnels.com Nicknamed the "Backpack Millionaire", he's invested $350,000 into his own education and training. Whilst traveling to 100+ countries, Shaqir has built over 10+ million dollar brands and attracted over 500,000+ subscribers.
His signature program is now available at: CreateDigitalCourse.comspecially designed for aspiring entrepreneurs wanting to start their online business with their very own high paying product.
Shaqir is also a highly sought-after speaker and direct response "Sales Funnels" global leader you can meet in person. His work has impacted over 100,000 businesses in 65 different countries. Connect with Shaqir on Instagram, YouTube, LinkedIn & FB Group.
https://wealthacademy.com/wp-content/uploads/2019/06/successful-business-idea.png
315
560
Shaqir Hussyin
https://wealthacademy.com/wp-content/uploads/2019/11/logo-plain.png
Shaqir Hussyin
2019-07-06 09:00:42
2019-08-01 00:07:20
Successful Online Businesses & Ideas