The many online business success stories are a testament to the fact that the online platform holds great profit-making potential for every Tom, Dick, and Harry. If you have been wondering how to start a small online business, you are in the right place.
Starting an online business has never been easier. You can easily start an online business without investing a lot of money.
But not all small online startups make it big. You are doomed to fail if there is no market for your product(s). In this blog post, you will learn how to set up a small online business that generates a steady source of income.
How To Start An Online Business for Dummies
Starting an online business is quite different from setting up a brick-and-mortar business. There are
certain steps that you need to take to ensure the success of your business.
Here are some tips for setting up a small online business and making it a success.
Market Research
Before you start an online business, you should carry out proper market research. Conducting market
research will allow you to learn about the products and services that are in high demand among your
target audience.
You should study the most successful online companies and closely inspect their business models. Find
out how you can do things differently to provide better value to your customers.
Create A Business Plan
The next step is to create a business plan for setting up the online company. The business plan should
list down your containing marketing and business development strategies in detail. You should analyze
your target market, competitors, and business environment.
The purpose of creating a business plan is to draft a blueprint for your online business's success. You can
follow the strategies based on market research to grow your business over time.
Create and Host a Website
Once you have decided on the products and services to sell online, you should create a website and
purchase a domain name from GoDaddy or Bluehost. The domain name is the address that people must
type in the browser to access your site.
You should also select a hosting service provider to host your website. Again, GoDaddy and Bluehost are
the best resources for hosting your website. You can also select dedicated e-commerce hosting
platforms such as Shopify, Wix, Squarespace, or BigCommerce for selling your products or services
online.
Obtain A Doing Business As (DBA) Certificate
If you want to sell online using a name other than your own, you should apply for a Doing Business As
(DBA) certificate. Getting this certificate is important if you want to open a bank account or use the
fictitious business name in your contracts.
Online Business Ideas for Beginners
Starting an online business is not that hard. You can start an online business easily. No business or
coding experience is required to set up an online business.
Here are some of the best online business
ideas for beginners.
Online Consultant
Do you have experience or skill in a particular field? If yes, then you should consider setting up an online
consultancy business. You can offer coaching classes through Skype or WhatsApp. You can offer
consultancy in the form of monthly or weekly calls.
With an online platform, you can easily market your consultancy services. The consultancy business can
be about anything you consider yourself as an expert — health coach, life coach, online business
advertising, etc.
Flip Virtual Spaces
You have heard of real estate professionals buying and flipping properties. Well, you can do the same in
the cyber world by buying and selling online domain names. Online sites such as Empire Flippers allow
you to make money through this strategy. You can invest a small sum to buy a domain and then make a
profit selling it.
Home Contracting Business
You can start a home repair business online. Create a website where you can offer different home
services to online users. The business is easy to set up and require little investment.
Accountancy Services
If you have experience in accounting, you can offer bookkeeping services to businesses. Consider
becoming an Intuit's QuickBooks certified provider. Gaining the certification will allow you to gain
recognition and trust among online users.
Online Reseller
A great business idea with the potential for earning lots of money is to become an online reseller. You
can purchase goods in your area and then sell them on sites such as Amazon or eBay.
How to Start an Online Business for Free
A lot of people think that setting up an online business requires investing a couple of thousand dollars.
The reality is that you can start a business and without investing a single penny. Here are some business
ideas that allow you to become an online entrepreneur without investing anything.
Affiliate Networking Sites
You can start an online business for free by joining an affiliate networking site such as CJ Affiliate or
ShareASale. In this business arrangement, you are paid a commission for promoting their products or
services. You can make money by sending the links to friends or publish them on your own website.
Some affiliate sites also provide company approved images. You will receive a commission when users
visit the link and buy items.
Create a Free Online Store
A number of free online resources are available that lets you create a free online store and start selling.
Sites such as Weebly and Wix have online site builder tools that let you create an online store. But the
catch is that you have to share their domain name such as xyz.wix.com. Some sites may also require you
to place ads on the website.
The online store you create using the free website builder should be professional, attractive, and
relevant to your business. You can't use a template created for bakery items to sell electronic goods.
Sell on Free E-Commerce Platforms
You can sell on existing e-commerce platforms such as eBay and Amazon for free. The free Amazon plan,
for instance, allows you to sell up to 40 products per month.
The main advantage of selling through an e-commerce platform is that you will be able to access a large
customer base. In addition, you have the option to scale your business as the sales growth over time by
switching to a subscription plan.
But, you have to pay a fee of $0.99 per transaction for the free account. This will cut your profit figure so
you should think twice before using this strategy.
Start a Blogging Site
If you love writing, you should consider starting a blogging site. All you need to do is to write an article a
week and gain followers. When you are able to attract a large number of online following, you will be
able to monetize the blog site by running online ads on the site.
Custom Design Printing
Do have a talent for creating artistic stuff? Is so, you should consider using 'print on demand' sites such
as Society6 and Zazzle. The sites allow you to upload your creative art to the site and earn online for
free. You will receive royalty payments whenever customers make a purchase from your site.
Online Video Channel
A lot of people are earning thousands of dollars each month by uploading videos to YouTube. The large
user base makes it an attractive platform to promote products and services. If you create regular viral
videos with lots of views, you can earn a lot of money by monetizing the channel.
Interactive Learning
You don't have to sell products and services to make money online. Selling online courses is one of the
easiest ways to earn income. You can create audio podcasts, video webinars, or an eBook. Your
imagination is the limit when it comes to making learning material. You can make informative content
for just about any topic.
Make sure that the topic is interesting and the content is engaging. You can upload the content on your
free website and start earning passive income.
In-Home Daycare Services
You can also start a daycare business for free. Just create a website offering your services and promote
the business online. You can offer to provide in-house childcare services. In this way, you don't need to
get a license for starting a daycare business.
Similarly, you can offer in-home elderly care or pet care services. You can offer the services of taking
pets to vet appointments, caring for the elderly, or doing household chores. This is a great way to earn
income without investing anything in your business.
Freelance Work
You can start freelance work by starting at a freelance site. This freelance sites such as Up work allow
you to connect with businesses who may require services such as copywriting, programming, or graphic
designing.
You can also start a freelance editing business if you have experience in crafting and editing blogs and
books. This will allow you to earn passive income by offering editing services through a freelance site.
Here are additional online business ideas for beginners that are proven and effective in generating
income.
 Translator
 Clothing press services
 Home cleaning services
 Professional resume service
 Custom furniture
 Interior decorator
 Swimming pool cleaner
 Online tech support
 Makeup artist
 Hairdresser
 Event Planner
My Thoughts On Starting A Small Online Business
Stories of successful online businesses show that all of them started something that they were passionate about. Another important thing you should note is that most had started generating income only about 24 months after setting up an online business. In other words, passion and patience are the two key ingredients of a successful online business. You need to be passionate about what you are selling and patient enough to see your business to success.
About The Author
Your Millionaire Mentor
Shaqir Hussyin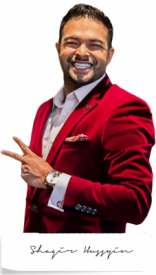 Shaqir Hussyin is the founder and CEO of Shaqirhussyin.com & Funnels.com Nicknamed the "Backpack Millionaire", he's invested $350,000 into his own education and training. Whilst traveling to 100+ countries, Shaqir has built over 10+ million dollar brands and attracted over 500,000+ subscribers.
His signature program is now available at: CreateDigitalCourse.comspecially designed for aspiring entrepreneurs wanting to start their online business with their very own high paying product.
Shaqir is also a highly sought-after speaker and direct response "Sales Funnels" global leader you can meet in person. His work has impacted over 100,000 businesses in 65 different countries. Connect with Shaqir on Instagram, YouTube, LinkedIn & FB Group.

https://wealthacademy.com/wp-content/uploads/2019/07/start-a-small-online-business.png
315
560
Shaqir Hussyin
https://wealthacademy.com/wp-content/uploads/2019/11/logo-plain.png
Shaqir Hussyin
2019-07-15 09:38:32
2019-07-03 19:52:27
How To Start A Small Online Business