Starting an e-commerce business provides a lot of opportunities for budding entrepreneurs to turn their ideas into a profitable reality. By setting up an e-commerce business, you can sell your products and services to global audiences across different demographics and geographic locations. And the journey to online business success starts with learning how to start an online store. 
Global online sales are growing at an exceptional rate. Recent stats show that online sales amounted to $2.49 trillion in 2018. 
A lot of people think that it's difficult to start an online store. The reality is that it has never been easier to set up an online. Today, lots of tools are available that let you create an e-commerce site easily. 
How to Open an Online Store: Step by Step Guide
Step 1 — Conduct Market Survey
You must carry on a market survey to find out what products or services have a high demand among your target market. Market research may take a lot of time, but the effort will definitely pay off in the longer run. 
When you conduct a market survey, you will find out more about your target market. This will help you make an informed decision about what products or services to sell online. You will know what online offering will resonate well with your potential customers. 
The market research for setting up an e-commerce store should focus on the following elements. 
Target market —

Identify your target market and find out about their preferences. Find out about the size, accessibility, and unmet needs of the target market. This will help you think about the products or services that have the potential of providing positive returns. 

Customer reviews —

Seek feedback from sample target customers regarding a product or services you want to offer to them. 

Competitor analysis —

Make a list of competitors who offer products that you want to sell to the target market. Find out what they are selling and whether their business is profitable. Think about ways you can improve your value proposition to capture the target market. 
Step 2: Self Host vs. Online Platform
Once you have selected the products or services to sell online, your next step is to decide whether to sell through your own website or an online e-commerce platform. 
A hosting site may look like an attractive online business option for beginners. After all, the effort, time, and cost to set up an online store on hosted platforms are far less than a traditional website design. 
However, you will be competing with a lot of different sellers when you select this option. A hosted site such as eBay, Etsy, or Amazon provides little opportunity for you to promote your brand. What's more, you have to pay a certain amount of money to the e-commerce platform. 
Generally, self-hosting or selling through your own site offers greater opportunity to earn more profits. There is also a less external risk with self-hosting. You won't have to worry about your online account being banned for aggressive promotional activities. 
Step 3.  Build a Website
If you have decided to self-host, you should build a website online. You can either hire a professional web designer for creating a website or build your own by using a website builder.
Today, a lot of online website building tools are available that let you build a website without the need for coding. These website builders cost much less as compared to using the services of a website designer. You can build an e-commerce website and start selling by spending as little as $9 a month. 
The best paid website builders in 2019 include Shopify and BigCommerce. These sites support multichannel integration, cart recovery, and free SSL security. You can also use free website builders such as Google Sites or Weebly to create a professional online store. 
An e-commerce website should consist of the following three important elements. 
A page containing product or services

A shopping cart

Integration with payment processing systems – Paypal, Stripe, Braintree, etc. 
You should note that Weebly, Shopify, Wix, and Big Commerce come with all the e-commerce functionalities you need to start selling. You can also add plugins to incorporate e-commerce features to your website. 
Step 4 – Select a Website Hosting Provider
Once you have built a website, you need to host your site on the World Wide Web. There are many website hosting providers available online. The best ones include GoDaddy, Bluehost, and HostGator. 
The hosting sites also allow you to purchase domain names for your online store. Make sure that you purchase a site with a .com extension as it's easier to rank in Google with this extension. Most people also trust a site with this extension. 
For an e-commerce store, you should consider a virtual private server (VPS) hosting plan. This plan will ensure smooth performance when large numbers of visitors visit your website.

Step 5 — Promote Your Website
A website that is not optimized for search engines will attract dirt in the cyber world. If your site is not discoverable online, visitors will not be able to view or access it. 
To attract a large number of visitors, you need to promote your online store. There are two methods to promote your store online. 
Search engine optimization (SEO)

Paid Digital Marketing
Both of the above are important if you want to attract online users to your website. SEO entails optimizing your site for relevant keywords. You should add relevant keywords discovered using tools such as Wordtracker or Google Keyword Planner to your e-commerce website. Also, you should add links to your products to the relevant website, forums, and social media to attract an online audience. 
In addition, you need to promote your online e-commerce store using Facebook, Twitter, and Google advertising platforms. This will allow you to promote your sites to millions of targeted users online. 
Starting an Online Store with No Money
You can also start an online store without investing a single cent. A lot of online resources are available that lets you create and host a store online without having to pay for anything. 
The online platform lets you create and manage an online store for no cost at all. Starting a business with this online service is easy. Just select from various available templates and start selling. You can sell up to 25 products using the online store. The online site supports integration with popular payment platforms such as AfterPay, PayPal, iDeal, and credit cards. The e-commerce platform also offers support for multiple languages and secures hosting. You can also integrate the website with popular shipping services.
Mozello is another online platform that lets you start selling for free. You can sell up to 5 items using the e-commerce platform. The site also offers SEO optimization, Google Analytics, mobile device support, and 500 MB storage. 
Lastly, you can use Freewebstore to create an online store for free. This site supports shopping cart, domain names, and SSL security. You can use the website builder to create a free site and host the site online. 
Best Free Online Store Templates
Most professional templates cost between $50 and $200. However, you can also select templates that don't cost anything. Here is a list of some of the best free online store templates available online. 
Narrative is ideally suited for selling high-end luxury products. The free Shopify template is best for selling luxury watches, handbags, and clothing. This template has a minimal design that is optimized for both desktop and mobile screens. 
PetStore is a free WooCommerce template that is ideal for selling pet supplies. The template online store is easy to use and maintain. You can modify the templates as well since it's compatible with General Public License. With Bootstrap functionality, the website is responsive and compatible with different screens. 
Supply is yet another great online store template that totally free. The Shopify template is best for selling electronic products. The theme features a slideshow of products, product filtering, featured collections, and support for large catalogs. 
If you want to set up an online store for selling wedding cakes, you should select this free Wix template. The template is tailored for selling designer cakes. You can integrate the online store with your Instagram account. In addition, the website allows customers to sign up for a newsletter to receive updates. 
E-shop is another free template that you can use with any e-commerce hosting platform. The template is ideal for sell just about any type of products. The e-commerce template features all the latest technologies to create a user-friendly website. This template supports newsletter widget, deals of the day, mega menu, and lots more. 
The Plaza is yet another great e-commerce store template that you can download for free. This elegant template is best for selling clothing and related accessories. The template is great for selling luxury, fashionable clothing items for men and women. You can customize this template to suit your requirements. 
Flash is a free online store template that is ideal for many different types of products. This free template allows you to add and customize products. The template has over six widget areas. The call to action (CTA) widget help boost conversions without having to add shortcodes to make your own CTA button. The template supports blogs, social buttons, WooCommerce support, and multiple colors. 
What I Think Of Starting An Ecommerce Business
Setting up an online store today is easier than ever before.  All the tools are available online that let you create and host a responsive e-commerce website. With the online tools, you don't need the help of a professional website designer. 
With the right tools, you can get your online startup off the ground within just a few hours. The post has provided you with all the information you need to create the next big Amazon or eBay. All that is required now is to just flex your fingers and start the online store. 
About The Author
Your Millionaire Mentor
Shaqir Hussyin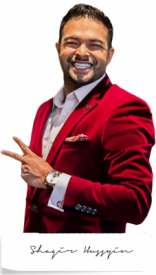 Shaqir Hussyin is the founder and CEO of Shaqirhussyin.com & Funnels.com Nicknamed the "Backpack Millionaire", he's invested $350,000 into his own education and training. Whilst traveling to 100+ countries, Shaqir has built over 10+ million dollar brands and attracted over 500,000+ subscribers.
His signature program is now available at: CreateDigitalCourse.comspecially designed for aspiring entrepreneurs wanting to start their online business with their very own high paying product.
Shaqir is also a highly sought-after speaker and direct response "Sales Funnels" global leader you can meet in person. His work has impacted over 100,000 businesses in 65 different countries. Connect with Shaqir on Instagram, YouTube, LinkedIn & FB Group.

https://wealthacademy.com/wp-content/uploads/2019/06/start-ecommerce-business-guide.png
315
560
Shaqir Hussyin
https://wealthacademy.com/wp-content/uploads/2019/11/logo-plain.png
Shaqir Hussyin
2019-07-01 09:00:32
2019-06-28 19:48:37
Ecommerce: How To Start Ecommerce Business