Thinking of starting a consulting business with no experience? I've worked with thousands of clients, most starting businesses aren't achieving their full potential. This is especially true for almost every coaching and consulting business.
They have the necessary knowledge and expertise, but don't know how to properly market their practice.
It can be extremely frustrating when you're stuck in place and struggling to get new clients. It's even worse when you're consistently failing to hit your monthly income goals.
You're forced to take on any gig you can find… As a result, you're not working with clients you love. Clients who value and appreciate what you have to bring to the table.
That's why, in this post, I want to share with a handful of tips that I'm confident will help you grow your practice, attract more clients, and scale your profits.
If you're struggling to get your consulting business off the ground, this will be invaluable information that.
What you read here, today, might just transform the way you run your business.
Here are the 9 pillars of every successful and profitable consulting business:
1. Focus On Your Area Of Expertise
I can't tell you how many coaches and consultants I've seen make the cardinal mistake of chasing after the "next big thing", only to spell and end of their consulting business.
However, I do understand where the urge is coming from. When you recognize that there's a buzz about a certain topic and high demand for it, it's easy to give into temptation and claim that you're an expert on the subject.
In the past few years, people I've never heard of before started offering their coaching and consulting services, claiming to be experts at Facebook advertising, blogging, branding, and pretty much every other thing that was trending at any given point in time.
Sure enough, this strategy can help you attract a bunch of new clients… But the thing is, you actually have to be an expert on the matter, give value to the clients, and provide a service that will actually get them results.
If you fail to do that, you're putting your entire consulting business at risk.
Reputation is one of the most important things for a coach or consultant, and all it takes is a handful of negative reviews to put you out of business – for good.
So, don't blindly jump into something just because it's trending and easily marketable. Instead, focus on your area of expertise.  
Find that one thing you're really good at, and don't waste your time on anything else.
Work on perfecting your craft, until you can say that you're the very best at what you do.
2. Offer Solutions Instead Of Services
When pitching services to potential clients, most consultants make the mistake of putting the emphasis on themselves, their experience, and the services they provide.
In doing so, they fail to realize that the clients didn't approach them because they're impressed with their service.
The clients are reaching out to you because they believe you can provide a solution to one of their burning problems.
They aren't looking for a scientifically proven way to flip a hidden switch in a woman's brain that would make her instantly fall in love with you, or some such nonsense.
What they actually want is not to be alone for the rest of their lives.
So, instead of putting the spotlight on yourself and your services, try to see things from the client's perspective.
Understand what their biggest problems and pain points are, and present your offers as a possible solution to those problems.
Ask yourself how this problem affects their daily lives.
Are they struggling financially and are constantly stressed and frustrated that they're not turning a profit in their business?
How does not being able to find a romantic partner reflect on their confidence?
Are they having trouble with getting rid of excess weight, and are finding it difficult to perform everyday tasks?
Try to fully understand what problems your clients are facing, and how you can help them overcome it and make their life that much easier.
If you do that, it will be much easier to convince them to work with you.    
3. Create A Client Attractor System
The online business climate dramatically changes the name of the game for coaches and consultants.
You can no longer rely on referrals to generate new business.
However, it offers innate advantages as well. For instance, you no longer need to chase after clients.
Instead, you can rely on online marketing to create a system that will attract new leads for you.
In order to scale your consulting business to 6 or 7 figures, you NEED to have an automated system in place that brings in a steady stream of new clients.
I know this might sound intimidating, but it doesn't have to be anything overly complicated.
It does, however, need to introduce potential clients to your consulting business. It also needs to provide them with massive value.
And, it needs to encourage them to get in touch with you and learn more about the service you provide.
Let me give you an example:
Say you're running an online ad for your consulting business…
Once a person that's interested in that particular topic clicks the ad, they're presented with a free offer.
Let's say that offer is a white paper that helps them better understand a certain topic.
They have to opt-in (provide their name and email address) to download it.
And once they go through it, at the end is a call-to-action: an opportunity to schedule a free 30-minute consultation call with you.
Whenever someone clicks and requests a call with you, you're getting a new lead.
This call gives you the opportunity to talk about their problems and your solution. This is where you sell them on your services and acquire a new client.
It's simple and effective, and once you set it up, you practically don't have to worry about where new clients will be coming from.
SHIC mastermind is designed to help coaches, consultants and online entrepreneurs develop powerful automated marketing systems and teach proven strategies that will enable you to scale your business.
4. Provide Real Results For Your Clients
To be a successful coach or consultant, and instill trust in future clients, you need to be able to consistently provide measurable results for your clients.
You need to help the client create an actionable plan they can follow to achieve a certain goal or overcome an obstacle and solve a burning problem in their life or business.
Personally, I measure ALL of the results my students are getting, from the number of leads and clients/customers they're getting, to the ROI of their marketing campaigns and the profit they generate by implementing what I teach in their business.
If you're not measuring the client results, you're wasting everyone's time.
However, the thing you need to focus on isn't the data itself, but rather the transformation they achieved in their life or business, thanks to your coaching.
Your job, as a consultant, isn't to simply overwhelm the client with information and leave them to their own devices.
Instead, you should provide continuous support and guidance, help them make use of that information, and ensure that they are getting exceptional results.
It requires more effort than simply telling the client what they should do, but by consistently providing great results for your clients, you'll see your business begin to flourish.
You'll not only have amazing testimonials that will show any future clients that you know exactly what you're doing, but if you are perceived as a true expert in your field with a high success rate, you will be able to charge a premium price for your services.
5. Work Smarter, Not Harder
Scaling your consulting business doesn't mean you have to spend 12 or 14 hours a day working.
If anything, you'll see your results plummet if you burn yourself out.
If you're not leaving any time for yourself, forgo your social life, neglect friend and family, your consulting business will begin to suffer.
Clients can tell when you're not on top of your game, and are instead just trying to make it through the day, and will be put off by your lack of engagement and interest.
So, instead of working yourself to death, think about smarter ways to make use of your time.
Here's what you can do: Instead of booking 10 clients a day and spending more than half a day in the office talking to them one-on-one, you can create and host a group workshop:
Break down your solution into smaller, actionable steps




Instead of trying to deliver a comprehensive solution to each of the clients' specific problems, focus on a single problem that your clients have in common, and break it down into several steps.
Hold a group workshop and teach one step every week




Deliver your solution one step at a time. 

Have several people join you on a call, and walk them all through a single step every week.
Assign homework and make sure everyone follows through
Give them stuff to do between each session. Assign "homework" that includes implementing the step they have learned.
Have them share their results on the next call to create accountability.
The reason why group workshops work so well is because they often provide even better results for the clients than talking to them one-on-one.
They have the ability to discuss their situation with other people who have a similar problem, and being in a group will push them to work and get even better results.
From your perspective, the benefits should be obvious. If you're charging something like $100 an hour, and are booked throughout the whole week, you'll earn $4,000 for a solid 40-hour work week.
On the other hand, you can hold a workshop with 2-hour sessions once per week, and charge $4,000 per month for a spot on the workshop.
If you enroll 10 people, you'll be earning $40,000 a month, while only investing 2 hours of your time every week.
6. Host Webinars
Webinars are a powerful way to establish yourself as an authority and attract tons of new clients.
They give you the opportunity to communicate with your target audience directly. Thus, you can present your practice and your service in the best possible light.
Webinars have the same effect as a fully-developed content marketing campaign. Simultaneously, they allow you to promote a direct offer.
It's no secret that content marketing has become a vital part of every comprehensive marketing strategy…
Today, consumers expect to receive value before they make a purchase.
This applies to coaching & consulting business as well.
You can't expect someone to pay you $1,000 for a coaching session, without first seeing what you can bring to the table.
In recent years, blogging has become one of the most popular ways to deliver amazing content to your target audience.
However, you can't realistically expect someone to whip out their credit card and pay you a couple hundred dollars for one of your products or services, because they really enjoyed reading one of the articles on your blog.
Sure, having a blog helps you build authority and attract new leads. It also helps instill trust in potential clients by showcasing your knowledge and expertise…
But, what a blog doesn't do is put the spotlight on your clients burning problem. It doesn't provide them with a real solution to their problem.
And it certainly does't make a direct offer.
A webinar, on the other hand, does everything I just mentioned. All the while delivering amazing content to your target audience, mind you.
On top of that, webinars are extremely cost-effective. All you really need to get started is an internet connection, a microphone and a webcam.
Then, it's a matter of using a webinar hosting software like WebinarJam.
7. Learn From Other Successful People In Your Industry
There are a couple of different reactions most business owners have when facing a problem or an obstacle in their business.
Some choose to ignore it, hoping that the problem will magically solve itself.
After a while, when it comes apparent that the problem persists and that the "ship is already sinking".
Then, they simply make peace with the fact that it's too late to fix things and just wait for bankruptcy.
Others try to solve their problems through a painstaking trial-and-error process, which isn't really the most effective approach you can take.
It's expensive, and takes a lot of time to figure out exactly what works and what doesn't.
Chances are, whatever problem you're facing, someone has already encountered it before.
And if they managed to find a solution, you can use in your consulting business, as well.
So, instead of wasting time and money trying to figure out everything on your own, you can rely on their experience.
The same principle applies when you're trying to scale your consulting business and increase your monthly income.
You can check out what other successful coaches & consultants in your niche are doing, take some of their best practices, and apply them in your business to achieve the same results.
8. Have Integrity
As a coach or consultant, you need to take full responsibility for the advice you're giving to your clients, and operate with absolute integrity.
When a client contacts you, regardless of their situation, it's best to be straightforward and tell them the truth.
Tell them what the root cause of their problem is. Then, tell them what they need to do in order to turn the situation around.
Sometimes, consultants refrain from telling a potential client what they're doing wrong.
They fear it might push the client away and dissuade them from investing in their services.
However, for you to provide results and help the client overcome their problems, they first need to understand what got them into the situation they are in.
You're not pointing fingers and putting blame on them. Everybody makes mistakes, it's only human.
However, they need to come to terms with one simple fact. It's that, if something in their life or business isn't working out, they need to make a change.
Sugar-coating the problem only makes it even more difficult to fix.
That said, if you believe that the client's situation is not something you can help with, you should let them know immediately.
The last thing you want is to start working with a client, and waste both your own time and theirs.
Make sure you can actually provide value to them.
In my opinion, that's how every consulting business should be run.
9. Make Helping The Client Your Primary Goal
This should be a principle you rely on throughout all your marketing efforts.
When you're launching an ad for your consulting business. When you're giving a presentation, hosting a webinar, or promoting your services…
Always make helping the client your #1 priority.
I can't stress this enough – helping your clients solve a problem should be your number one priority.
Nowadays, nobody cares about what college you graduated from, or how many titles and certifications you have.
The only thing clients are concerned with it whether or not you can actually help them solve their problems.
They want to know whether you're the right person to turn to for the solution.
The best way to show them that you can indeed help them is by solving some of their problems free of charge.
This can also be done through webinars. You can take a problem from one of the attendees and discuss it on the webinar.
Give a few possible solutions. Then, tell them how they can contact you if they want to continue working with you.
This way, you're not asking your target audience to simply take your word for it. You're actually giving them a reason to trust you.
You're giving them results before they have to commit to anything by telling them how a specific problem can be solved. Then, you can simply offer to provide more help, if they decide they want to start working with you.
Titles, credentials, and college degrees can't hold a candle to actually showing your potential clients firsthand what you can do for them.
Start Growing Your Consulting Business Today
If you're serious about leveraging the power of online marketing to attract more high-paying clients and skyrocket your monthly income, then I invite you to join the SHIC mastermind group.
I will personally work with you one-on-one to help you create a powerful, fully automated client-attraction system.
I'll also show you how you can "swipe" proven income growth formulas to scale your practice to 7 figures.
IMPORTANT: There's a limited number of spots available!
So, you need to act fast if you don't want to miss out! Click here to register your spot today.
About The Author
Your Millionaire Mentor
Shaqir Hussyin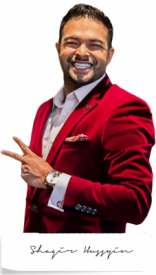 Shaqir Hussyin is the founder and CEO of Shaqirhussyin.com & Funnels.com Nicknamed the "Backpack Millionaire", he's invested $350,000 into his own education and training. Whilst traveling to 100+ countries, Shaqir has built over 10+ million dollar brands and attracted over 500,000+ subscribers.
His signature program is now available at: CreateDigitalCourse.comspecially designed for aspiring entrepreneurs wanting to start their online business with their very own high paying product.
Shaqir is also a highly sought-after speaker and direct response "Sales Funnels" global leader you can meet in person. His work has impacted over 100,000 businesses in 65 different countries. Connect with Shaqir on Instagram, YouTube, LinkedIn & FB Group.

https://wealthacademy.com/wp-content/uploads/2018/04/The-9-Pillars-Of-A-Successful-Profitable-Coaching-Or-Consulting-Business-WA-BLOG-POST.jpg
448
807
Shaqir Hussyin
https://wealthacademy.com/wp-content/uploads/2018/02/logo-plain.png
Shaqir Hussyin
2019-07-09 09:07:27
2019-06-29 03:50:53
Starting A Consulting Business With No Experience