How do you find a millionaire mentor or business coach for yourself? Here are 4 steps I follow on how to find a millionaire mentor. There are important steps I've found that usually work every single life event I attend. Finding a millionaire mentor is a three step process:
Know Yourself First
Attend & Network At Conferences
Pick Best As Candidates
Build A Rich Relationship
#1. Know Yourself First Before Getting Mentor Or Business Coach
When you seek a mentor, it should be for a reason.  Wanting to find someone who will "just make all the things better" is seeking a therapist, not a mentor.  A mentor is someone who has experience in a specific area of your life and can share information, encouragement, and insight so that you can better that part of your life.  Determine which areas of your life you are seeking to improve before you seek a mentor.
#2. Attend & Network With Millionaire Mentors At Conferences
When I attend a conference, I like to have an event to invite people to. That means I get all of their cell phone numbers to be able to text them the location and time. It feels exclusive, so people ask if they can invite other people.
When I was at a conference in Vegas, a friend of mine had a complimentary suite. I asked if we could plan something in his suite, and I invited another friend, a mind-reading sword swallower, to join us and bring his swords.
When I was mingling with people and found someone I wanted to further connect with, I said, "I'm putting together a little gathering. There will be a sword swallower and a crazy card game called Cards Against Humanity. Just give me your cell, and I'll text you the details."

There were a few millionaires I knew at the conference, and I was able to connect with their friends, who were also millionaires. One of the millionaires I invited was John Hall from Influence and Co, and he brought the alcohol! It cost me zero dollars. Great connections were made, and it was a really fun night.
This strategy is effective because you'll get to know millionaires on a personal level, which is better than just getting to know them over the Internet. These in-person networking events will help you transform your relationships with successful people from being acquaintances to friends.
Here's how you can replicate this:
Set specific goals – before attending a conference, set goals that describe who you'd like to talk to or how many connections you'd like to make.
Meet someone before you go – ideally you want to be friends with a key influencer before you go to the conference. That way you have someone to vouch for you. Find out who is going and start to build that relationship early. When you meet, make a point of meeting that person early in the conference.
Get introduced by your successful friend – when you already have one friend that knows others, it's easier to have them introduce you. It's harder to walk up to someone successful and build a trusting relationship within minutes.
Plan dinners – like my story above, plan a party in a suite or plan a dinner at a restaurant near the conference and invite several people with whom you'd like to connect.  They have to eat too, and having a reservation or arrangements already made so that all they have to do is show up makes it super easy for them.
#3. Pick Best Business Coaches & Mentors As Candidates
Mentors must be people you can reach.  If you seek to have the President of the United States as your mentor, you will very likely not succeed. The reason is simple – you simply cannot reach him.  
Start with a pool of experienced individuals in your field of improvement who are also people that you can reach. Mentors must also be committed to your success.  He're are some examples of  business mentors i choose to be coach by.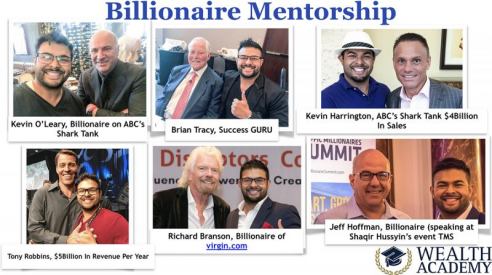 It's not uncommon for someone to ask a cousin to help improve his basketball game, only to find that the cousin just wants to dunk on him all the time.  That's not a mentor, that's a sparring partner.  Being committed to your success means that the person in question will gain personal emotional reward from seeing you accomplish your goal.  This can either be in the personal level (like a parent) or in the impersonal level (like a national-level sports coach).  In both cases, you want someone who will have a "selfish" motivation that you succeed.
Parents, teachers, pastors (if you are religious), experts in a field, elders, professional coaches (sports, business, life, etc.) are all candidate pools for mentors.  Write down the names of ALL the experts around you, regardless of age, then sort them from best to worst.  Call the top 10.
#4. Build Relationship With Best Mentors & Business Coaches 
It's always a compliment to be asked to mentor a person.  It's also a burden and commitment.  If you are seriously asking someone to mentor you, then you need to be sure that you are both serious about making you better in the area that matters.  
That means that not only should you be committed to showing up on time, respecting the mentor's time and personal life, but you need to know that the mentor will also be committed to be present at the designated time, be capable of listening and paying attention, and be willing to stick around until you both agree that the situation is better.  
It's a negotiation, and by treating it as such, you express a respect to the mentor and to yourself.
Thoughts On How To Find The Best Mentor & Business Coach For Entrepreneur
Set ground rules for time management.  Mentorship isn't a free license to just call this person any time of the day with whatever ails you.

Set a window of contact time that is regular.  It doesn't have to be "every Tuesday at 5pm" (though that is also acceptable if you both agree), but it should be at least "one hour every week" or some such commitment.  Leaving it open will lead to fade away.  Remember, the mentor's time is the driver here, he or she is doing you a favor.

If the mentor is a paid individual, expect more work from the mentor – and say so up front. A great way of phrasing it is, "I have had coaches in the past who just made it up as we go along, so I'm wondering what your plan looks like and how much feedback you'll give me outside of the training session?"  Homework, assessments, written materials are reasonable to expect from paid mentors.

Don't be afraid to "fire" a mentor at any time if you find that he or she is not working. ALWAYS be polite and grateful, even if they were horrendous. Why? Because this is a person who gave you some of their time.  But ultimately, the driver is your success, not theirs – so if it isn't working because the hat doesn't fit, just get another hat — it's not about whether they're a good person, it's about whether it works.
Related Content:
No matter where you turn to find a rich mentor, connecting with the right one should be a key step in your business plan. The right mentor can guide you through tough business choices and help set you up for success for years to come.
Want my 1:1 help from a millionaire mentor?
Claim your FREE 30 minute Millionaire Mentorship Session – Click here.
I hope this article sparked your interest, and brought you closer to understanding the importance of having the right mindset and right mentor.
If you're interested in a specific solutions, check out more insightful knowledge here. 
And, of course, if you have any questions, comments, or feedback…  Feel free to post them in the comments below!
About The Author
Your Millionaire Mentor
Shaqir Hussyin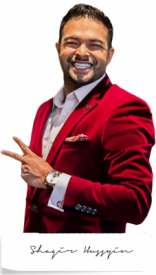 Shaqir Hussyin is the founder and CEO of Shaqirhussyin.com & Funnels.com Nicknamed the "Backpack Millionaire", he's invested $350,000 into his own education and training. Whilst traveling to 100+ countries, Shaqir has built over 10+ million dollar brands and attracted over 500,000+ subscribers.
His signature program is now available at: CreateDigitalCourse.com specially designed for aspiring entrepreneurs wanting to start their online business with their very own high paying product.
Shaqir is also a highly sought-after speaker and direct response "Sales Funnels" global leader you can meet in person. His work has impacted over 100,000 businesses in 65 different countries. Connect with Shaqir on Instagram, YouTube, LinkedIn & FB Group. 

https://wealthacademy.com/wp-content/uploads/2017/01/how-to-find-a-millionaire-mentor.png
315
560
Shaqir Hussyin
https://wealthacademy.com/wp-content/uploads/2019/11/logo-plain.png
Shaqir Hussyin
2019-07-31 08:00:00
2019-08-02 20:32:09
How To Find A Millionaire Mentor Or Business Coach