Email marketing has always been the most profitable marketing tool there is. Therefor we will discuss some marketing tips in this article that will effectively increase your marketing profits.
Though overshadowed by other popular digital marketing tools, email marketing is known to generate ROI numbers than other avenues.
Therefore, it becomes important for entrepreneurs to focus on harnessing the power of email marketing for your business.
Don't know where you should start?
Let's break it down!
Boost Your Sales with these Email Marketing Tips
Play around with the calls-to-action (CTAs): Convincing and powerful CTAs help generate increased traffic to your website. To see which CTAs encourage customers to visit your website the most, tweak your CTAs frequently. For instance, opt for an image-based CTA for a week, and for the next week, go for a text-based CTA. This will give you an insight into what works the best for your business.
Pay extra attention to the subject line: A successful email marketing campaign begins with a killer subject line. So instead of leaving this for the last, invest time in coming up with a creative and catchy one. Remember, you want your customers to actually open the email. Therefore, always use subject lines that are intriguing but short.
Keep the text to the point: You don't want to lose a customer right after they've opened your email. So keep your message concise and clear. This will help your recipients get a clear picture of what you're actually marketing to them.
How Not To Do Email Marketing
Don't Rely On Endless Brand Promotions: The last thing that your customer wants is to open emails that sing endless praises about the brand. So refrain from promoting yourself or your business in the emails. Instead, tell them about any new product lines, promotional events or activities.
Avoid Using Certain Words: Email marketing can be a bit tricky. A few wrong words and your emails end up in your customers' spam folder. So avoid sprinkling your emails with words such as "sale" or "cash." Also, make sure you're updated on the anti-spam laws.
Don't Neglect to Test: So your emails have amazing content with an engaging subject line. But that can only take you so far. Take out the time to run a detailed test. See how your emails look when they're received. Check if the design's aligned properly. Double-check for grammatical errors. In short, invest time and effort in making sure your emails are flawless.
My Thoughts On The Effectiveness Of Email Marketing
If you're interested in running a successful email marketing campaign for your business, sign up with Shaqir Hussyin at the Wealth Academy.  Shaqir Hussyin provides you with educational tools, training and certifications to achieve your entrepreneurship goals in a shorter amount of time.
To follow our 4-step formula for building a lucrative business, call us today!
About The Author
Your Millionaire Mentor
Shaqir Hussyin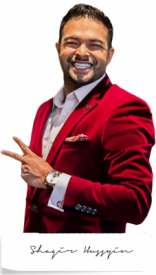 Shaqir Hussyin is the founder and CEO of Shaqirhussyin.com & Funnels.com Nicknamed the "Backpack Millionaire", he's invested $350,000 into his own education and training. Whilst traveling to 100+ countries, Shaqir has built over 10+ million dollar brands and attracted over 500,000+ subscribers.
His signature program is now available at: CreateDigitalCourse.comspecially designed for aspiring entrepreneurs wanting to start their online business with their very own high paying product.
Shaqir is also a highly sought-after speaker and direct response "Sales Funnels" global leader you can meet in person. His work has impacted over 100,000 businesses in 65 different countries. Connect with Shaqir on Instagram, YouTube, LinkedIn & FB Group.

https://wealthacademy.com/wp-content/uploads/2019/06/email-marketing-1.png
315
560
Shaqir Hussyin
https://wealthacademy.com/wp-content/uploads/2019/11/logo-plain.png
Shaqir Hussyin
2019-07-04 10:15:39
2019-07-03 18:02:55
Email Marketing Tips: Effective Do's & Don'ts