CRM systems is an acronym for Customer Relationship Management. Now, there have been a number of debates regarding what CRM systems actually is. Some believe it's a strategy, while others firmly state that it's a technology.
Technically, both sides are correct…
In essence, the CRM is a strategy for managing relations with potential and existing customers. When people call it a technology, they're actually referring to CRM systems software solution.
Regardless, the goal of CRM systems is to help improve your business relationships.
What Is CRM Systems And Why It's Important? 
Well, I'm sure you understand that customers are the lifeblood of any business. Online & offline.
Maintaining a good relationship with them and ensuring customer satisfaction is vital. 
In that sense, CRM systems can help you connect with customers more easily. It also enables you to streamline processes, which ultimately boosts your profitability.
CRM systems includes tools and channels which help you manage your contacts, sales, improve productivity, etc.
So, CRM solutions don't just influence your relationship with customers. They help improve your relations with colleagues and suppliers, as well.
Does Your Business Need CRM?
When running a business, sustainability is equally important as profitability. If you want to stay in the game for a while, you need to plan for the future.
Hence, you need a solid strategy, which has to include CRM. I've seen quite often how neglecting customers ends up being a business' downfall.
You can't simply focus on sales & marketing, without including the key player – the consumer.
Besides, there's all the data you're gathering from sales, customer support, marketing, social media, and other channels.
In order to convert that data into actionable insights, you'll need a proven system. That's where solid CRM systems can be a tremendous advantage for you.
It helps you put all the pieces together and provides you with a clear view of your customers.
When all your data is stored in one place, life becomes so much easier.
Everything's streamlined.
All the processes are well defined.
You & your team are more efficient.
Productivity hits the ceiling.
Your customers are satisfied with your products & services.
And, as a result – you're making more money.
A CRM solution provides that much-needed central hub. From a single platform, you can see all the relevant information.
For instance, customer's previous interactions with your business. Ir, their outstanding orders, feedback, complaints, service issues, etc.
Most solutions even let you see the information regarding customers' social media activity.
This goes beyond just their interests and what they liked on the platforms. You can actually see what they're saying about your business and your competitors.
CRM Systems And Your Marketing & Sales Funnel
The full extent of CRM systems goes way beyond that of a sales and marketing tool.
In fact, when implemented correctly, it becomes an integral part of your business.
From HR to customer service, it provides multiple benefits in virtually all areas.
Additionally, it can help you understand and gauge the effectiveness of your funnels.
In turn, you'll have a better idea about the effectiveness of your marketing efforts.
You'll also be able to make data-backed predictions for the future, and pull strategically advantageous moves accordingly.
The biggest benefit, however, is streamlining your customer service. Let me illustrate with an example:
Say a customer has a complaint, and they post about it on Facebook.
Once you get in touch with them, they'd likely want to resolve the issue in private. Which means switching over to email, or a Skype call.
With a few customers, that might not seem like a problem. However, when there are hundreds of support tickets, it can be challenging to keep track of which post corresponds to which email address.
You'd waste a ton of time going through the same information several times…
CRM systems eliminates these repetitive tasks. It combines all the information you need to resolve the issue, on a single platform.
So, regardless of how many channels the communication spans across… You'll always be able to keep track of all the necessary info.
Everything's there, on the dashboard – just a click away.
This will ease the stress on your support team, and drastically boost their productivity.
In turn, their response time will increase. Which means happier customers, more business, and higher profits.
Not Having CRM Systems Actually Costs You WAY MORE Money Than Implementing One
Investing more time into management means you're taking that time from other activities.
Your sales team should generate a ton of useful data. However, most of the time, this information isn't stored in one place.
It's scribbled all over individual sales reps' notes, or saved on dozens of laptops…
Sometimes, it's not even written down anywhere. It's just in the head of a single person.
And, when you want to make decisions based on that data, you're in a world of trouble.
It can take days, weeks even, to find and sort everything, before you can start using it.
Time you'd otherwise be spending on more profitable activities.
And, what if a vital piece of information gets lost or misplaced?
Information that would've otherwise led to a sale… That's money thrown down the drain.
The bottom line is – it doesn't have to be this way.
With a good CRM system, you'll have instant access to all the relevant data. It'll all be in a single repository.
Much more efficient, wouldn't you agree?
See, acquiring and managing customer information doesn't have to be that difficult.
In today's digital day and age, there are so many software solutions that can make our lives 10x easier.
CRM systems definitely being one of them.
Just think about it for a moment. You're probably using several communication channels to interact with your customers. They can ask questions, give feedback, file in requests, and send in tickets via phone, Skype, contact forms, email…
If you don't integrate these channels, you're wasting a TON of time. Your support & sales teams can't reach pique performance in these conditions.
Their response will, therefore, be a lot slower. Which leads to unsatisfied customers… And I'm sure I don't need to explain why that's a big NO.
How Does CRM Systems Work And Why You Must Have It
1. Improve Your Customer Relationship Management Process
Implementing CRM systems will yield real, measurable results for your business. This includes significant improvements to your bottom line.
Surveys conducted over the past few years all reach the same conclusion.
It's that CRM solutions boost performance and enhance multiple areas of your business:
Source: CRM Salesforce Relationship Survey 2014–2016
2. Find And Classify Leads
CRM systems also facilitates lead acquisition. It lets you find new leads quickly, add them to your database, and classify them with ease.
Identifying the right leads will boost your efficiency dramatically. Sales can prioritize leads that are most likely to make a purchase. Similarly, your marketing team can approach leads that require a bit more nurturing, stimulate their interest, and help ease the transition from a prospect to a paid customer.
With CRM, both teams have necessary customer information at their fingertips.
Therefore, they can increase efficiency by focusing their efforts on the right people.
3. Get More Referrals & Positive Feedback
When discussing marketing strategies, companies often tend to overlook the importance of existing customers.
However, the impact referrals, testimonials, and case studies have shouldn't be taken lightly.
First, maintaining a good relationship with your customers helps bring repeat business.
Secondly, your existing customers may introduce new people to your business.
I'm referring to word-of-mouth referrals, of course.
People are much more likely to buy from a business they trust.
And if their friends trust and recommend YOUR business, they will as well.
Ergo, you got yourself a new customer.
Additionally, featuring positive reviews on your website has a positive impact on your audience.
Once they see others have enjoyed your products & services, they'll be much more inclined to check them out.
And finally, if you boast excellent customer service, you're reducing the risk factor. Customers will feel reassured, knowing that, should a problem arise, your support team will promptly fix it.
4. Enhance Your Products & Services
Customer feedback is very important. If you plan on staying in the market for a while, you need to listen to what your audience is telling you.
If they all have the same complaint, it might be time to review your offers. Check customer feedback to see what areas need improvement.
Are there any additional features they require? What's their view on the quality of your service? Ar they satisfied with your products?
These are all questions you should already have answers to. If you aren't sure, then you need to start gathering valuable data.
Good CRM systems will do just that.
It'll gather the necessary information from all your communications channels.
The insights you'll get will allow you to take the necessary actions. Whether it's improving your offers, adjusting the price, solving a problem, or even completely revamping your products.
Final Thoughts On CRM Systems
As you can see, your business can benefit greatly from a good CRM system.
Furthermore, implementing a good CRM doesn't have to cost you a small fortun e.
If anything, they can be quick and easy to implement. Especially if you opt for a cloud-based software.
If you're just starting out, this might not be the first thing on your mind…
But, further down the line, having accurate data about your customers will be on the very top of your list of priorities.
So, what's the verdict?
If you're hoping to build a business that's both profitable and sustainable in the long run…
Then, the sooner you implement CRM, the better.
Once you see the power of this system in action, you'll no longer be able to image your business without it.
Liked this? Want my 1:1 help? Claim your FREE 30 minute Income Kickstarter Strategy Session – Click here.
I hope this article sparked your interest, and brought you closer to understanding the importance of CRM.
If you're interested in specific software solutions, check out this post. 
And, of course, if you have any questions, comments, or feedback…  Feel free to post them in the comments below!
About The Author
Your Millionaire Mentor
Shaqir Hussyin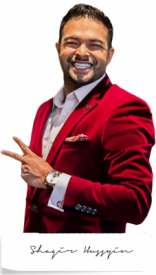 Shaqir Hussyin is the founder and CEO of WealthAcademy.com & Funnels.com. Nicknamed the "Backpack Millionaire", he's invested $350,000 into his own education and training. Whilst traveling to 100+ countries, Shaqir has built over 10+ million dollar brands and attracted over 500,000+ subscribers.
His signature program is now available: Max Income System; 14 Simple Steps To Making Your First Income Online.
Shaqir is also a highly sought-after speaker and direct response "Sales Funnels" global leader. Shaqir's work has impacted over 100,000 businesses in 65 different countries. Connect with Shaqir on Instagram, YouTube, LinkedIn & FB Group.
https://wealthacademy.com/wp-content/uploads/2018/11/What-Is-CRM-Cover.png
315
560
Shaqir Hussyin
https://wealthacademy.com/wp-content/uploads/2018/02/logo-plain.png
Shaqir Hussyin
2019-01-13 00:26:18
2019-03-30 01:17:34
What Is CRM Systems And Types Of CRM