According to Forbes, Dan Pena net worth is a whopping $450 million dollars. He's clients and students have reportedly earned over $50Billion. I've met many of his successful students including Brian Rose at a private birthday party a handful of people were invited to attend, it was Dan's 70th bday.
I have spent alot of time with this man in person over the years, recently even interviewing him for 2 hours for my Inner Circle Mastermind Clients.
It all started when I was really young, 21 or 22 years old I had gone to this conference in London, UK and met events promoter who then introduced me to meet this insanely successful man in Mayfair.
Those years I was somewhat broke, trying the whole Internet Marketing stuff and I remember sitting in a cafe that gentlemen who lived in Mayfair I had started becoming friends with said to me, when you make money, and you want to take it to the next level.
Visit this crazy old man that lives in a castle called Dan Peña, he will kick your ass, and totally change your life with his high performance coaching and business lessons. 
I remember reading and researching Dan, this was nearly a decade ago and he had a basic wordpress website. Lol.
Long story short; After I had made my first $10M in sales at the age of 26, I thought it was time to visit this man. Mysterious. Out of the box. Larger than life. Even delusional.
Almost crazy sounding, crazy looking, crazy sounding.
8 days in his castle. The first day I showed up wearing sandals and a t-shirt, everyone else was suited and booted, immediately I realised ok, I gotta get fixed up. So I grabbed a taxi and headed off to the some mall in Edinburgh to get suited and booted. What followed was very intense days of learning, early mornings till late evenings. Dan Pena's experience is one I will remember for the rest of my life.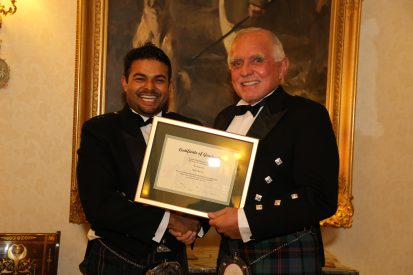 If you're looking to build a profitable & SUPER SUCCESSFUL business, who better to learn from than a man who's "been there, done that" – The controversial loved/hated Dan Peña? I don't agree with everything he shares or says. I don't like his religious views where he talks about he's on the same level as God. There's some business wisdom you can get from his work.
Dan Peña is a seasoned veteran of the business world, who boasts a net worth creation of his mentees of $50 Billion. Although you might not have heard of him, there are hundreds of reasons why you should pay attention to his teachings if you're looking to become a successful entrepreneur.
He's loud, often very angry, obnoxious and the most energetic 70+ year old man you'll ever meet in your life.
His achievements appear even more impressive, if you take into account that he grew up in a "barrio" in Los Angeles. As a result, Dan Peña started his first business endeavor with only $820 in his pocket. Over the period of 8 years, however, he generated $450 Million with his oil company.
Dan Peña is the owner of Guthrie Castle, chairman of The Guthrie Group, and founder of the Quantum Leap Advantage. His best-seller "Your First 100 Million" still remains a great inspiration for millions of "ordinary" people around the globe. Inside, he shares hundreds of the most valuable business lessons and life experiences in general. But, more importantly, he provides a step-by-step framework for building a wildly successful business from the ground up. Now lets discuss the. …
5 Dan Pena Business Lessons He Applied To Grow His $50 Billion Dollar Net Worth:
1. You Must Be Obsessed By Your Dreams And Values That Represent It
Dan Peña doesn't try to sugarcoat the truth. Instead, he believes it's vital to understand that the road to success is difficult.
It's filled with obstacles, pitfalls, and roadblocks. And it takes a lot of motivation and perseverance to get to the finish line.
That said, his example shows that it is indeed possible. Even if you're starting with nothing but an idea.
However, one key characteristic of successful people is that they're obsessed with their dreams.
Although obsession doesn't exactly hold a positive context, it's a perfect word to illustrate Peña's point.
You can't approach your business as something secondary, something you do on the side…
You have to commit yourself to your dream, fully invest yourself in it, and spend every single day working your hardest on getting it one step closer to becoming your reality.
And for that to happen, it's not enough to simply want it. It's only possible if you're obsessed by it. If you make building your dream business your life's purpose.
If you aren't doing what you love, and aren't passionate about it – you won't make it. You'll always feel tired, stressed, looking forward to weekends and holidays…
You'll feel like you're pressured to do something; whereas if you're obsessed by it – you'll enjoy every single second you put into developing your business.
2. Most Valuable Lessons Learned From Entrepreneurs; You Need Others To Grow
One of the key notions of what Dan Peña calls "Quantum Thinking" is that you cannot grow exponentially yourself. You NEED the support of others.
There's only so much a single person can do in a day by themselves. Regardless of how intelligent, resourceful, hardworking, and talented you might be.
Building a wildly profitable, successful, and sustainable business takes a TON of work. And it covers at least a dozen different areas.
To ensure that you're getting the most out of every business activity, you'd need to be an expert in all of them. Although it's technically possible, in reality it would take years to master everything. You'd need to learn website building, coding, copywriting, design, marketing, management, and so on.
Even if you manage to get there, there's still only so much you can do in one day. And the tasks will just keep piling up.
Now, by no means does Peña think this is impossible. It's just that, due to time restraints, you wouldn't be able to grow as fast as you would, if you shared responsibilities among a team of highly skilled individuals.
So, the bottom line is – you don't have to go at it alone. You'll reach success much faster if you rely on support of others.
This includes both coworkers, fellow entrepreneurs, and mentors alike. Not only will you be able to learn faster and implement the top-performing strategies more efficiently… But, by building your network, you'll open up new doors which may lead to new profitable business opportunities.
So, don't be afraid to share your dream with like-minded individuals. Surround yourself with people who share your vision and ideas, and work together to turn it into a profitable reality.
3. Lessons Learned From Entrepreneurs Scaling Businesses; Pay Yourself First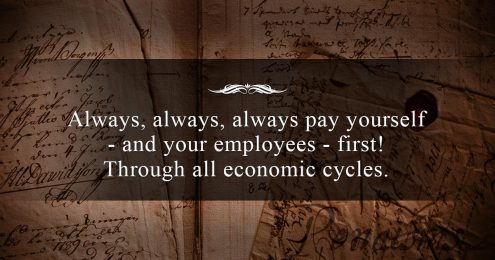 Although this is one of the premises Dan Peña always likes to remind us of, many people don't fully understand what "paying yourself first" actually means.
I have taken this piece of advice to heart, and once I started doing it, I realized the truth behind the words.
So, I want to share that truth with you here, because I believe it's of utmost importance.
What this notion entails is actually putting money aside for yourself, before anybody else.
This includes your bills, mortgage, credit card company, car insurance, etc.
If you think about it, all of these things are for you. They make your life easier and more comfortable.
And you need to make sure you always have enough money set aside to cover the expenses.
Therefore, you need to teach yourself to put that money aside, and never touch it.
That's the key here – teaching yourself financial discipline. Being smart with how you spend your money, regardless of how much you're making.
That's the only way to become a millionaire. By disciplining yourself and learning not to throw money on things you don't need.
However, this notion also includes your employees. Make sure that, at all time, you have enough money to cover their paychecks.
Even set some extra on the side, to reward those who are over-performing, pulling all-nighters, and working overtime.
And, most importantly, set some money aside to just enjoy life. This is key; it's what will keep you going.
You are your own employee as well. Pay yourself! Don't hesitate to write yourself a paycheck.
You deserve to bear the fruits of your hard work. It's what will keep you going and strengthen the feeling that you're moving in the right direction.
Always, always, always pay yourself first.
4. Basic Business Lessons: Execute Today Rather Then Next Week
Planning is a vital part of running a successful and profitable business.
Without a solid plan, your execution will suffer. You'll just be wandering aimlessly, constantly wasting a ton of time trying to figure out what your next move should be.
So, having a plan is a must. That said, Dan Peña teaches us not to go overboard with the planning process.
Creating the "perfect" plan takes a ton of research, testing, data gathering, forecasting… In turn, it can greatly delay production and execution.
Which means, although it might get better results, you have to factor in all the time and effort that went into it's creation.
Meanwhile, a good enough plan which can be implemented right away will make you money during that period.
So, don't try and come up with the perfect plan. Instead, come up with a good one that you can execute TODAY.
It will enable you to keep things in motion. Besides, you can always tweak it on the fly.
A good plan will already start producing results by the time you would've come up with a great one.
As Dan likes to say it:
Life is what happens when you make other plans. - Dan Peña
Click To Tweet
So, don't force yourself to be a perfectionist. Make the most out every moment.
Create a good plan and start executing it right then and there. Write it out, monitor it, and follow up at all other levels.
Ensure everyone is up to speed with the plan, and is laser-focused on the specific tasks.
5. Do More Of What You're Doing Right And Less Of What You're Doing —  What Not To Do In Business — Wrong
This is one of the core concepts, yet so many people fail to do so.
Not because they're stubborn and they keep pushing the same thing that doesn't work over and over again…
It's mainly due to the fact that they don't know what works and what doesn't.
If you don't know which of your activities are producing results, and which are under-performing… It's like you're trying to navigate a maze, blindfolded.
In other words, there's a good chance you'll be stuck in the same place forever.
That's why testing is something you can not afford to skimp on. It's the only way to see what works and what doesn't.
Without relevant data to back your decision, you're basically playing a game of chance. You're spinning the wheel, hoping you'll hit the big prize…
The trouble is, the odds are rarely in your favor. If all your business decisions are based on a hunch, trust me – you won't get very far.
Instead, invest the necessary time and money to do comprehensive research of your target market, and split-test different approaches.
What might work for someone else can possibly totally flop when implemented in your business.
So, make sure to always monitor the results of all the different strategies you employ.
Then, scale the ones that are bringing in great results and discontinue the ones that are causing you to lose money.
Don't try to force the issue. If something works – do more of it. If it doesn't, forget about it and move on to a different approach.
Final Thoughts The Incredible Legend Entrepreneur Dan Pena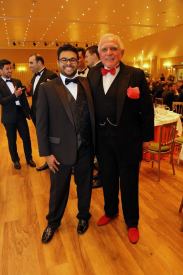 There's so much more to learn from dan peña. He is growing fast and becoming known high performance entrepreneur with many young upcoming entrepreneurs across various industries.
As well you'll find dan pena book,  dan pena quotes and even dan pena youtube channel. Just in case your wondering how you can get more information about him, you can check out Dan Pena Official Website
So these are just my top 5 personal favorites.
If you're determined to create your own lucrative business, than I strongly suggest you read his "Your First 100 Million" book.
There's plenty of his youtube videos out there to learn. If you want any more information, feel free to send me message via Instagram Shaqir Hussyin.
That said, I sincerely hope you've enjoyed this post. Which one of these lessons did you like the best? Let me know in the comments below!
If you want to follow in his footsteps, I suggest you take Dan's advice to heart. As he suggest, you don't have to and shouldn't try to do everything all by yourself.

About The Author
Your Millionaire Mentor
Shaqir Hussyin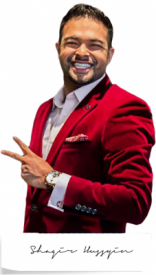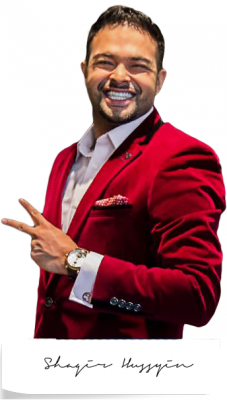 Shaqir Hussyin is the founder and CEO of WealthAcademy.com & Funnels.com. Nicknamed the "Backpack Millionaire", he's invested $350,000 into his own education and training. Whilst traveling to 100+ countries, Shaqir has built over 10+ million dollar brands and attracted over 500,000+ subscribers.
His signature program is now available at: CreateDigitalCourse.com specially designed for aspiring entrepreneurs wanting to start their online business with their very own high paying product.
Shaqir is also a highly sought-after speaker and direct response "Sales Funnels" global leader. Shaqir's work has impacted over 100,000 businesses in 65 different countries. Connect with Shaqir on Instagram, YouTube, LinkedIn & FB Group.
https://wealthacademy.com/wp-content/uploads/2019/01/5-Business-Lessons-Entrepreneurs-Cant-Ignore-by-Dan-Pena.png
315
560
Shaqir Hussyin
https://wealthacademy.com/wp-content/uploads/2019/11/logo-plain.png
Shaqir Hussyin
2019-01-01 06:57:44
2019-07-30 17:43:29
Dan Pena Higher Net Worth Business Lessons