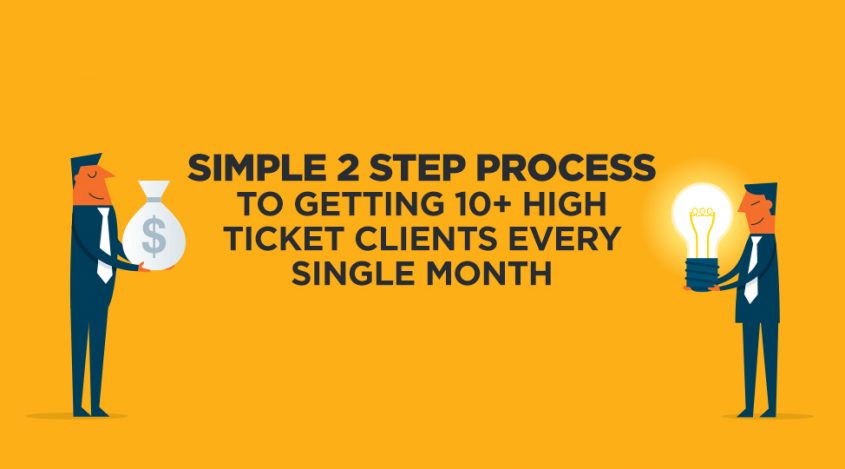 Would you like to learn how to make a TON of high ticket product sales with ease?
And when I say high ticket products, I mean products that allows you to make you $1000 – $10,000+ for every sale.
If you said a BIG YES to the above question I asked, you are going to enjoy this blog post a lot as I am going to reveal a very workable, yet incredibly profitable solution to help you take your business to the stratosphere.
I am going to cut to the chase right away.
If you want to sell a ton of high ticket products, the best way to go about it is by getting ON STAGE & DOING LIVE EVENTS.
When you get on stage and speak, several magical things happen at the same time:
You instantly create an enormous amount of credibility. We as humans are hardwired to look at those who speak on stage with respect.

You can build a strong connection with your audience through your presentation which coupled with your credibility will help you make sales with ease.

You can tap into the power of one to many selling.

You can address several questions on stage after your presentation which means everyone gets to hear your answers to everyone else's questions. This results in transparency and clarity (two factors that play a big role in driving sales).
Due to these 4 factors, live events are a VERY powerful way to make high ticket sales.
Now before I move on, I need to address something very critical.
You may be someone who currently has a high ticket product to promote but you may have NEVER used LIVE EVENTS to promote it…
Or you may be someone who currently has a high ticket product to promote and you are using LIVE EVENTS to promote it, but things are not working out and you are not able to recover your costs to conduct these events….
Or you may be someone who doesn't even have a high ticket product to promote at this stage.
I don't know where you stand exactly, but what I can tell you is that REGARDLESS of your current situation, after reading this post, you are going to walk away with an actionable plan to use high tickets + live events to grow your business.
So just keep reading and you will see how you can utilize this incredible marketing strategy to grow your business.
Now let's take a look at the whole process step by step.
Step 1 – Start Off With A Quick High Value Free Event
A lot of marketers make the mistake of starting off with a paid LIVE event.
Paid events come with their own set of problems:
One, it's hard to fill up a room full of attendees who have paid for your event.
You need to have a BIG list or a very strong Facebook or Google Adwords strategy to get paid attendees. Even then, it will take you a while to get it right.
Two, the cost of conducting a high quality paid event is much higher.
If you are conducting 2-3 day paid event, you will rack up a ton of expenses. All this puts you under more pressure to recover your money.
When things don't work out the way you intend it to be, you will face massive losses.
That's why it's more advisable to start with a high value FREE event.
The goal of the FREE event is to get MORE attendees (it's easier to get people to attend a free event than a paid event) and give them a TASTE of high quality information so that they would want to learn more from you.
A FREE event would comprise of 60-90 minutes of training followed by an offer at the end.
And the offer would typically be an invitation to attend a PAID event that would be held a week or so from that date. The cost of the PAID event could be anywhere from $49 to $497 (or even more – it just depends on your business model).
So the goal of a FREE intro event is similar to that of a lead magnet.
You use it to attract LOTS of leads (attendees).
Once you attract those leads (get people to attend your free event), you can dazzle them with some good information and make an offer to them.
Now there is a chance you might be wondering whether FREE event attendees would buy anything?
The answer is a RESOUNDING YES.
Here's why:
You must have noticed gurus and top earners inviting people to attend countless FREE webinars. Why do they do that?
It's because free webinars WORK.
It makes people BUY stuff.
What's the cost to attend a free webinar?
Nothing. All you need to do is click a link or two in your email to attend it.
In fact, you could even be browsing the internet while the webinar is going on and just listen to it in parts.
Bottomline is that there is very little investment needed to attend a free webinar.
Now what's the cost to attend a free LIVE event?
You need to register for it (just like a webinar).
You need to allocate certain time in your daily schedule to attend it (multi tasking ain't happening with LIVE events).
You need to DRIVE to the event spending money for gas.
The level of commitment someone makes to attend a FREE live event is WAY WAY more than a free webinar.
Now if free webinars can drive sales like crazy…imagine what a free live event can do?
So don't worry about whether attendees from a FREE live event would buy or not.
As long as you target the right people (through Facebook or Google ads) to attend your free event, deliver awesome value followed by an offer, you will make a lot of sales.
Another advantage of conducting FREE events is that when people register for your event online, you can make upsell offers to them.
Like you can offer your attendees a chance to attend a networking session with you before the event starts….
Or a chance to buy a VIP ticket which comes with a consultation session & dinner with you once the event is over.
Or any other related offer for that matter.
There will ALWAYS be a certain segment of attendees who would opt for a better experience and purchase your upsells.
The revenues that you generate from your upsells will offset your costs to conduct the FREE event.
So all in all, when marketed correctly, a free event allows you to get a LOT of attendees, deliver value to them & sell tickets to your PAID event for FREE.
NOTE:

If you want to really learn how to put all of this together, I'm actually hosting my annual premier event this month. You can learn more by clicking here.
Step 2 – The Paid Event (Core Event Where All The Magic Happens)
When you get someone to ACTUALLY pay for your event and spend a day or two listening to you on stage…you have got a supremely qualified lead.
A lot of marketers make a CRUCIAL mistake.
They assume that their PAID event is their product and try to make up as much money as possible from the ticket sales.
Bad bad move.
While paid event tickets can help you make money, it's NOTHING compared to what you can actually make if you truly know how to sell to those who attend that event.
A paid event has two goals:
To deliver immense value over & above what an attendee has paid for.
A high class paid event must have attendees gushing about what they learned from it.
To get those hyper responsive attendees to purchase high ticket products.
This is where ALL the real money is.
How much money do you think you can make by selling $197 event tickets?
If you make 50 sales…you will make $9850.
However if you know how to sell high ticket products to your paid attendees, just 2 sales of a $5000 product will help you get to $10,000.
If you make 10 sales…you walk away with an easy $50,000.
There is no comparison between which one produces more money.
Selling high ticket products to your attendees is literally 100X more profitable than trying to make money just from event tickets.
I have run countless LIVE events all over the world and have made product sales ranging from $1000 to LITERALLY $100,000 (yes, per sale) from events.
The best part about events is that you can make LOTS of high ticket sales in one shot.
It's possible to make 20-30 sales of $2000 product…..10-15 sales of a $5000 product and 5-10 sales of a $15,000 all from just one event.
It's possible to make EVEN MORE if you can get more paid attendees to your event.
The reason why paid live events work so well is because:
People pay money to attend it (which means, they are capable of investing good sums for high quality solutions)

They get immense value from you which leads to supreme trust and bonding

They get to personally interact with you during the event which further strengthens their trust

They get to see OTHER excited attendees in the room which leads to belief in your products & services…and MORE IMPORTANTLY belief in themselves
When all of the above combines together and you put a great high ticket offer in front of people…it's no surprise they will rush to buy it.
That's the whole game.
So to recap,
Step 1 – Start off with a high value free event. Spend 45-60 minutes giving good training and then make an offer (invitation to attend your paid event). When people register for your free event online, offer upsells to offset your event costs.
Step 2 – Get as many people to attend your paid event as possible. Provide stellar training and experience. Offer high ticket products & services to event attendees and generate massive revenues & profits in one shot.
With this model, you can grow your business from ZERO to millions of dollars in revenue.
In fact, I am using this whole process to take my $15 million business to hit the $100 million mark in the next few years.
This is the most simple, effective and scalable way to make TONS of high ticket sales.
Now there is a chance you may be wondering:
"Shaq, all this sounds great to those who actually have HIGH TICKET products to promote. But I am just starting out and I don't have any such products to promote. You promised that you would give a solution for everyone regardless of their current status".
Haha…I very well remember that my friend.
Here's my response to it:
If you don't have any high ticket products to promote but you want to tap into the incredible power of event selling, then the best option for you is to get started with MOBE.
The amazing thing about MOBE is that….not only does it have quality high ticket solutions ranging from $2000 – $30,000+…but it also has got the 2 step event selling process that I just revealed, down to a science.
As part of MOBE, you will have the ability to make $1000 – $10,000+ per sale….and the BEST part is that you can do that just by driving traffic to MOBE's free events (that happen every month all over the world).
Just drive traffic (which you will learn inside MOBE) and get people to register for the FREE events and MOBE will take care of all the rest.
When any of your attendees purchase anything (which they definitely will), you will get paid BIG commissions.
When you join MOBE, not only will you get access to its various online & offline marketing systems which would do all the selling for you…but you will also get trained & coached by experts on how to build your online business from scratch (everything from A-Z will be covered).
Click here to get started with MOBE.
So there you go.
If you have cool high ticket products, then start using the event selling model I mentioned in this post.
It may take a while to get the process right but it's worth it in the end. Once you get it right, you can scale rapidly.
Plus since you are starting off with FREE events, you can minimize your risks. You can also promote mid level info products ($297 – $497) at the end of your FREE events and then slowly move on to promoting PAID events (there is no hard and fast rule here).
Keep tweaking the process till you get the numbers you want.
If you don't have any high ticket products of your own….then get started with MOBE and use its platform to grow your business.
The 2 step event selling process really works like a charm.
Make use of its incredible power.
https://wealthacademy.com/wp-content/uploads/2018/04/Simple-2-Step-Process-To-Getting-10-High-Ticket-Clients-Every-Single-Month.jpg
540
974
Shaqir Hussyin
https://wealthacademy.com/wp-content/uploads/2018/02/logo-plain.png
Shaqir Hussyin
2017-01-11 00:00:00
2017-01-11 00:00:00
Simple 2 Step Process To Getting 10+ High Ticket Clients Every Single Month