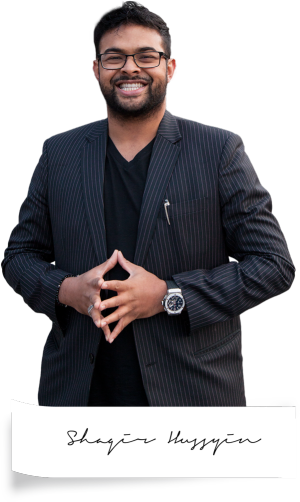 Welcome To WealthAcademy;
Our business is guided by two simple principles:
We strive to give our customers the information we'd want if our roles were reversed.
We provide real education for entrepreneurs, small business owners and for anyone looking to learn about leveraging digital marketing methods to start, grow and scale their business.
The ONLY Guaranteed Way To Make MORE Money – Take Advantage Of EDUCATION.
We believe in a world of self-education, self-mastery and unlimited results.
Our mission is to push the human capital development of modern society so we create a movement of enlightened entrepreneurs.
Knowing for being one of the fastest growing internet marketing training and business development companies in the marketplace, Wealth Academy generated over $10Million in sales in it's first 18 months with no outside funding…
Our CEO Shaqir Hussyin decided to take this mainstream and we've now set the standard when it comes to starting growing and scaling your online business by providing coaching, live events, implementation workshops, masterminds, done for you services and mentorship to help entrepreneurs build successful online businesses and live the life of their dreams using simplicity, technology, systems and mass leverage.
By 31st December 2021, we want to help
1,000,000 entrepreneurs start their online business training.
1,000 entrepreneurs to grow 6 figure businesses ($100,000+ per year)
100 entrepreneurs to get to 7 figure businesses ($1,000,000+ per year)
Our goals may be lofty, bold and ambitious, given our track record of helping tens of thousands of customers start their business, hosting over 100+ live events, and serving over 500,000+ entrepreneurs all over the world – we plan to achieve this.
What makes us different and BETTER than anything else that exists in the marketplace is that all our education and training materials have been created by in the trenches experts rather than theory.
We exist because we believe we can help the average person develop the high value skills needed to start their business using modern technology, social media & capitalising on the trends today so they don't get left behind.
Core Values
---
Our core focus is empowering our students with a totally immersive learning & implementation experience where there is an extreme focus on 7 Forces Of Total Business Mastery…
Teaching strategies, principles and fundamentals which stand the test of time.
In-depth training on cutting edge strategies that work today.
Ongoing guidance to ensure students stay on track with accountability.
Done for you marketing & sales services to fast track their success.
In house proprietary software that we've built from years of experience.
Creating raving clients & communities.
coaching, consulting & mentorship to help them take their business to the next level.
In short, we strive to help them become Weathified.
Are you ready?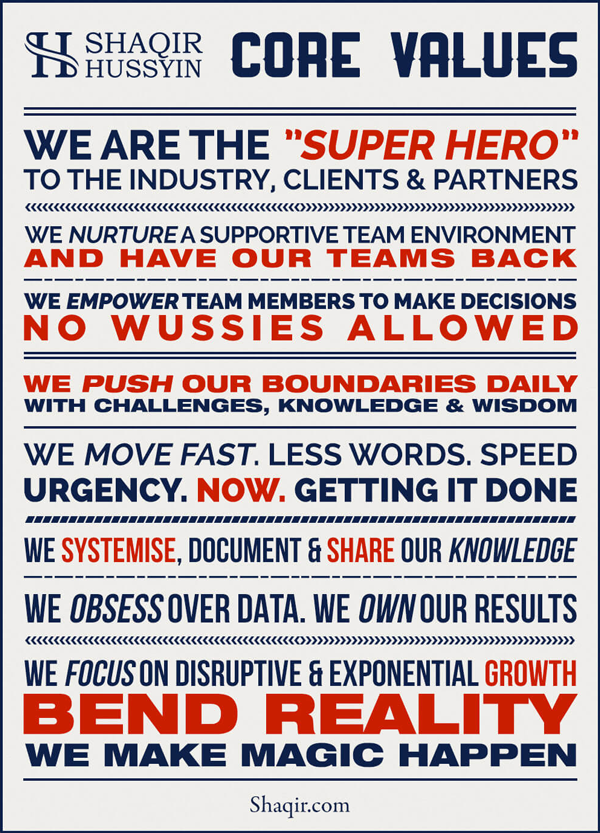 Growth. Opportunities. Recognition. Income. Fun.
We Attract Growth Hackers, Hustlers And Top Tier Talent That Make Waves.
Leading the company is our young, crazy serial-entrepreneur CEO, Shaqir Hussyin.
From a single, hungry and dedicated Individual in London, UK in 2009 starting out from his parents kitchen table to building an 8 Figure Empire with over 20 A-Player Team members collaborating seamlessly from different countries today.
Wealth Academy is one of the most respected, loved, and followed Internet Marketing Companies that lead this industry to provide cutting edge marketing and sales education, coaching, training, live events to entrepreneurs from all over the world.
We've been built the "ASIAN WAY", which consists of raw-hard work and Integrity.
Online Marketing Your Mom  Would be Proud of
We hire, recruit, train 30+ A Players in our company to create content.  We have combined
100+ years of expertise in business.
You get WealthAcademy…
Everyone wants to get ahead, create wealth, and succeed.  I'm sure you want to, too? There have been countless books written, endless speeches given, Trump has given his piece of success advice to Tony Robbins attendees by saying his main piece of advice in life is 'Get A Prenup", LOL.
Endless books are written, heck I even wrote the Backpack Millionaire to give people just like you a shot at getting wealthy and successful. Tons of courses are taught on the subject of how to make money and be successful.  In the final analysis, there is only one way to honestly and honorably make money over the long term, and that is to deliver value to others.
That means you must take advantage of mentors over mistakes.
That means you must be positioning yourself for the NEW economy.
That means you must find opportunities that increase your personal value to the world.
That means you must solve peoples problems and the more problems you solve, the more value you create.
That means everything you do, want to do, dream to do you must make it a focus on adding value to others.
For over 5+ years, across 6,000+ emails written to my subscribers and clients via my daily newsletter, I've had one core underlying focus which was to "leave them better off" when they found me.  That's my goal for you too reading this right now.
You see…
People will trade their money, which is simply stored up value, for products and services that they believe to have value to them.  The person who gets the money in exchange for those products and services can then go out and purchase things that they find valuable. It's kinda as simple as that. It's like you go to the restaurants because they serve you food, they solve your problem that you're hungry. So you must think as a problem solver, what are the problems you can solve and then get paid for it, handsomely.
Some people create value while others find it and deliver it to the marketplace. One of my favourite examples I share at the WealthAcademy LIVE Events is that a university lecturer may have 30 years of experience and expertise but only delivers his message to 30-50 people every day at the lecture hall. In his lifetime he may directly impact a few thousand or few thousand people at most.
Now compare this to the Gangham Video Song that reached nearly 3 BILLION views on YouTube. Are you telling me the guy who created the song has more value than the lecturer? Or is it that he knew how to LEVERAGE his value.
The formula I've taught for many years to thousands of people all over the world is Value x Leverage = Wealth. Creating value is the process of taking something or nothing and turning it into a product or service that will benefit others. To create wealth you have to either create systems yourself or leverage systems that solve other people's problems.
As I share, analyze this concept and dictate these words to you, I am hopefully creating value. You feel like this is valuable to read and you continue reading and being a member of our WealthAcademy Community. There was nothing on this site when I started other than my thinking on how can I create value for you.
People are as important as the value you create, imagine if Apple created the best phone (they did) but then no one actually had the opportunity to buy it. Having value and then being able to leverage it, share it, distribute it to the masses or to a pocketful of targeted people will determine how much wealth you create.  As you start your journey into entrepreneurship, go through your day today, and finally realize that value is the only marketable commodity.
Learning to LEVERAGE that value is what will free you.  So your job is to create and discover value within yourself after learning education that is demanded in the marketplace. Then learn to edit, package, productise that value, refine it, develop it further and promote it so it can be delivered with or without you.
Leverage that value in the marketplace so you get paid what you deserve, desire and dream about and then that's your solution for creating wealth.
Find your place in the world, add value to yourself, share it with the world. Become the best you. Become extraordinary. Redefine your income. Leave your legacy. Remember….
Value x Leverage = Wealth.

To the top.
Welcome to WealthAcademy.
Shaqir Hussyin

Speaker, Invester & Serial Entrepreneur
CEO, WealthAcademy
Author, Backpack Millionaire