Branding is a crucial aspect of a successful business, both online and offline. When building a brand, you can take one of two routes. You can either brand the company, or build a personal brand.
You might be thinking: "What's the difference?"
Well, the main difference is in the long-term effects and benefits self-branding can have.
If you decide to build a brand around the company, you're essentially putting all your eggs in one basket.
In case your business doesn't do as well as you'd hoped, and you decide to back out, you'd have to start over from scratch.
Your audience will know the company, but very few people will actually know and trust YOU. Your credibility and authority won't carry over to a new business endeavor.
Whereas, if you brand yourself as an expert, you can leverage those branding efforts in every other business opportunity you take advantage of.
Think of it this way… Businesses come and go, but YOU stay.
In other words, it's much easier to expand your business and take on new lucrative opportunities, once you have a large following of people who regard you as the go-to expert.
Building your own brand is the ultimate currency in today's economy.
Here are the 7 biggest reasons why you need to brand yourself:
1. You Create The Network Effect
Building your personal brand allows you to connect to the leads and clients in a deeper, more meaningful way.
They aren't just buying a product from a company. They get to see, talk, and relate to the face behind the brand.
After all, people trust other people, not companies. That's why personal branding will always have a stronger positive effect.
Additionally, branding yourself allows you to create a network effect.
The network effect is the ability of an additional user of a good or service to add value to your product for other users. Think of Facebook, Uber, Amazon – these companies all grew with the network effect.
Here's a visual representation of a network effect:
Let me explain, using Facebook as an example. Whenever a new user joins this social media, he inherently adds value to all other users. They can now connect with yet another person. That's the basic principle.
Think of the GURU's you look up to, respect, read their newsletters, get their emails, join their Facebook groups. They all know and take advantage of this.
When you join their community, you reinforce the network effect. You can discuss ideas, share experiences and opinions, and offer mutual help to other members of the community.
LinkedIn founder, Billionaire founder, investor, and author Reid Hoffman reveals the secret behind record-breaking, unbelievable growth. According to Hoffman, the key to success is leveraging network effects.
2. Personal Brands Are Flexible And Adaptable
When you're building a personal brand, you can evolve and adapt much more easily.
With a company branding, you're basically locked into a specific niche and business opportunity.
The problem with that is that the only certainty in the business world is uncertainty. The markets are constantly shifting and fluctuating…
You might be selling hundreds of products a month now, but struggle to sell a single one a year from now. The wants and needs of your marketplace are susceptible to change in the future, and might leave you stranded.
That's why it's always a safer bet to build a personal brand that's not defined by a specific market. A brand that embraces surprises and capitalizes on change in the marketplace.
Things are always changing, and you need to adapt if you want to succeed. That's why the flexibility personal branding offers can be a monumental advantage.
3. Your Asset Is Always Growing
Think of your personal brand as an asset that is constantly growing.
In my opinion, investing in your personal brand truly pays the most dividends out of any other investment you can think of.
Take Tony Robbins for example… He's in 15 different industries!
And it's all thanks to "BRAND EQUITY" that he can turn a brand new idea into a profitable business lightning-fast.
He's already well-known and trusted by thousands of people. He's built a large following, and has established his expertise and credibility.
It's infinitely easier for him to push a new product on the audience that knows and trusts him, in comparison to building a new company brand from scratch and having to earn that trust all over again.
4. It Lets You Leverage Multiple Income Streams
This ties into what I've previously talked about. A personal brand allows you to pivot and profit from multiple income streams.
You're not just building a brand around a single product or a narrow niche, as would be the case with company branding.
Instead, you build up your own reputation, which allows you to take advantage of lucrative business opportunities in other fields as well.
And having multiple sources of cash coming is always a good idea. New money gets you wealthy. Most top-earners have multiple income streams that allow 'fresh' money to keep coming in. They don't rely on a single product and a single business opportunity.
Here's an example of multiple income streams in the coaching & consulting niche:
I'm telling you this from experience. I've created 10 different million-dollar business, by leveraging my personal brand.
I'm not saying it wouldn't be possible by branding each company, but it would be at least 10 times more expensive, and it would take 10 years longer.
5. Personal Brand Gives You Security
In fact, personal brand is the ULTIMATE security for power, influence, and wealth.
You're not relying on other people's products, systems, or methods that might fail and leave you down in the gutter.
With a personal brand, you're taking responsibility for your own success!
And once you establish your position as an authority in your field, and build up influence, nothing can take it away from you.
Even if the market is unfavorable, or the business flops due to unforeseen circumstances… You still have that firm position, a customer base, and your network to fall back on.
In other words, whatever happens, you're not starting from scratch. You have a valuable resource that nobody can take away from you.
Now, imagine being able to leverage that resource to make more in a SINGLE day or a single MONTH than people make in a year… Pretty POWERFUL, right?
6. Personal Brand Facilitates Sales
I've found that it's much easier to close sales when you're talking to people directly, rather than as a robotic, monotone company voice.
There's nothing quite powerful as that human connection. Especially if you share your story with the audience, and show them that you understand the position they are in and genuinely want to help.
Companies lack this aspect. You can't relate to a company on the same level as you can relate to a person. Companies don't face the same problems and hardships as you do. They're distant; sometimes even cold.
On the other hand, an expert might've been in your shoes before. In that case, they perfectly understand your situation, and can offer a solution to your problems.
This position is extremely powerful when closing a sale. Showing people that you're not just a company selling a product, but instead a person offering a solution has a much stronger positive impact.
7. Personal Brand Attracts Like-Minded People
Building a successful personal brand attracts like-minded people. It opens up new doors to individuals with similar ideas, and other experts who have already achieved success.
This allows you to build a network, expand your influence, and learn from other entrepreneurs in your niche.
You can even form lucrative business partnerships, and gain easy access to new segments of your target audience.
Think about it. This is why most millionaires and billionaires are only friends with people like themselves. They surround themselves with like-minded people who stimulate success, rather than being dragged down by doubters and procrastinators.
When you build a strong personal brand, you have an INSTANT celebrity-like following, respect and influence in the marketplace.
For instance, I can almost reach anyone with 1 degree of separation, text, call or e-mail. Thanks to building my personal brand.
Conclusion
There you have it, the 7 biggest reasons why you need to work on building your personal brand.
As you can see, a personal brand has multiple innate advantages over company branding.
So, if you truly want to cut through the noise and establish yourself as an expert and authority, you need to start working on your personal brand ASAP.
How will your brand look like in 2019 and years to come?
Would you like my personal help to create a killer brand and blow the competition out of the water?
Then I invite you to schedule a 1:1 FREE Income Kickstarter Strategy Session.
We'll talk about YOUR business, ideas, goals, and obstacles you're facing. And we'll work together to create a roadmap you can follow to turn your big idea into a profitable, successful, sustainable online business.
Liked this? Want my 1:1 help? Claim your FREE 30 minute Income Kickstarter Strategy Session – Click here.
That said, if you know anyone who would benefit from this information, feel free to share this post with them!
And of course, if you have any questions or want to share your thoughts, let me know in the comments below.
About The Author
Your Millionaire Mentor
Shaqir Hussyin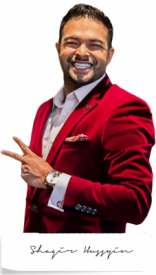 Shaqir Hussyin is the founder and CEO of WealthAcademy.com & Funnels.com. Nicknamed the "Backpack Millionaire", he's invested $350,000 into his own education and training. Whilst traveling to 100+ countries, Shaqir has built over 10+ million dollar brands and attracted over 500,000+ subscribers.
His signature program is now available: Max Income System; 14 Simple Steps To Making Your First $120K
Shaqir is also a highly sought-after speaker and direct response "Sales Funnels" global leader. Shaqir's work has impacted over 100,000 businesses in 65 different countries. Connect with Shaqir on Instagram, YouTube, LinkedIn & FB Group.
https://wealthacademy.com/wp-content/uploads/2018/11/7-reasons-why-you-need-to-build-a-personal-brand-cover.png
315
560
Shaqir Hussyin
https://wealthacademy.com/wp-content/uploads/2018/02/logo-plain.png
Shaqir Hussyin
2018-11-27 11:00:38
2018-12-20 11:15:45
7 Reasons Why You Need To Build A Personal Brand