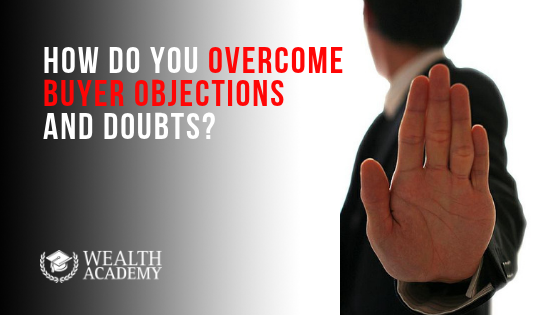 Have you ever heard of the term buyer's doubt? I'm pretty sure you do about buyer objections, but don't worry. In this post we are going to cover how to overcome objections and doubt your customers may express to you.
Throughout the years, I've noticed that only a small percentage of entrepreneurs and business owners are familiar with this phenomenon. And that's quite unfortunate, considering that it can have a significant impact on your sales and profits.
So, I decided to create this article to explain what buyer's doubt is, and how you can overcome it.
Let's start off with a simple example:
You've got an excellent product,  a great marketing campaign, and are driving lots of targeted traffic to your offers.
Everything seems to be working as intended, yet for some reason, you're not making nearly as much sales as you were hoping to.
So, what's the problem? What's stopping people from taking the final step and clicking that "buy" button?
In that final moment of indecision, the customers are experiencing what's known as the "buyer's doubt".
They might doubt the quality of your products and services… Or they might doubt that they'll receive the benefits you advertise…
They might even deem the price too high for something they're not sure will help them solve a problem or reach a goal.
In other words, they doubt the claims you've made regarding the particular offer.
So, what can you do to put their mind at ease?
You Need To Eliminate Or At Least Minimize The Risk Factor
It's not that they don't want to pay for your product… It's that they're afraid of paying for something that won't deliver the desired results.
And frankly, who can blame them?
There are so many false "gurus" and "experts" out there who promise the world, but never deliver on their promises.
If they have been burnt before, people will be especially careful when making a purchase from a business for the first time.
You see, trust is the key factor here.
If they don't know you and your business, you can't realistically expect them to take your word for it and invest their hard-earned money into your products.
You need to earn that trust first.
Relevant and valuable content will reassure them that you're an expert in your field.
Testimonials and reviews from previous customers also help build a level of trust.
But nothing beats a good old  guarantee.
Having A Guarantee Is A Must In Today's Business World
Guarantees are the most powerful way to remove buyer's doubt, for several reasons.
First, they signify that you're confident about your products and services, and their ability to provide the benefits and results you're advertising.
Secondly, they shift the risk from the customer to you. If anything goes wrong with the product, or they're not satisfied with the service they receive, the customers know that they'll be adequately compensated.
This helps build that important trust, and ensures that they're making the right decision.
Here's an example of a well framed money-back guarantee by MIDCO: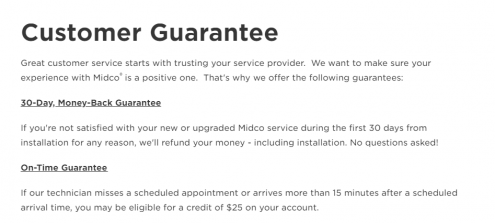 Just think about it… Say you need to buy a new washing machine.
I'm convinced you'd want at least a 3-year guarantee on it.
That way, your investment is 100% safe, and if it breaks down for some reason, you're not the one paying for repairs.
The same principle applies to online business, regardless of if you're selling physical products or providing services.
The Timeframe Of Your Guarantee
When putting together a guarantee, you first need to determine its timeframe.
In other words, you must specify how long the guarantee will be in effect.
Generally speaking, the longer the timeframe, the safer the investment and more people will opt to complete their purchase.
There isn't an exact formula for calculating the timeframe, but there are some general guidelines.
If you're selling software or information products, 30-60 days is an acceptable timeframe.
If you're selling physical products, it really depends on the type of products in question. Some can be covered with a guarantee that lasts several months, while other need to be covered for several years.
In any case, you should think about how long it will take for the customer to check out your product and determine if it suits them.
That should be the basis of your guarantee's timeframe.
When Your Guarantee Is In Effect
You need to specify the circumstances in which the guarantee applies.
What I mean by this is that you need to list out conditions in which the guarantee is no longer valid.
After all, you don't want to have to pay for a misuse of a product.
For instance, if you're selling TVs, and a customer tops it over and breaks the screen, that shouldn't be your problem.
If, however, it suddenly stops working after a few months, then you're obligated to service it.
You want to make sure that the guarantee covers the intended use of the product – nothing more, nothing less.
However, things become a bit more interesting when you're offering a guarantee on an information product.
Say you're selling some sort of a training program. After a while, a customer wants a refund.
The trouble here is, you're not even sure if they used the product at all… What you can do is request that they prove they've genuinely invested effort and gone through the program.
After that, if they're not satisfied, you should give them their money back.
Alternatively, you can offer an unconditional money-back guarantee. This is a bit riskier on your part, since a no-questions-asked guarantee means you'll issue a refund every time, without exception.
However, this type of iron-clad guarantee removes any risk from the customer, and will likely result in more sales overall. So, even with a few refunds, your profits might still be higher.
However, I only suggest this approach if you're 100% confident in what you're offering, and are certain that the customers will receive massive value from the product.
Tell Them Exactly What You're Offering As A Part Of Your Guarantee
When creating a guarantee, you should leave no room for ambiguity.
The customer needs to know exactly what is covered by your guarantee.
This is especially important if you're running an ecommerce business.
Does your guarantee cover the shipping costs of returning an item?
Must the item be returned in its original packaging?
Is there a possibility to exchange the item for something else from the store?
If the item is damaged during transportation, can the customer expect to receive a new one and when?
Here's how the company FiftyThree does it:

There are tons of technical questions that you want to make sure to cover in your guarantee.
Additionally, you must also specify how someone would go about claiming the guarantee.
For some products, it's as simple as contacting you via email, while others might require both email correspondence, return address, and even some additional information.
My Thoughts On Overcoming Buyer Objections And Generate More Sale
Regardless of how good your products/services are, and how compelling your offer is – a strong guarantee is necessary to remove any doubt the buyers might have.
When creating your guarantee, think about the reasons which would prevent the potential customer from going through with their purchase. Try to address these issues in your guarantee and put them at ease by showcasing that their satisfaction is your top priority.
A guarantee that eliminates the risk factor for the customers will help make the purchase an easier and much safer decision. This will inevitably result in more sales and higher profits, since they'll have nothing to lose and everything to gain.
However, the most important part is that you can deliver on your promises. If a customer is covered by your guarantee, and you refuse to reimburse them, you're risking a lawsuit and your reputation will take a huge blow.
Want to learn more tips & tricks and proven marketing strategies that will help you scale your business and shoot your profits through the roof?
Liked this? Want my 1:1 help? Claim your FREE 30 minute Income Kickstarter Strategy Session – Click here.
About The Author
Your Millionaire Mentor
Shaqir Hussyin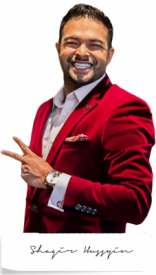 Shaqir Hussyin is the founder and CEO of Shaqirhussyin.com & Funnels.com Nicknamed the "Backpack Millionaire", he's invested $350,000 into his own education and training. Whilst traveling to 100+ countries, Shaqir has built over 10+ million dollar brands and attracted over 500,000+ subscribers.
His signature program is now available at: CreateDigitalCourse.comspecially designed for aspiring entrepreneurs wanting to start their online business with their very own high paying product.
Shaqir is also a highly sought-after speaker and direct response "Sales Funnels" global leader you can meet in person. His work has impacted over 100,000 businesses in 65 different countries. Connect with Shaqir on Instagram, YouTube, LinkedIn & FB Group.

https://wealthacademy.com/wp-content/uploads/2019/08/overcoming-objections.png
315
560
Shaqir Hussyin
https://wealthacademy.com/wp-content/uploads/2019/11/logo-plain.png
Shaqir Hussyin
2019-08-11 11:00:16
2019-08-05 22:09:56
1 Trick To Overcoming Objections & Doubts