In the online business world, subscribers, or more accurately – their email addresses, are considered one of the most valuable resources. In today's business climate, there's competition around every corner. In order to be successful, it's vital that you collect your target audience's email addresses and nurture your leads testing various lead magnet ideas.
Traditionally, online marketers used newsletters to get people to opt-in and leave their contact information. In the last decade, lead magnets have taken over the role of the most powerful way to attract new subscribers.
The reason is pretty obvious. You can no longer simply ask people for something as private as an email address. Promising "tips and updates" isn't the optimal approach, either. With lead magnets, you're actually giving them valuable content which they can immediately get the benefits from. So, if you don't have a lead magnet and are relying on a newsletter opt-in form, you should definitely revise your lead generation strategy.
Here's a list of lead magnet ideas that will provide incredible value to your audience, and help you grow your mailing list exponentially. Note that not all of these ideas are applicable to every type of business. Some may work better than others, depending on your niche and the products/services you're selling.
That said, if you know your audience and understand their wants and needs, you'll have no problem utilizing at least one of the suggestions below to fast-track your lead generation process and shoot your subscriber count through the roof.
Let's jump right in!
14 Lead Magnet Ideas Recreate And Deploy
Free Report
Free reports are the most commonly used when it comes to lead magnet ideas. The majority of your audience is probably already familiar with this type of free offer.
Generally, free reports provide useful, relevant, and valuable information on a certain topic. It goes without saying that the topic needs to be closely connected to the marketer's products and services.
Let's take the money-making niche as a reference. Here, good examples of free reports provide tips and expert advice, best practices and proven strategies, or the most common mistakes to avoid.
Free reports are the go-to lead magnet ideas for aspiring new marketers. This often leads to over-saturation. The audience can become overwhelmed by the number of reports discussing the same topic.
This is something to keep in mind before you decide to use a free report as your lead magnet. Consider the supply of other free reports in your niche, and the demand for a particular topic.
Remember, your report needs to be unique, not something your target audience has read dozens of times before.
How-To Guide
Guides are just as popular and just as effective lead magnets as free reports. The main distinction is that reports are usually shorter. Guides focus on providing more detailed explanations. They often outline the steps the reader can follow to achieve a certain goal or solve a particular problem.
Just like with reports, you need to select a topic that's bot in-demand, and hasn't been covered by hundreds of your competitors already.
If there aren't already a lot of similar guides floating around the web, definitely go for it. Guides is an excellent lead magnet choice, since they tend to easily grab the audience's attention.
Case Study
There are multiple benefits to using case studies as your lead magnets. It's important to brainstorm various lead magnet ideas to present your case studies.
They are unique, since only your company has the data necessary to weave a  hypnotic story around a certain client. Furthermore, they help build trust with the readers and showcase your expertise, and are considered the ultimate form of proof.
Instead of simply providing the "how-to", case studies go a step further. They incorporate customer testimonial to showcase how your product/service works in practice. This allows the reader to see what results they can expect when they purchase the same services.
Case studies typically open with a description of  the problem one of the previous clients had. Throughout the content, you explain each step taken towards solving that problem. Most importantly, they also provide proof of results (usually in the form of screenshots).
This is both useful to the reader and incredibly convincing. Essentially, you're using a real-life example to showcase how their problem can be solved as well.
Checklist
Checklists are a great way to provide the audience with a ton of valuable information, without overwhelming them. They're also incredibly easy to consume. With a checklist, you're not asking them to spend hours reading through your content.
Checklists are usually created for people who are already somewhat familiar with the topic. That's why detailed explanations might not be required.
Instead, they simply provide actionable steps the reader can take to quickly achieve the desired result. Checklists simply list the number of activities, which the reader can simply check off once they are done.
Their attractiveness, from the marketer's point of view, comes from the fact that checklists are incredibly simple to make. Basically, you can adapt any "how-to" post into a checklist, in a matter of minutes.
Cheat Sheet
Cheat sheets are usually a 1-page summary of the exact steps and solutions another piece of content provides. For example, you can write a 3,000 to 5,000-word blog post about weight loss, with amazing examples, visuals, advice and recommendation.
Although the content is great, not a lot of people will be willing to read through that much text. Even if they do, most of them worn't remember every single thing you mentioned in the post.
That's why cheat sheets are awesome. They provide a summary in the form of one-liners. Cheat sheets practically serve as 1-page reminders of the solution to the reader's problem, or steps they need to take to reach a certain goal.
Cheat sheets don't beat around the bush. They cut straight to the point, and provide ultra-specific solutions and actionable steps.
Toolkit/Resource List
Toolkits and resource lists can be amazing lead magnets. They work wonders for markets where people usually have to do a lot of digging, research, and testing, to discover what works best in practice.
Let's take digital marketing for example. To get started, you need to find a domain service, hosting, check out all the different autoresponders, go through various tools for creating landing and sales pages, etc.
It takes a lot of time and patience for someone to sift through all available options. Therefore, people will gladly give out their contact info to get all this information in one place.
As a bonus, if you're an affiliate, you can add your affiliate link for different tools. This allows you to make additional commissions all the while generating leads.
eBook
E-books can be considered a different class of lead magnets altogether. This is because that they don't exactly follow the rule of ease of consumption.
However, they are a great asset when it comes to marketplace positioning. With a great eBook, you can establish themselves as an authority on the subject, even if you don't have the money to publish a physical copy.
They are different from PDF reports and guides because they're typically full-length books, some having even over a hundred pages.
Although, unless your audience is in the habit of reading, a lot less people will actually read through the entire book. One way or the other, an eBook will boost your credibility.
Survey
Surveys might not be top of mind when you're thinking of great lead magnet ideas. Yet, when done correctly, they can actually work pretty well.
Admittedly, surveys typically offer more value to the business than to the potential customer. However, you can reverse this situation by offering the results of a previously conducted survey as a lead magnet.
You can even offer the results beforehand and provide a custom lead magnet based on the particular person's response.
Email Course
Email courses have reached the peak of popularity a few years back. Tons of marketers used them since they were relatively simple to create and setup.
All you needed to do is write a couple of emails, create a sequence, and schedule in your autoresponder when you want them to be sent out. Nowadays, the situation is a bit different.
Email courses can still be enticing lead magnet ideas, but you need to think bigger and better. A handful of emails will no longer suffice. Instead, you need to view the email course as if it were a college class.
What exactly do I mean by that? Well, in order for an email course to work well as a lead magnet, it needs to be much more informative, and it needs to thoroughly explain a specific topic.
Infographic
Infographics are an amazing way to deliver a good chunk of valuable information in a single, visually appealing piece of content. The main reason why they work well is the fact that they are well-received by the audience.
Although the amount of information they provide might be the same as with a report or a guide, people generally find it a lot easier to digest that information when it's followed by interesting visuals.
You might need to hire a professional designer to create the Infographic for you, but the payout you'll get in terms of new subscribers is more than worth it.
Even when the audience can view the very same Infographic of your website for free, the vast majority of people will gladly give you their email password for a chance to download it to their computers, and use it as future reference.
Quiz
Depending on your niche, quiz can be a great way to attract a ton of people and acquire a large number of email addresses, fairly quickly.
As long as they are themed around a relevant topic, they present a great way for your audience to engage with your business.
The appeal of quizzes comes from the fact that they are relatively quick to complete, and people are curious by nature, so the majority of them won't see the email address requirement as too big of a deal.
Quizzes are also fun, and there's an added benefit that they're likely to be shared on various social media by people who completed it and are satisfied with the results.
You can offer tips, advice, content, or even products and services to people afterward, tailored to their results, which is a great way to keep them engaged with your business.
Swipe File
A swipe file is essentially a collection of resources that the lead can return to and draw inspiration from, or in some cases, even just straight up copy & paste, and use for their own purposes.
The most obvious target audience for this type of lead magnets are copywriters, who often use swipe files to get their creative juices flowing and develop their own ideas based on stuff that is already proven to convert.
Although the type of business that can use the full potential of swipe fails is fairly limited, they are an excellent lead magnet for audience that needs to generate new ideas and come up with creative solutions on a regular basis.
Video Course
In reality, a lot more people will rather choose to watch a 15-minute video than spend those 15 minutes reading a book. That's why it shouldn't come as a surprise that video courses have risen in popularity as lead magnets.
Besides, video courses allow you to talk about a topic more in-depth, and keep the viewer entertained and engaged throughout from beginning to end, making them much more likely to actually consume the entire lead magnet.
With video being so hot, it's always an attractive option as a lead magnet. And in a video course, you have the opportunity to go in-depth on a topic in a way that most other lead magnets can't.
Admittedly, video courses are by far the most difficult and most time-consuming to create on this list. Still, data shows that they consistently deliver exceptional results, when it comes to generating quality leads.
Whitepapers
This is standard lead magnet ideas for B2B companies, whitepapers are essentially reports providing data and information regarding a specific industry issue.
They are quite similar to free reports, with the key difference being that whitepapers attempt to persuade the reader that, based on research and your company's findings, their best option is to do business with your company.
The key aspect of whitepapers is positioning, in regards to your competitors, which means you need to be extra careful with the copy of the whitepaper and the page used to promote it.
You want to weave your USP (unique sales proposition) throughout the whitepaper. Subtly give the reader reasons why they should choose you over other business in the industry.
Conclusion
Of course, there's a lot more stuff you can offer as a lead magnet ideas. Like I mentioned, it all depends on your niche and what your business is all about.
That said, I hope you found these lead magnet ideas I shared useful. I'm confident they at least helped you get a general sense of the direction you want to follow with your lead magnet.
In any case, one thing you need to remember is to do a thorough research of your target audience and the market. This will help you determine what topic your lead magnet should cover, and if there's demand for it.
Don't forget to take a look at the content your competitors are offering. If it's all fairly similar, you want to invest a bit more time and effort to create something unique in order to stand out and acquire more leads.
If you feel like you need more lead magnet ideas and or help creating an irresistible lead magnet, a high-converting landing page to promote it, and want to learn how to write and set up powerful follow-up email campaigns, click here to check out my Cashflow Kickstarter.
Get expert advice. Discover proven strategies and industry best practices. Gain access to insider tips and tricks. Learn how to create a powerful sales funnel that will scale your profits to 7 figures.
Click here to get instant access and become one of my next millionaire students!
__
About The Author:
Your Millionaire Mentor
Shaqir Hussyin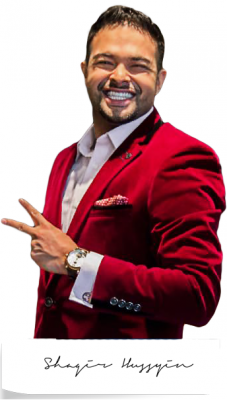 Shaqir Hussyin is the founder and CEO of WealthAcademy.com & Funnels.com. Nicknamed the "Backpack Millionaire", he's invested $350,000 into his own education and training. Whilst traveling to 100+ countries, Shaqir has built over 10+ million dollar brands and attracted over 500,000+ subscribers.
His signature program is now available: Max Income System; 14 Simple Steps To Making Your First $120K
Shaqir is also a highly sought-after speaker and direct response "Sales Funnels" global leader. His work has impacted over 100,000 businesses in 65 different countries. Connect with Shaqir on Instagram, Twitter, YouTube, Snapchat, LinkedIn & FB Group.
Related Articles:
What Are Most Profitable Affiliate Marketing Niches

https://wealthacademy.com/wp-content/uploads/2018/03/Lead-magnet-ideas-to-rapidly-grow-your-subscriber-list-WA-BLOG-POST.jpg
448
807
Sohail Irfan
https://wealthacademy.com/wp-content/uploads/2018/02/logo-plain.png
Sohail Irfan
2018-03-13 00:00:00
2018-05-29 20:27:14
Lead Magnet Ideas