How To Become A Chief Executive Officer CEO By Shaqir Hussyin, Founder Of WealthAcademy Ltd
Shaqir Hussyin went from zero to making his first million dollars at the age of only 23 in less than 3 years of starting online. This makes his a real life example for young internet marketers online. He also embodied the meaning of how to become a chief executive officer ceo before 30 years old.
After building not one, not two,
but 10 different million dollar businesses, brands and promotions to the 7 figure level. 
He's now on a mission to create 100 Millionaires and 1,000 six figure earners in the next 3 years.
Shaqir Hussyin is now dedicated to teaching entrepreneurs how to start, grow and scale their online business. Being one of the world's leading authorities on digital publishing, high ticket marketing, live event & seminar marketing, sales funnel development, webinar & email marketing.
Shaqir Hussyin Journey And How To Become A CEO
His philosophies, systems, strategies & formulas have not only enabled him to launch and grow 10 multi million dollar brands, make over $30 million in sales by the age of 29 but also helped many of his students build highly successful online businesses generating 6 & 7 figure annual profits.
He has been featured on Forbes as a digital trendsetter who routinely attracts high end clients. These are individuals who invest $100,000 or more to get access to his very exclusive private coaching, consulting and guidance.
Today, he lives in a penthouse in London, drives a Ferrari, travels the world, takes vacations whenever he feels like (while his star team runs his business operations and live events) and heavily contributes to charities for causes close to his heart.
Life is great today but it wasn't this way always.
The Cold Hard Truth And How To Become A CEO Without A Degree
Not too long ago, Shaqir found himself at crossroads.
He was studying for an accounting degree that he had no interest in, working a low paying job that he had no passion for. Staring at a future with no hope in sight was just scary to him.
After a certain point, he realized he simply couldn't take it. He needed a way out. He looked around for options. The way came through the form of online business. He loved its concept so he dove in.
The rest sadly wasn't history.
It was like jumping from a frying pan onto the fire. The online business world was so unstructured and uncoordinated that Shaqir went from hating his previous life to dreading his current life where he was blowing through every little money he had in the hopes of his business taking off.
That day never came.
What came instead was a massive $45,000 debt along with sniggers and ridicule from family & friends.
It was at his lowest point, Shaqir realized that he needed a change in his approach. He decided that if he didn't have clear pathway to achieve success, he would simply follow the ones who have achieved it and do what they do.
And so began an arduous journey filled with lots of pain, struggle, sweat and toil.
During his quest to attain success, Shaqir found that there were principles, blueprints, concepts, strategies and tactics which if applied correctly could give anyone predictable results in their business.
As the CEO he started applying them in his own business and in the next 7 years,
He went on to build 10 different million dollar businesses

Grow a list of over 500,000+ subscribers

Invest $350,000+ in personal education & mentorship to take his marketing & leadership skills to the next level

Travel 75+ countries and host 100+ live training events which attracted thousands of attendees from across the world

Train, coach and mentor tons of students and help them build highly profitable and sustainable online businesses
He launched Wealth Academy to empower and educate people to share their message with the world, make a difference, turn their passion into profits and ultimately achieve financial freedom using the power of the Internet.
Today, Wealth Academy is one of the world's fastest growing and leading  internet marketing education & training companies.
It focuses on helping people develop entrepreneurial CEO skill stes to start, grow and scale highly profitable online businesses. All of this leveraging platforms such as Facebook, YouTube, Google, Amazon, Shopify & more.
Lessons Learned And How To Become A CEO Of A Company
Being successful isn't just about making a high average annual salary as ceo, it's more than that.
It's about living your best life, enjoying every second of it, doing what you love, and spending time with your friends and family.
Money is simply a catalyst that makes all of these things possible. Nothing more. Therefore, it shouldn't be your primary focus in life.
Instead, do what you love, and challenge yourself to grow as a person each and every day.
Because, regardless of how much money you have in your bank account, you'll never be truly happy unless you take the time for yourself and learn to enjoy the little things in life.
So you need to ask yourself…
What goals do you have in your life?
How are you planning on achieving them?
Are you considering a mentor to guide you along your journey?
Let me know, we can always have a talk!
Now the other side of the coin is that there are also those who think that if you don't have a degree, your not qualified to be a C.E.O.
This is the farthest thing from a truth because shaqir is living proof of it.
Now according to study.com, these are requirements a person must have in order for them to be considered a position as ceo of a business.
So as we go through the steps you will get to see both sides of the coin and how to stack up to it.
How Do You Become A CEO Of A Company? Conventional VS Unconventional
Step 1: Which Degree Is Best For CEO VS What Are The Qualities Of A Good CEO
According to the BLS, the minimum education for most chief executive officer positions is a bachelor's degree. A bachelor's degree has an average cost of $34,740 at private colleges, $9,970 for state residents at public colleges, and $25,620 for out-of-state residents attending public universities.
This is the minimum investment required to be considered as ceo of a business. On top of this, it's not a guarantee you will get such position having such degree because most business ask for years of experience.
In shaqir's case in stead of investing in a degree, he decided invest in mentorship and acquiring skill sets of a marketer. This in combination all the principles described above, he managed to ride the wave of success without a bachelor's degree.
Step 2: The Skill Of A CEO VS A Master's Degree
Again, The same goes for earning a master's degree.
There is nothing wrong with earning these types of business degrees. But just like shaqir entrepreneurial journey, it's much more better to learn from an expert in the field that is actually making 7 figure income.
Instead of learning from outdated books and most of the time teachers that have no skin in the game or better sad. They have no clue of what it takes to run a business or earn 7 figures online.
So if you still want your masters degree to showcase on your office wall, great! Go for it!
If you're determined to go against the crowd and hack your way to success, then talk to shaqir. His awesome team will be happy to help you achieve your dream business life style 😉
Two Useful Tips To Being A Better CEO
Tip #1: When you make an investment to acquire certain skill set, make sure you apply what you're learning or never finish the training they started.
This is very damaging not only to someone dreams, but also their journey of self growth as an entrepreneur.
Tip #2: Make a decision where you want to focus your self growth. Either it's your thinking capabilities, problem solving capabilities, your self determination, trust etc etc.
We all have strengths and weaknesses. Perfect your strengths and build upon your weaknesses as to become a better more proficient at your craft. This will help you excel among your competitors just like shaq did when he was at 23 years old.
Step 3: CEO Job Knowledge VS CEO Job Experience
Just as stated by study.com, it's is rare to enter straight into a career as a chief executive officer.
Instead, most aspiring CEOs start at a lower-level management position within a company. Often they have work their way up until a CEO opening is available.
Many also keep an eye on openings within other organizations, so there is potential to change companies while still advancing.
If you're in such position and are looking become a ceo, it's highly recommended you gain experience as early as possible. To do this you must acquire not only the knowledge but you also must do the following:
The CEO's Routine And Cultivate The Following Traits To Truly Become A Great Leader:
Companies may offer corporate training or development programs. This can help potential chief executive officers learn the tricks of the trade and teach them how to be a high-level manager.
It's also important to show dedication in the field. The BLS reported that those who wish to rise into executive positions must often work long hours including weekends. All this without sacrificing some very important ceo traits:
Ability to learn from the past.
Strong communication skills.
Building relationships.
Realistic optimism.
Understanding.
Listening skills.
Willingness to take calculated risks.
Reading people and adapting to necessary management styles.
Now you might be thinking…
You want to have your own business and become successful but you don't want to be just another corporate slave. Which can be hard to avoid since most ceo's work around the clock for a business thinking only on the money.
As stated previously by shaqir, there is one thing you must remember;
It's about living your best life, enjoying every second of it, doing what you love, and spending time with your friends and family.
Click To Tweet
Step 4: The Continues Learning Curve For CEO Qualifications And Skills
The Institute of Certified Professional Managers offers the designation of Certified Manager, which requires a minimum amount of education, experience, and training, as well as a passing exam score.Voluntary certification is another way for CEOs to demonstrate knowledge and proficiency and advance their careers.
Now the eligibility to sit for the exam is determined by a system of points based on the years of education and experience that a candidate has accumulated.
So to sum up, in order to become a chief executive officer you need to first earn a bachelor's degree. Usually in a business related field, then earn a master's degree (an MBA), gain professional experience, and consider voluntary certification.
So as you can see it's a very long road if you want to go the traditional route to become a chief executive officer (CEO).
Now of course you can always hack your way to success having a mentor coaching you. Doing this will greatly help you increase your chances of success by having an expert tell you exactly what to do.
Skipping all the bachelor's and masters degree stuff and start making money as you're learning is the way to go.
Doing this you will know what exactly you need to do to grow your business fast from scratch.
So it's basically up to you to choose, whether you want to go the traditional ceo route or you can hack your way to success by having a proven multi millionaire coach you.
My Thoughts On How To Become A CEO
If you want to start achieve business success, and still have the time to spend with your friends and family.
Let's have a talk today buddy. We will do our utmost to help anyone that has the desire and is willing to work hard.
If you want to learn how you can leverage the power of digital marketing to build a profitable business – then join our family.
join over 500,000+ other daily readers of my Online Profits Daily Newsletter right now.
I'll provide you with a ton of valuable information, insider tips, actionable advice, and proven strategies. This will help you kickstart your business and fast-track your journey to success.
Download your fast-action guide and claim a 1:1 FREE Income Kickstarter Strategy Session. Start now.
About The Author
Your Millionaire Mentor
Shaqir Hussyin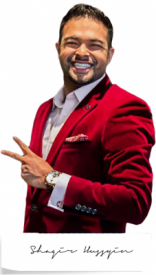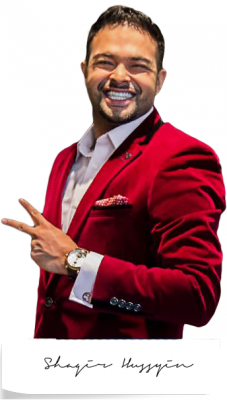 Shaqir Hussyin is the founder and CEO of WealthAcademy.com & Funnels.com. Nicknamed the "Backpack Millionaire", he's invested $350,000 into his own education and training. Whilst traveling to 100+ countries, Shaqir has built over 10+ million dollar brands and attracted over 500,000+ subscribers.
His signature program is now available: Max Income System; 14 Simple Steps To Making Your First Income Online
Shaqir is also a highly sought-after speaker and direct response "Sales Funnels" global leader. Shaqir's work has impacted over 100,000 businesses in 65 different countries. Connect with Shaqir on Instagram, YouTube, LinkedIn & FB Group.