Struggling to write a blog post that integrated SEO and also ranks on google? In this article i will show you how to write a blog post that ranks on page #1 google.  You can also make money gives doing this while perfecting your writing style freely. And better yet in only 5 months.
These #1 SEO results attributed to over 20,000 monthly visitors and $96,664.98 in sales revenue online.
Note: every business, niche or market results may vary based on market competition.
This led to a whopping 753% growth in their online presence leading into 2017.
Kinda unbelievable, right
It's wise to say that in order to achieve similar results, its highly important you take into consideration that SEO, SMM (social media marketing), PPC and WEB needs are needed. This really helped in attributing to their online sales. 
Today, we're going to share our exact process on how you can write killer blog posts and achieve massive SEO results as well.
But first (for all the beginners) let's explain the major benefits of having SEO in your post:
How To Write A Blog With SEO
The basic form of starting out is simple by following the steps below:
Picking a title for your blog post. The tittle not only has to contain the target keyword that people search for but also be unique to appeal to your target audience.
Create a descriptive snippet, if possible (depending if you can) add TWO times the target keyword in it and also related keyword in the general phrases.
Create your blog post outline. This has a lot to do with your related keywords. Which your main keyword is in your title (H1) and the rest of your related keywords are in your sub-titles (H2's). Regarding H3's i wouldn't spend much time considering google doesn't really focus much on them. (in general)
It is also highly recommended you have images file name's as either target keywords or related keywords.
In between your content you and also offer related products, services and even resources that help your readers get more benefit out of your content.
Publish your first post. This sounds obvious but the most important part is to generate backlinks to your content. By publishing it where your audience meets up, you can get your target audience coming to your content with high intent thus resulting your post engagement and shares.
Also highly recommended is promoting your blog. Get more people to read your post via other mediums as to broaden your audience reach.
As a writer it's highly important you and also benefit from your work you publish. The way to do so is adding money producing affiliate links to products, services and free resources that pays you on the back for every referral. One way to do such is creating your very own digital course
Now the whole process of creating a blog post may sounds nice and everything. But in order to effectively implement it you need to know SEO. Therefore i will explain to you what is seo and why you need to understand this in order to maximize your impact.
What is Blog SEO?
SEO stands for search engine optimization. This is a process used to organically (non-paid) position a website to be found by Google.
For example, if someone searches "auto repair services" on Google/Bing/Yahoo (or any search engine) then the site that is search engine optimized the best will be the first organic listing.
Why is this important for your blog and or businesses?
It gives businesses an opportunity to generate qualified traffic. And the more traffic you have, the more customers you can gain.
Picture SEO as the best location you can have in a city, except it's online. Once you have the traffic it's just left up to your store (or website), to convert customers.
There are hundreds of factors that play a role in effectively increasing your SEO results. We will uncover some in this case study, but not all.
The most important factors indicated by Google are having highly relevant content (relevant = related to each other) and online authority (many  high traffic sites pointing to your site).
Those two online will put you in a good position to keep with the top organic sites.
Is There A Difference When Blogging Between SEO, PPC And Adwords?
Many of our clients confuse the difference between SEO with PPC (pay per click) or Adwords (Google's ad platform).
This is because they all appear on the search engines.
The key difference between the two is with PPC and Adwords you pay per click on the search engines. While SEO is a free organic listing.
Take a look at the screenshot below:
An important key benefit to PPC and Adwords is that you are able to get on the search engines immediately and start to drive qualified traffic (sometimes expensive). It also above the free organic listings area.
On the other hand, SEO takes a lot of time to build up. It could take anywhere between 3 – 12 months before you start to see any measurable results.
Powerful SEO Results For Keyword Targeted Blog Posts
Now let's take a look at what SEO was able to do for your company as an example:
Note: keep in mind this is for illustration purposes ONLY
Between August 1, 2016 and December 31, 2016 we generated:
78 first page google rankings.
77,562 new clicks to the website.
180,739 Page Views on the website.
$96,664.98 in online attributed revenue.
28,932 monthly hits
As you can see, we were able to achieve these SEO results in only 5 months!
These results were tracked by Google Analytics.
The major key to achieving these results so fast was their site's age and history. In the example here, they had already established some web authority over 5 years but was doing SEO wrong.
So the aim here is to restructure your website, develop a strategy and drive top search results.
How can you do this?
Diagnosing Your Blog Writing Format To Write Blog Post Fast And Make Money
This first thing you want to start off with is diagnosing the writing format. Remember the goal is to better your writing technique but also integrating your target keyword and related keyword and a natural way that makes sense. So here's how you do it..
Phase 1: Diagnosis session
Phase 2: Website & Competitor Research
Phase 3:  Establishing Goals & Strategy
Phase 4: On-Page Optimization
Phase 5: Off-Page Optimization
Phase 6: Measurement & Reporting
Phase 7: Optimization
NOTE: It is important to have ethical SEO practices (or white hat SEO), otherwise your website will be de-indexed (banned) from search engines wasting your time and money.
With that, let's take a look at the Phase-by-Phase process.
Phase #1: Diagnosis Session
The first Phase is to learn everything about your business.
I also recommend you fill out a questionnaire that gives us further written information about the business, goals and future (that we always can refer back to).
You can find a free list here: https://www.searchenginejournal.com/26-questions-to-ask-potential-seo-clients/178872/#close
Here's a peak of what a company called Mototrax wrote in his initial questionnaire:
Phase #2: Website & Competitor Research
Now that we've gotten to know your business better, it's time to dive into where your SEO currently is and how you rank against your competition.
You can use several 3rd party tools including Google Analytics to mark your starting point.
Here's exactly where the company Mototrax was when they first started:
741 organic website hits during their PEAK season December 1, 2015 – December 31, 2015.
937 organic website (slight increase, but not much) hits during July 1, 2016 – July 31, 2016.
As you can see, they were able to generate some traffic on their own, but nothing anywhere near the 28,000+ hits we were able to gain.
Additionally, their biggest competitor had 53.75% bigger presence on the search engine than them.
Ready to dominate their competitors, they discover which keywords they should attack using Google's keyword planner.
For Mototrax, they wanted to rank for "winter dirt bike"
However, it only gets searched 50 times per month.
Although this traffic could still be valuable, it wouldn't make a huge impact in their business.
Our team did research and recommended them to focus on "snow motorcycle" which gets searched 1,300 times per month.
Something that would make a noticeable increase.
Phase #3: Establishing Goals & Strategy
After going through a list of keywords, we come to an agreement on which keywords will help meet the business goals. For Mototrax, it was simple, to increase more online sales.
Note: in mototrax case there are selling product to their visitors but for a writer you may sell a news letter to a specific audience about a specific topic or even a course on how to write better blog posts or how to  improve your readers writing technique.
This meant they must focus on keywords that will actually drive sales such as "snow motorcycles".
The aim here is to increase high-quality content on your websites that ultimately builds domain authority with your readers. (more on that later).
Remember to stay away from unethical practices otherwise known as black hat SEO.
An example of black hat SEO would be spamming your site with the same keywords a hundred times, or buying spammy links.
Don't forget!
Phase #4: On Page Optimization
On-Page Optimization is the process of coding your website so that it is easily read by search crawlers.
If search crawlers cannot understand what your website is about then you definitely will not be able to rank for competitive keywords. It's critical to use the right html tags such as title tags, header tags, meta tags, etc.
This is another big mistake many people including Mototrax snow bike company made.
Their website was extremely visual with lots of images and videos.
It was actually pretty nice.
However, there were little words on the page that actually described what the business was about.
It's wise spend the first-month making sure your website/pages is properly optimized before moving to the next Phase in the process.
I recommend using WordPress sites as it has the most flexibility and easily crawled by search engines. However, you can work with other unique web platforms if you want.
Phase #5 Off Page Optimization
Off Page Optimization is the process of enhancing your online presence outside of the pages on a website to improve search results. This helps improve your website's domain authority.
Domain authority (DA) is a 3rd party scoring system on a scale of 0 – 100 which indicates how authoritative a website may be seen on by search engines
The higher the domain authority (DA), the more likely you are to have higher rankings than competitors.
However, this is not absolute as DA is a scoring system not created by search engines themselves. Each search engine has a unique algorithm and methodology they use to rank sites.
For Mototrax, the strategy consisted of high-quality content, long form blog, google ads and social media.
Take a peek at one of the several posts we created to help build up exposure and domain authority:
272 Likes
33 Shares
Phase #6: Measurement and Results
The journey of achieving SEO results can be rigorous.
In fact, people tend to quit at the brink of success (kinda like in the image below).
If only they knew how close they were.
Many people get discouraged because you can go months and months without seeing any noticeable increase in traffic, leads or sales.
And without any prior experience, why should anyone feel confident that results will "magically" appear?
What most people do not know is that the first 3 organic listings in Google receive 61.5% clicks, with #1 receiving 33% according to Chitika.
So, if you are in the 5th position, you are likely to see very little increase in traffic.
YET, very close to achieving results.
It would be better to create monthly reports that track your progress on the search engines. The goal is to show the progress month over month. To get closer and closer to the top 3 positions.
For Mototrax, it wasn't just about growing in rankings but going head to head with their toughest competitors.
Take a look at the comprehensive reports from August to February. (Mototrax is highlighted in blue).
You can see that in the beginning of the graph, Mototrax was outranked 53.75% by his competitor Timbersled (TS).
TS built a significant lead and dominated their space for years.
However, like most #1 ranked sites, they got comfortable. Meaning TS did not continue to optimize for SEO and we were able to compete.
Throughout December and February, you can see the constant battle for positions between the two companies that will likely continue in 2017.
For Mototrax, they were successful by gaining more online market share.
Phase #7: Maintenance & New Opportunities
Now as you can see, once you become #1, you have to maintain your spot.
Whoever you knock off from the top spot will be upset and make an effort to regain their position.
In order to stay ahead, you have to continue to follow the process that got you there. We help our clients not just achieve the results but maintain them.
Additionally, we continue to find more opportunities for rankings and traffic that could improve overall brand awareness.
In Jacob's case, that was continuing to compete with their competitors.
In other cases, it could be going after more long tail keywords that focus on brand awareness like "how to [something your target audience normally needs help with]".
Summary On Writing A Blog Post Fast,
Steps how to write a blog post with seo
SEO is the organic process of ranking your site higher on search engines.
SEO is organic. SEM/PPC/Adwords is paid.
SEO takes time, typically 3-12 months (depending on competition)
PPC/Adwords can instantly drive results, typically in 3 months.
SEO can drive a lot of traffic which can drive an increase in leads and sales.
If you are convinced that SEO can make a difference in your business, then try out what you've learned in this blog post.
Share your thoughts afterwards here and let us know what was your results.
About The Author
Your Millionaire Mentor
Shaqir Hussyin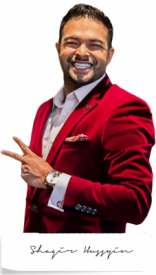 Shaqir Hussyin is the founder and CEO of Shaqirhussyin.com & Funnels.com Nicknamed the "Backpack Millionaire", he's invested $350,000 into his own education and training. Whilst traveling to 100+ countries, Shaqir has built over 10+ million dollar brands and attracted over 500,000+ subscribers.
His signature program is now available at: CreateDigitalCourse.comspecially designed for aspiring entrepreneurs wanting to start their online business with their very own high paying product.
Shaqir is also a highly sought-after speaker and direct response "Sales Funnels" global leader you can meet in person. His work has impacted over 100,000 businesses in 65 different countries. Connect with Shaqir on Instagram, YouTube, LinkedIn & FB Group.

https://wealthacademy.com/wp-content/uploads/2019/07/write-a-blog-post.png
315
560
Shaqir Hussyin
https://wealthacademy.com/wp-content/uploads/2019/11/logo-plain.png
Shaqir Hussyin
2019-07-11 11:00:24
2019-07-02 01:16:38
How To Write A Blog SEO That Ranks