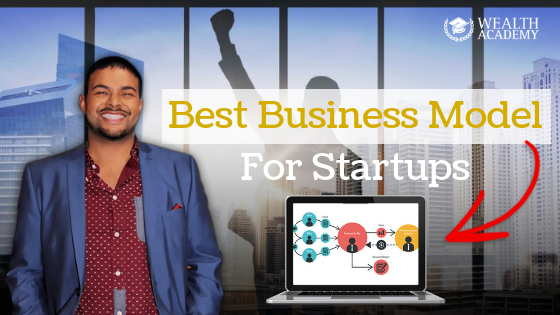 A profitable business model design entails having a successful business operation modeling a machine, identifying revenue sources, customer base, products, and details of financing. This also describes the rationale of how a business creates, delivers, and captures value, in economic, social, cultural or other contexts. The process of a profitable business model construction and modification is also called business model innovation and forms a part of business strategy.
Not having these key components integrated in the business model will eventually result in the business fading out and die over time. That's why, at the core of every successful startup, there needs to be a sound, profitable business model.
The idea itself is just the first step in the business building process. Don't forget that! Now sure, you need to offer the marketplace something cool, new, and unique to garner the attention of your target audience. But, that alone isn't close to enough.
You must also build a solid framework which will enable you to turn your idea into a profitable and sustainable business.
How do you create a business that is self sustainable?
The other step is, you need to determine which marketing strategies and channels you'll need to utilize to effectively reach potential customers, and how you're going to present your offers to them.
That framework which will guide you and largely influence all your marketing and advertising efforts, as well as ultimately determines the success of your venture — is the business model you opt for.
So, the logical question you want to answer is the following…
What Types Of  Business Model To Choose And How To Create A Business Model That Fits Your Entrepreneurial Vision?
Before you can start turning your idea into a full-fledged business, there are several questions you need to ask yourself.
The answers will give you a better sense of direction and help you determine the right approach.
Here are the crucial aspects you need to take into consideration while making your decision:
The Importance Of A Good Business Model Is Directly Related To The Insight They Have On Their Target Market
Before you move any further, you first need to test whether your idea is actually viable…
You need to research your target market to get a scope of your possible customers, and make sure that there's a need which your product/service can satisfy.
If too few people are interested in what you have to offer, or people don't want what you're offering, it's best to go back to the drawing board.
Business Models In Competitive Niches
When entering a specific market, it's vital that you understand who you'll have to face off against. Check to see how many people are already doing what you want to do, and how successful they are.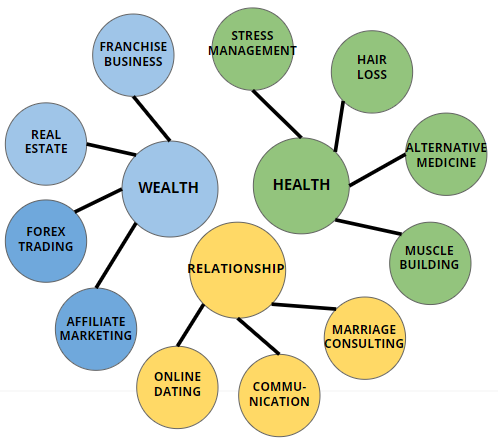 Then think about what is it you can do better or to stand out?
How can you add more value to the customers with your business?
What will make your business last the test of time?
Having some competition is actually a good thing. It proves that your idea has merit, and that there is indeed a demand for the type of product you're planning on creating.
However, it's best to steer clear of oversaturated markets, where the completion is both tough and plentiful, as it can be extremely difficult and quite costly to fight for every single customer.*
*note: i say this to give you an idea of what it's like being in a high competitive niche market but this expression is like a double edged sword because competitive niches can also be super profitable if you have a winning business model.
Business Model With Hidden Revenue From Potential Customers
Although you won't be able to rely on data until you've been in business for a while, it helps to create a mental image of your ideal customer.
Think about WHO exactly is it that you want to serve. What are their demographics, interests, major problems they're facing, their life-long goals?
Once you have a clearer image of who your potential customers are, it's much easier to figure out how best to approach your target market.
Creating a customer avatar will also help you choose the right marketing channels and strategies, as well as the tone of voice you'll use when getting your marketing message in front of them.
Revenue Streams Through Direct Sales Business Model
In a direct sales model, a business's own employees demonstrate and sell their products directly to the end consumer. This stands in contrast to retail marketing, where a business sells its products in large volumes to distributors and stores rather than directly to end consumers
The big idea that made you decide to start a business in the first place, will be your main source of revenue. However, you should also consider what other possibilities there are to add multiple revenue streams.
For instance, you might include other products that you can offer as upsells and cross-sells. Or perhaps you can add affiliate products to your offers and generate additional income through commissions.
Don't just focus on selling one product or service. Explore all your different options and try to bring in money from multiple streams.
What Is The Value You Bring To The Market?
Another question you need to answer when choosing your business model is…
How much value does a potential customer gain from your solution?
Think in terms of how big of an impact it will have on their lives.
Does it help them finally solve a burning problem they've been struggling with for years? Will it enable them to get a step closer to achieving one of the goals?
If you're only focused on what business model will be most lucrative for you, and neglect the customer, you're bound to fail — spectacularly.
Customers are the lifeblood of every business, and their wants and needs have to be at the very center of your business. Understanding your customers' desires will help you determine how best to approach the sale, and what price they'll be willing to pay.
It's a simple matter of understanding how much a specific problem costs your audience, and what are the returns they expect to get by investing in your solution.
Always aim to give MASSIVE value for the price you're asking. If the customers feel like they're getting a ton of value compared to their investment, your business will quickly flourish.
The Business Model Canvas
An extremely useful tool you can leverage when choosing your business model is the Business Model Canvas.
The concept was first developed in the book Business Model Generation, by Alexander Osterwalder and Yves Pigneur.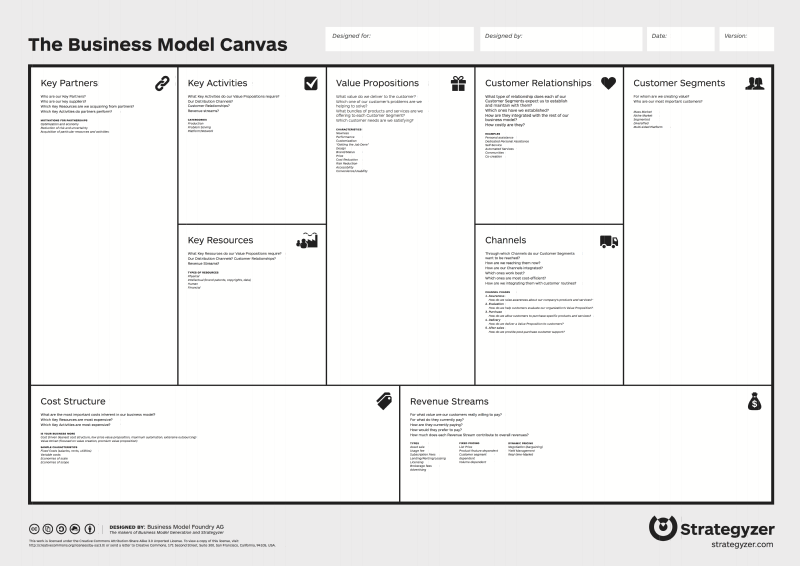 This canvas helps up-and-coming entrepreneurs clearly define all the different aspects of their business. It also gives you a clear visual representation of your business, which will be a valuable resource throughout your entrepreneurial journey.
Utilizing the Business Model Canvas as a template, you can refine an existing model to best suit your needs, or create your own ideal business model.
The Canvas Highlights The Vital Aspects Of Any Business Model:
The Infrastructure  —

Consisting of your key business activities, key resources necessary for creating and providing value to the customers, and your business partners

The Offer  —

 Your

value proposition, or in other words — the products and services you're offering to the customers. Here, you can also include the price point, the main benefits they receive, as well as add feedback later on that will help you refine and perfect your offer.

Customers  —

  Here, you should include everything you know about your target audience, market, potential and existing customers. This information will be of immense help when determining which marketing strategies and channels to utilize in order to maximize your results.
Having an entire business structure and all your core activities and key resources in one place will prove extremely helpful, especially if you plan on working with a team.
Successful Startup Business Models Example & Types To Consider
There are quite a few proven, lucrative startup business models to choose from. However, it's your job to carefully review all the different options laid out in front of you.
Gauge their functionality and compare the advantages different models provide, and select the one that best fits your entrepreneurial vision.
To help you get started, here are seven examples of profitable, sustainable startup business models you can study and create yours from:
1. Product/Service Model (Hook & Bait)
When most people think of a "business", they envision a company selling products or services. So, it's no surprise that creating and selling your own products is the approach most people lean towards.
This model is actually quite broad, and in reality, can encompass one or more other business models. The main advantage of this model is the flexibility, or rather — lack of restrictions.
You can, in theory, create whichever product or service you want, and promote it through any marketing channel of your choosing.
Additionally, you have the freedom of framing your offers however you see fit, and selling them as physical or digital products, one-off purchases or ongoing subscriptions.
The main drawback, as you can assume, is the time, money, and energy required to get this business model up and running at full steam.
Product creation is a demanding process. Also, it can take some time to build up the brand, create effective marketing strategies, and start pulling in the profits.
However, when executed correctly, this business model has huge potential and can generate substantial return on your investment.
2. Reseller (Magic)
This model is the polar opposite of the previous one. Here, you don't actually create or even own any of the products that you sell to your customer.
Instead, this business model revolves around representing a company/brand and turning a profit by promoting their offers to your target audience.
There are a few different variants of this model.
Many ecommerce shop owners are Amazon and eBay resellers. They simply set up a website where they promote and sell the products. The revenue comes from the difference in the selling price, and the price they acquire the products from.
Affiliate marketers can also be considered a sub-category of this business model. Affiliates' main revenue source comes from commissions they get with each sale of the affiliate product they generate.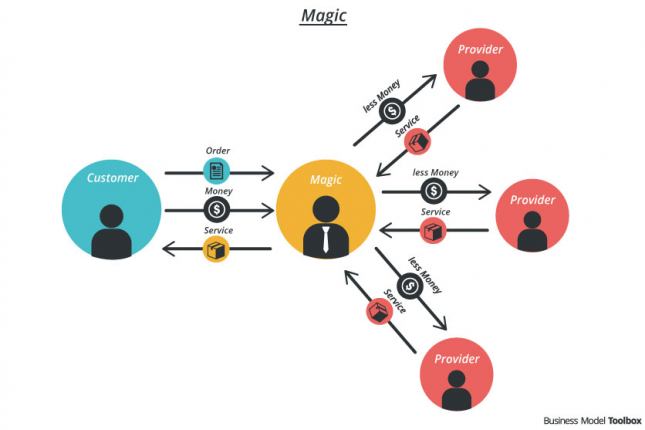 Typically, affiliates create and operate blogs where they provide valuable content to the audience, and cash in by including links, banners, and ads to the affiliate offers.
Of course, most retail shops can also be categorized under this business model, as well.
3. Ad-Based Model
Although extremely effective, to be successful and profitable, this business model requires you to have a large customer base or audience.
At the core of this model is the idea of providing a free product or service, and relying on ad revenue.
Essentially, the profits in this model come from advertising services you provide to other companies/brands. This can either be in forms of clicks or views you provide, or by having their ads placed on your website.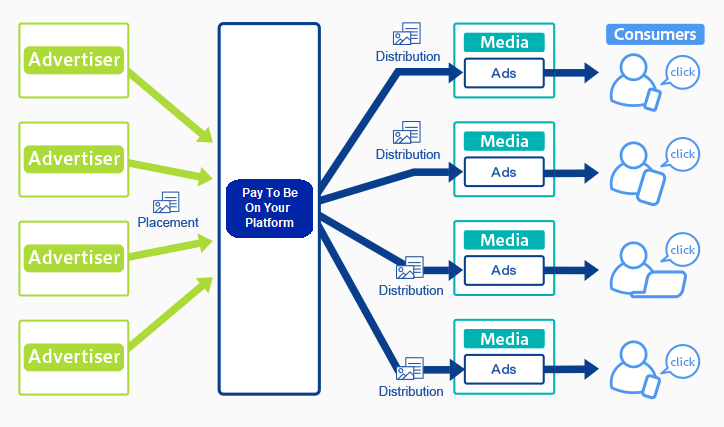 The bottom line here is — the more people you can reach, the higher your profits will be.
The prime example of this model is Facebook, youtube, twitter and so many others. The platform is completely free to use, and the millions they pull in come solely from advertising revenue.
4. Subscription-Based Model
This business model is typically employed by software companies and app-based businesses. Rather than offering their product as a one-off purchase, companies using this model can enjoy recurring revenue in forms of monthly payments.
Another main advantage of this model is easier (compared to some other models) customer acquisition and retention.
Instead of asking for a substantial up-front investment, this model facilitates the buying decision with a relatively low initial cost. Most people will make the decision to invest $5 a month more easily than investing $50 on the spot.
As for the customer retention — if the customers enjoy the service you're providing, they won't need much convincing to renew their subscription.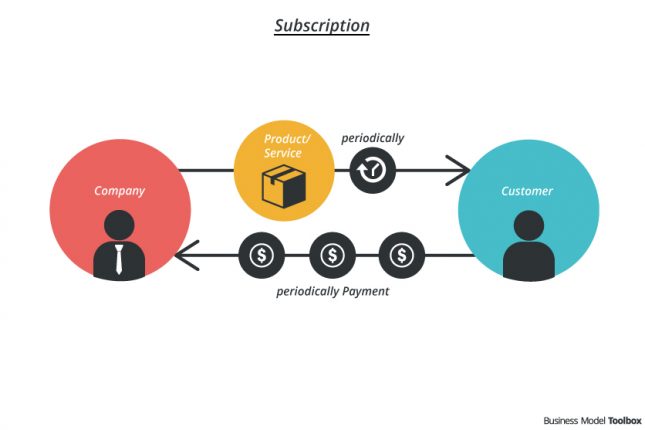 The key here is that you need to provide a premium quality product/service that gives the customers exactly what they need.
That's one possible drawback of this model. You need a large customer base to continuously pull in substantial revenue on a monthly/yearly basis.
A great example of this model is Netflix.
5. On-Demand
The on-demand business model was largely birthed out of our need for instant gratification. In a world dominated by technology, we've gotten quite used to having all information at our fingertips, just a click away.
So, why should it be any different with services? Companies that have recognized this behavior pattern are offering a myriad of different services on-demand.
The main advantage of this model is the ease of use and convenience, which makes it quite appealing to customers all over the world.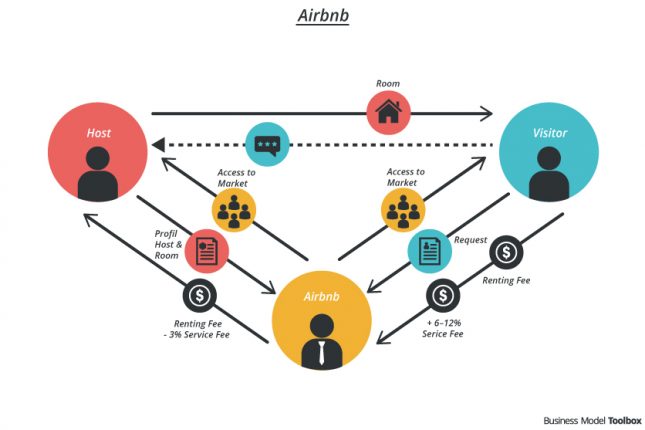 Also, by utilizing new technology and relying mostly on freelance work, this business model drastically lowers the costs of operating a business. It also virtually removes the risk factor by providing the service when the customers request it.
Among the most popular examples of this model are Uber and Airbnb.
6. Broker
The broker business model capitalizes on the physical distance between the sellers their customers.
It revolves around providing a platform where buyers and sellers can congregate, and facilitating their interactions.
The company handles their transactions and ensures security. The revenue is typically generated by applying small fees to these transactions.
Some of the best-known examples of this model are Amazon and PayPal.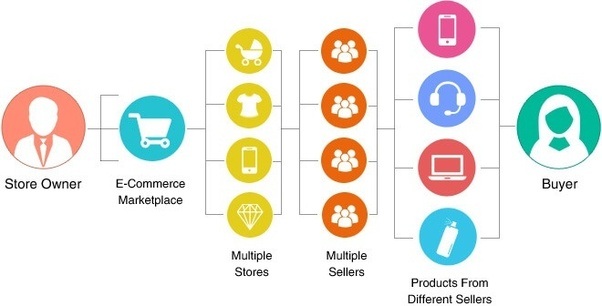 Amazon connects sellers and buyers from all corners of the world, and makes what would otherwise be an impossible purchase, extremely convenient.
PayPal, on the other hand, allows you two parties to safely and securely transfer funds, wherever they are in the world.
In essence, they both simply recognized the supply and demand, and created a business model that capitalizes on it.
7. Freemium
This business model applies a clever strategy of drawing the customers in with a free product, while making certain features exclusively available to premium (paid) users.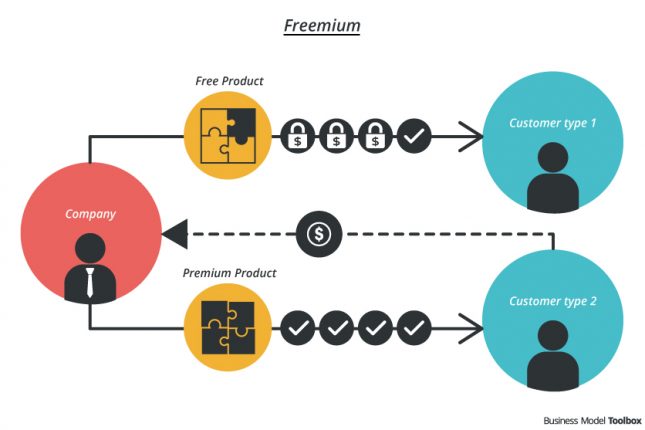 Although the core product is free, it's also either limited in functionality, or the premium license offers quite a few advantages.
For example, Vimeo allows you to upload videos on their platform completely free of charge, but limits the amount of data you can upload weekly.
On the other hand, they also provide 4 different payment plans, which significantly increase these limits and add functionality to the video player, password protection, collaboration, etc.
The appeal of this model is that the customers can see and experience your service for free, without any risk. Hence, a lot more people will be inclined to check out what you have to offer.
On the other hand, you need to be extremely persuasive and convince them that the advantages of upgrading to a premium user are vast and well-worth it.
So, you need to strike a perfect balance between providing enough value for free, while having an enticing offer that will incentivize the users to go premium.
My Conclusion On Various Business Models That Exists
Keep in mind that choosing the right business model for your startup is a process. There are quite a few ways to go about starting your business, and you need to carefully wage all your options before making the final decision.
For your business endeavor to be successful and profitable, it's vital that you do the research and ensure the model you opt for is compatible with your idea and target market.
Hopefully, the information and examples shared in this article will help you do just that and set you on the right track.
If you're interested in learning more, make sure to check out High Ticket Offer Specialist Certification and subscribe to our newsletter to get world-class business education, valuable resources, and useful tips delivered straight to your inbox.
We're veterans in the online marketing industry, and our goal is to provide comprehensive business training and education to help you successfully launch your startup.
That said, if you have any questions, comments, or thoughts you want to share — feel free to let us know in the comment section below!
And don't forget to share the article with others who might find this information helpful.
About The Author
Your Millionaire Mentor
Shaqir Hussyin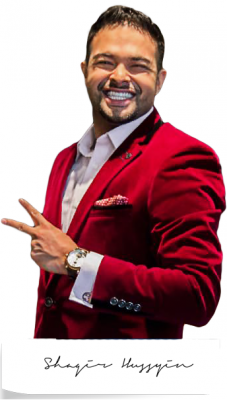 Shaqir Hussyin is the founder and CEO of WealthAcademy.com & Funnels.com. Nicknamed the "Backpack Millionaire", he's invested $350,000 into his own education and training. Whilst traveling to 100+ countries, Shaqir has built over 10+ million dollar brands and attracted over 500,000+ subscribers.
His signature program is now available: Max Income System; 14 Simple Steps To Making Your First Income Online
Shaqir is also a highly sought-after speaker and direct response "Sales Funnels" global leader. His work has impacted over 100,000 businesses in 65 different countries. Connect with Shaqir on Instagram, YouTube, LinkedIn & FB Group.
https://wealthacademy.com/wp-content/uploads/2018/07/best-business-model-and-canvas-for-startups.png
315
560
Shaqir Hussyin
https://wealthacademy.com/wp-content/uploads/2019/11/logo-plain.png
Shaqir Hussyin
2019-04-27 19:00:00
2019-04-27 22:03:40
Best Business Model & Canvas For Startups