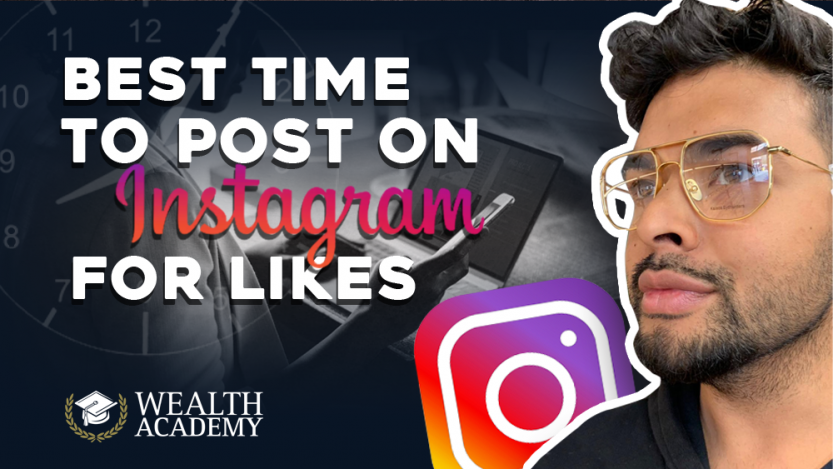 Best Times to Post on Instagram by day of the week can vary a lot on your market. Also with the new Instagram algorithm, the timing of your posts has become more important than ever. But, when is the best time to post on Instagram? As the algorithm changes, so does the answer.
In 2018, the majority of social media managers state that posts uploaded during lunch time – 11 a.m. to 1 p.m – seem to be getting the most engagement.
However, you shouldn't take this for granted. Obviously, depending on the audience, the best time to post on Instagram varies for different brands.
There have been many studies singling out certain days of the week and times of day…
This can give you a good starting point, but you'll probably have to experiment with different times to figure out what works best for your Instagram audience.
Instagram relies on a dynamic algorithm, that constantly changes and evolves. If you want to keep up, you need to constantly test, measure, and refine your strategy.
With the new update, the algorithm factors in not just how many users engaged with your posts, but also how quickly.
So, if you want to get your message in front of as many people as possible, and avoid having your content buried under a pile of other posts – you need to find that sweet spot.
And that's exactly what this article aims to help you do!
So, let's jump right in.
Best Time To Post On Social Media 2018 / 2019 For Likes
When's The Best Time To Post On Instagram?
Obviously, the best time to post is when the bulk of your audience is online.
I know that still doesn't answer the question, but bare with me…
The vast majority of active Instagram users fire up the app every day.
That's awesome. That's great news for your brand!
It means you can (and should) post daily on the platform.
Some days your posts will get more engagement than others. After some time, you'll start to see the pattern emerge.
In their study, Hubspot found that Mondays and Thursdays seem to be performing the best.
The time of day didn't seem to play a huge role, but they suggest avoiding posting between 3 p.m. and 4 p.m.
Some brands found success by posting during the Monday morning commute (8 a.m – 9 a.m.).
However, with the videos, the story is a bit different. The best times seem to be between 9 p.m. and 8 a. m.
And it makes perfect sense, if you think about it. People might scroll through a few pictures, but they sure aren't going to watch Instagram videos during work hours.
This is a good starting point, but you shouldn't take these times as absolute truths.
Different studies have come to different conclusions regarding the best time to post on Instagram, after all.
This service, which lets users schedule their Instagram posts, analyzed over 61,000 posts in search of the average best times to post on the platform.
The results indicated that Wednesdays performed slightly better than other days. The best times to post were between 2 a.m. and 5 p.m. Eastern.
Doesn't really narrow it down, but it's a start.
Sprout Social did something similar, and they've found that posts get more engagement on:
Wednesdays around 3 p.m.
Thursdays at 5 a.m., 11 a.m., 3 p.m., and 4 p.m.
Fridays at 5 a.m.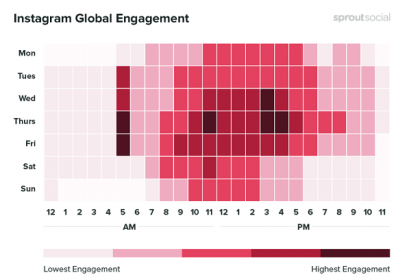 What this goes to show you is that there really is no universal answer.
It's really difficult to pinpoint the exact time of each day when post are likely to receive more engagement.
You have to factor in all the different audiences and time zones, which further complicates things.
So, unfortunately, there is no shortcut. You'll have to experiment with different times to figure out what works for your brand and followers.
However, what these studies do provide is a solid framework. You can take them as a good starting point and should expect to get more engagement on:
Mondays, Wednesdays, and Thursdays
During the morning commute between 8 a.m. and 9 a.m.
End of the 9-5 workday (around 5 p.m.)
Early birds (around 5 a.m.)
The next step is to measure the results of different days and times of day.
That's literally the only way to figure out YOUR best time to post.
How Many Times A Day Should I Post On Instagram?
Tailwind did a study on how often you should be posting to Instagram. The simple answer is – at least once per day.
Their research showed that in over three months, people who moved from posting less than once a day to seven or more posts a day increased their likes by nearly 13 times
Thus this shows by scheduling more automated postings per day through out the week can drastically increase your likes.
The Best Time To Post On Instagram For Likes
Again, the times these studies found to be the best might not work for your business.
It really depends on when your target audience is online and using the app.
So, like it or not, you're going to have to do some testing and tweaking.
Here are a few general rules to help you find your best time to post on Instagram:
1. Right Timezone To Schedule Instagram Posts
Regardless of where you're located, you need to post with your audience's geographic location in mind.
If you're in LA, and the bulk of your active audience is in NY, you want to factor in the time difference when posting.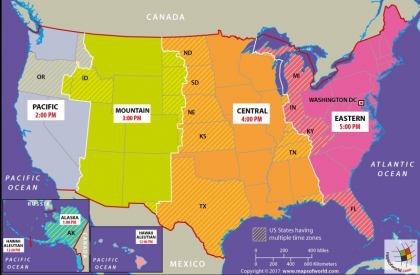 This is even more important if your audience spans across the whole world. In this case, you might need to experiment with seemingly odd times.
For instance, midnight PST is 8 a.m. in London, and there's a good chance you'll reach a good portion of your followers at both locations then.
2. Focus On Off-Work Hours
Typically, posts receive the most engagement during lunch time (11 a.m – 1 p.m.) and after 5 p.m.
And it makes perfect sense, when you think about it. Most people with a 9-5 job don't have the luxury of browsing Instagram during work hours.
But, they will most likely check it during a lunch break or after work, to stay up to date with the content.
3. Weekdays And Weekends Instagram Posts
It's ridiculous to think you'd have to set your alarm to post something at a specific time.
You don't have to be a "slave to the clock", when there are various software options which allow you to easily schedule your posts on Instagram.
That said, you want to schedule the most important posts on weekdays. Typically, weekends tends to see less engagement, but not by a large margin.
My guess is probably due to the fact that over the weekends, people choose to spend their free time on fun, exciting, or relaxing activities, rather than spending it by looking at their phones.
So, just to be safe, you should post the most important content during the week. But, feel free to experiment with different days and times.
4. Get Insights Using Instagram Calculator
Instagram Calculator provides a ton of valuable data, including your top time zones to get better campaign results.
Relying on comments and likes, you can see when the bulk of your audience is typically online on the platform.
Here's an example from Buffer's Insights:
This helps tremendously when determining which times to choose to run the engagement tests.
If you notice, for example, that your audience seems to "come alive" between 5 p.m. and 9 p.m. – schedule posts at 5, 6, 7, 8, and 9 to find the sweet spot.
Once you gather enough data, it'll be much easier to determine the best days and times to reach your Instagram audience with your contents.
Worst Time To Post On Instagram By Day of the Week And Saturday
Below you can see the best times to post on instagram according to different case studies done.
Sunday: 5:00 p.m.
Monday: 7:00 p.m. & 10:00 p.m.
Tuesday: 3:00 a.m. & 10:00 p.m.
Wednesday: 5:00 p.m.
Thursday: 7:00 a.m. & 11:00 p.m.
Friday: 1:00 a.m. & 8:00 p.m.
Saturday: 12:00 a.m. & 2:00 a.m.
The worst times to post on instagram naturally falls right out of these hours. This is due to the fact that people are less active scrolling their instagram feed.
Thoughts On The Best Time To Post On Instagram
So, the bottom line is – there is no definitive answer.
If you expected me to tell you that the best time is Thursday 3:17 p.m., if you're in the wealth industry, then I'm sorry to disappoint you.
Although there isn't a clear-cut answer, there is data you can rely on and use as a framework to help you figure out YOUR best time to post on Instagram.
Just remember to always monitor and measure the performance of your content.
Want to learn more about creating engaging content your audience will love? 
If you're looking for a tested & proven, step-by-step formula for creating premium quality content that will help convert ice-cold prospects into red-hot leads and customers…
Then I invite you to enroll in the Wealth Academy Content Marketing Specialist Certification Program TODAY!
This is a unique opportunity to get trained & certified on how to consistently create awesome content and develop effective content marketing campaigns.
Boost your online visibility, grow your brand, and scale your profits with Wealth Academy.
Click here to discover how you can become a Wealth Academy Certified Content Marketing Specialist.
About The Author
Your Millionaire Mentor
Shaqir Hussyin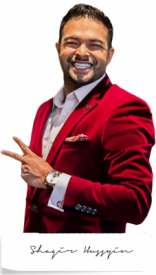 Shaqir Hussyin is the founder and CEO of Shaqirhussyin.com & Funnels.com Nicknamed the "Backpack Millionaire", he's invested $350,000 into his own education and training. Whilst traveling to 100+ countries, Shaqir has built over 10+ million dollar brands and attracted over 500,000+ subscribers.
His signature program is now available at: CreateDigitalCourse.comspecially designed for aspiring entrepreneurs wanting to start their online business with their very own high paying product.
Shaqir is also a highly sought-after speaker and direct response "Sales Funnels" global leader you can meet in person. His work has impacted over 100,000 businesses in 65 different countries. Connect with Shaqir on Instagram, YouTube, LinkedIn & FB Group.

https://wealthacademy.com/wp-content/uploads/2019/08/Best-Time-To-Post-On-Instagram-For-Likes.png
563
1000
Shaqir Hussyin
https://wealthacademy.com/wp-content/uploads/2019/11/logo-plain.png
Shaqir Hussyin
2019-08-05 02:30:38
2019-08-06 06:04:50
Best Time To Post On Instagram For Likes