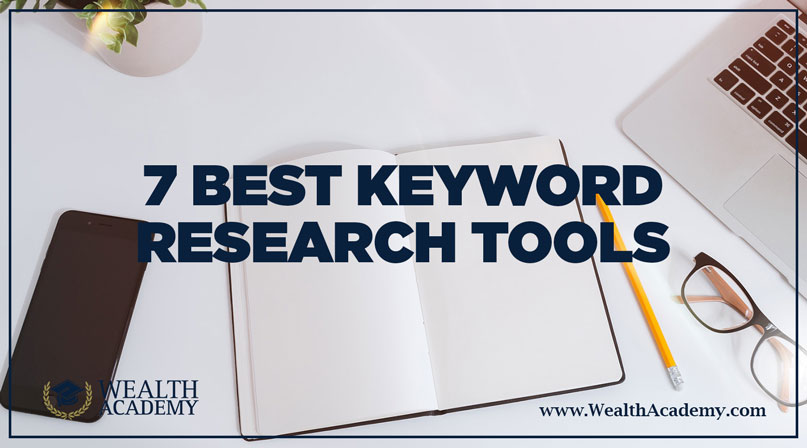 Keyword research tools is a must have part of running a successful paid advertising campaign. Using the right keywords in your ad copy will improve your campaigns Quality Score. This, in turn, drastically increases the chances that your ad will be shown to the target audience. It also helps lower your cost-per-click (CPC) and improve your ROI.
There are two ways you can go about researching the keywords relevant to your business. You can either hire a professional company to do it for you, or you can do your own research.
You don't have to look far to find a company willing to perform the keyword research for you. However, you will likely have to part with $1,000 or more, to acquire their services.
That said, there's really no reason to throw your money away. Not when there are so many amazing online tools that you can utilize to do your own keyword research, without spending a dime.
In this post, I want to share some of my personal favorites that will give you the edge you need to create powerful advertising campaigns and sweep the competition, regardless of the type of business you're running, your target audience, and your marketing goals.
Admittedly, some of these require a monthly subscription to access all features. Still, you can use the data gathered from various free tools to create a comprehensive list of quality keywords to use in your advertising efforts.
Keep in mind that the tools you'll find below aren't listed in any particular order. Hence, you should choose the ones that you find the most intuitive and easy to use.
That said, let's jump right in and take a closer look at each of these awesome tools.
Keyword Research Tools
If you've run paid advertising campaigns in the past, or have even remotely considered running one… Then you're likely already familiar with Google AdWords, and the Keyword Planner tool.
Keyword Planner is great because its comprehensive search function. It allows you to quickly search for the keywords relevant to your business based on multiple criteria:
Name of your product or service
A webpage on your site (or a competitor's site)
Advanced targeting and customization option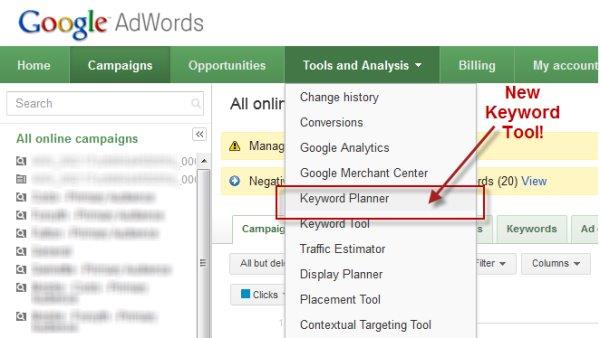 Once you hit the "Get Ideas" button, you'll be redirected to a new page. Here, you can see hundreds of relevant keywords, their average monthly search volumes, as well as suggested bids.
Keyword Planner is amazing to get a general sense of the keywords used to search for a specific topic. But, since usually features 500+ words, it's best to use it as a starting point. I would recommend using it in combination with another keyword research tools.
You should consider continuing your search on Google Trends. This amazing free tool is surprisingly underutilized by marketers, considering the value it can provide.
It's also quite simple to use. All you have to do is type in the search term you want to see the trends for. You'll immediately see the trends for the provided keyword in the past 12 months.
Here's an example using "PPC advertising" as the search term.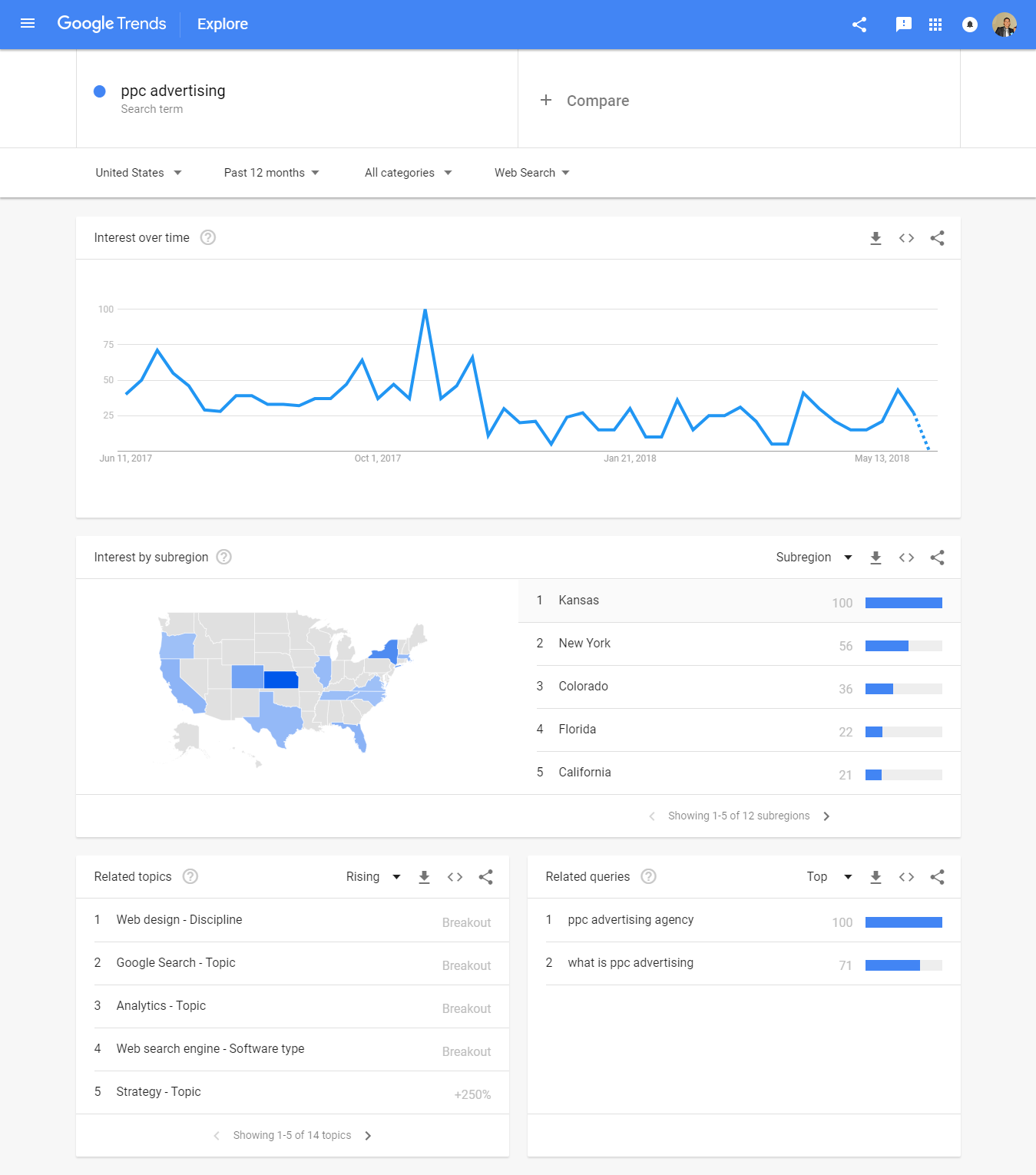 As you can see in the image above, you can modify the search based on:
Location

Time

Specific category

Search (options like web search, news search, image search etc).
Google Trends is particularly useful to determine the geological location of your target audience that has shown the most interest in a specific topic.
KeywordsEverywhere is an amazing free keyword research tools extension for Google Chrome and Mozilla Firefox. It can be used in conjunction with other tools to quickly see monthly search volumes, CPC and competition regarding any keyword of your choice.

It pulls data from Google, YouTube, Amazon, eBay, Keyword Planner, and pretty much every keyword research tools available.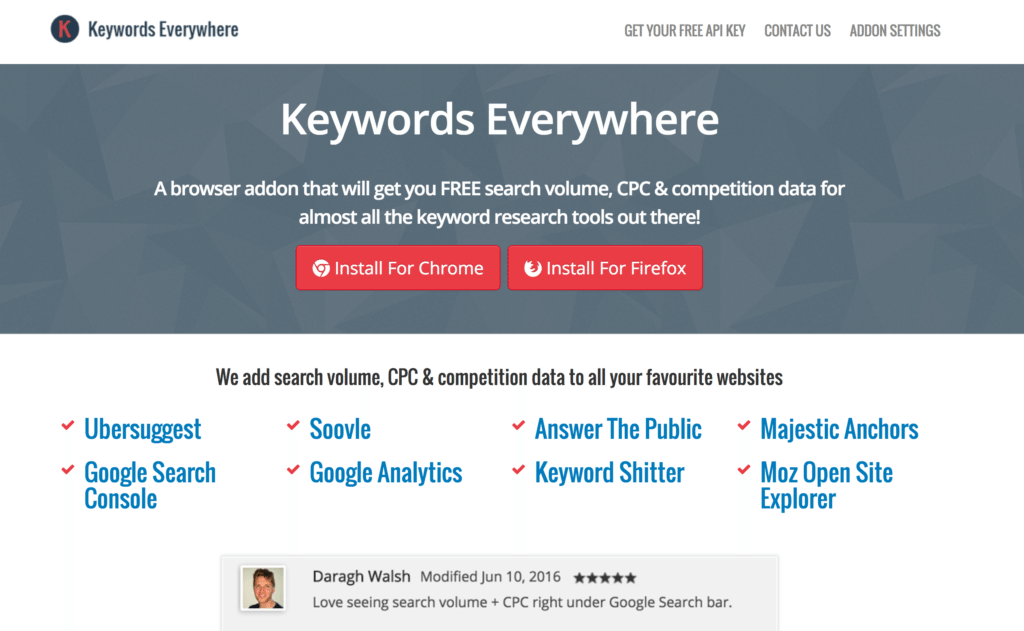 Previously, you had to go through several different tools each month to gauge the performance of a particular keyword. Now, you can simply install this browser extension and get accurate monthly reports on as many keywords as you want.
There's another pretty good reason to use this browser extension. Most free online tools only show you a range for the search volume (e.g. from 5,000 – 100,000 monthly searches), which isn't much to go on. This is the case with the Keyword Planner I mentioned earlier, for instance.
If you're not already running a paid campaign, there's really no way for you to access the data and see the exact numbers. KeywordsEverywhere provides you with this valuable information. For an unlimited number of keywords. And it's free!  
KeywordTool.io is amazing for searching for long-tail keywords. It relies on the Google Suggest API to deliver a comprehensive list of related keywords in mere seconds.
It even provides different combinations and permutation of a keyword across platforms like Google, YouTube, Amazon, eBay, Bing, and the App Store. This provides you with a good chunk of long-tail keywords to choose from.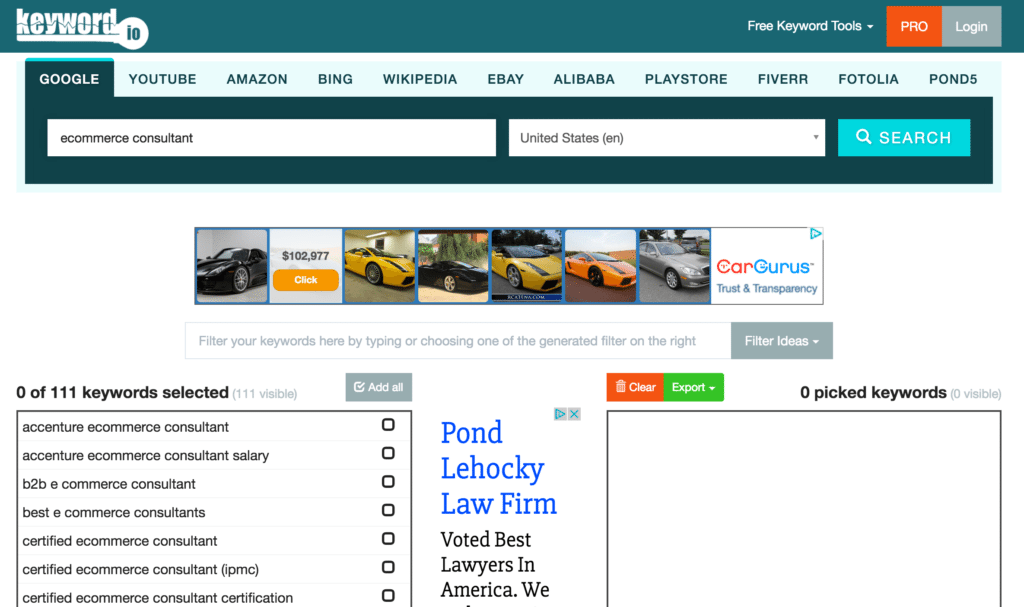 As you can see in the image, in order to access the vital information, you will need to pay the monthly subscription fee. If you ask me, it's more than worth it. Just think of it as in investment in your business, rather than an expense.
Other great thing about the Keyword Research Tools are, besides giving you a bunch of keyword suggestions, it the "Questions" tab. This feature allows you to see exactly what your target audience typed in the search bars to find information, products, and services in your niche.
KWFinder is another awesome tool for researching long-tail keywords. It provides a wealth of information regarding the searched keyword, and also sports a very intuitive interface.  
It allows you to quickly determine the trends, search volume, CPC, and another incredibly useful metric – keyword difficulty. Keyword difficulty ranges from 0 to 100, with 100 being the most difficult keyword to compete for.
When we searched the term "PPC advertising", KWFinder came up with these amazing suggestions.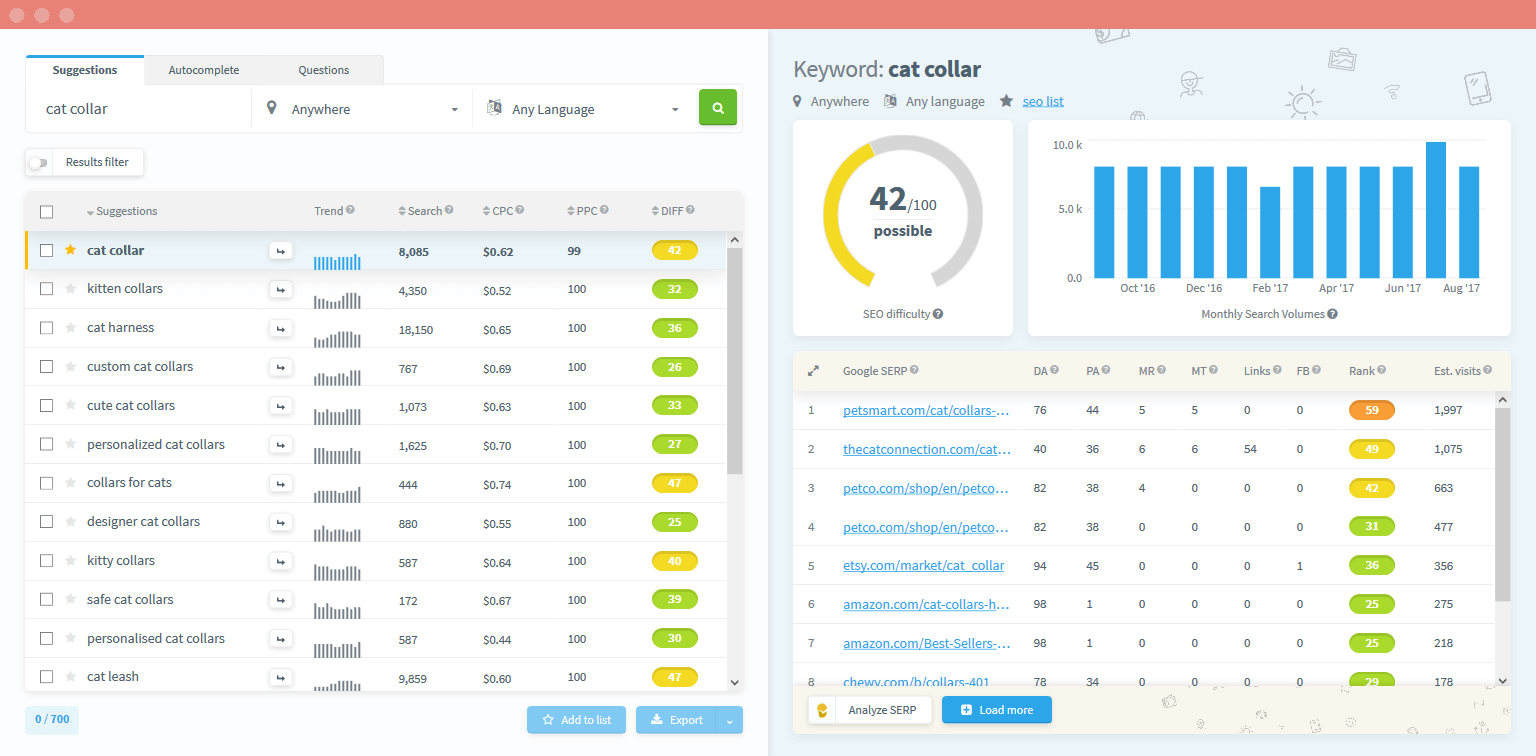 Another thing unique about KWFinder is that it also shows you which pages targeting the specified keyword were the most visited. This also includes other useful information like their DA (Domain Authority) scores, number of external links to that page, and the page's social shares.
KWFinder also enables you to perform a local keyword research and target the search results by country, state, or even city.
This tool created by Moz, a company focusing on SEO optimization, can add several more layers of depth to your keyword research.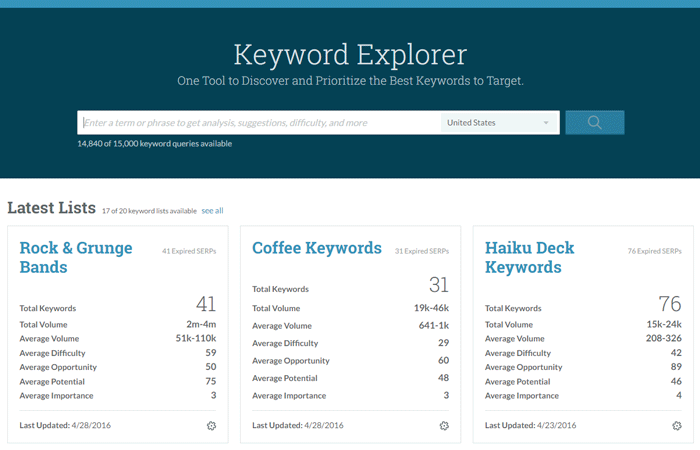 Keyword Explorer relies on the Keyword Planner, Google Suggest, and Related Searches to provide in-depth insights on your keywords. Consequently, it's a great way to sift through the keyword list you previously compiled using other tools.
You can use it to compare the quality of different keywords and quickly determine which ones you should prioritize, as well as which ones are best avoided.
Generally, it's a good idea to take a sneak peek at what your competitors are doing before you launch your own PPC campaign. If you want to learn what keywords other successful businesses in your niche are using, SpyFu is the tool for the job.
Simply enter the website URL of one of your competitors, and the tool will instantly show you all the keyword data related to that page.
You'll immediately see how many and which keywords they are ranking for. Furthermore, the tool shows you the number of monthly visits they are getting, as well the proportion of organic to paid traffic they are driving.
I'm competitive by nature, so I was curious to see what SpyFu would pull for Neil Patel's website:


There's a good reason why he's one of the most successful online marketers using various of the keyword research tools mentioned above.
With the free version of SpyFu, you're able to see the competitors' paid keywords, their top performing keywords, as well as their top competitors.
This data can give you insights into what keywords your top-ranked competitors are relying on to drive traffic. This data includes their search volumes, CPC (cost-per-click), and keyword difficulty, which is invaluable information when you're planning on launching a new PPC campaign.
You can upgrade to a premium account with one of their affordable payment plans. This will grant you access to more features, which allow you perform regular searches and automatically track the keywords your competitors are using.
Final Thoughts
The amazing keyword research tools listed above will allow you to create compelling ads that appeal to your audience, and drive results.
The key aspects you need to factor in when deciding which keywords to bid on are:
Average monthly search volume

Cost-per-click

Difficulty rating
It's generally a good idea to avoid keywords with extremely high difficulty ( 55+ difficulty score). Fighting over the same audience with a swarm of competitors will drastically increase your costs.
Need help creating powerful marketing campaigns that will drive tons of qualified traffic to your website and generate an insane amount of sales?
Sign up for Traffic Mastery Intensive course today and learn how to consistently attract from 500-1000 hot leads per month and convert them into cold, hard cash.
This is your opportunity to learn the best traffic acquisition strategies from seasoned experts and skyrocket your sales and conversions. Let's work together to take your business to a whole new level!
I've personally used these exact strategies to consistently drive qualified traffic to my offers. I've relied on them to generate millions in sales. So, I know exactly just how powerful they can be for YOUR business.
Click here to get instant access to my Traffic Mastery Intensive and start scaling your business to 6 or 7 figures!
About The Author
Your Millionaire Mentor
Shaqir Hussyin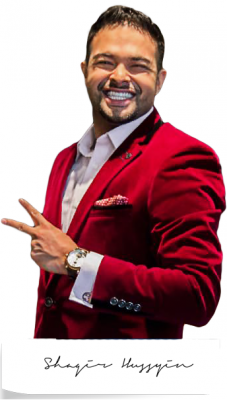 Shaqir Hussyin is the founder and CEO of WealthAcademy.com & Funnels.com. Nicknamed the "Backpack Millionaire", he's invested $350,000 into his own education and training. Whilst traveling to 100+ countries, Shaqir has built over 10+ million dollar brands and attracted over 500,000+ subscribers.
His signature program is now available: Max Income System; 14 Simple Steps To Making Your First $120K
Shaqir is also a highly sought-after speaker and direct response "Sales Funnels" global leader. His work has impacted over 100,000 businesses in 65 different countries. Connect with Shaqir on Instagram, YouTube, LinkedIn & FB Group.

https://wealthacademy.com/wp-content/uploads/2018/03/7-Best-keyword-research-tools-WA-BLOG-POST.jpg
448
807
Shaqir Hussyin
https://wealthacademy.com/wp-content/uploads/2018/02/logo-plain.png
Shaqir Hussyin
2018-06-05 01:45:00
2018-12-21 12:50:31
7 Best Keyword Research Tools You Can Use To Get An Edge Over The Competition