Achieving and multiplying success in business requires operating many different vital areas. To pull this off, you must align your business goals.
In other words, your branding, marketing and sales efforts must be cohesive, and work in unison to produce the desired results.
You must carefully and deliberately combine these crucial aspects of your business with specific purpose and measurable outcomes.
Many leaders don't clarify with their teams how branding, marketing and sales should work together.
But it's a must if you want to grow your business and scale your profits.
Once individual roles and goals are defined, everyone can pull toward the vision and execute with focus.
Here are some things to consider:
Branding:
When building your brand, you need to figure out how you want the potential customers to perceive your business.
However, before you can answer that question, you need to be clear on WHO those customers are.
The more precisely you can define your target audience, the better. Clarity is crucial here.
For instance, sometimes you'll need to brand for a very specific, niche group of customers, not to the entire market.
Knowing exactly who you want to target is essential, not just for branding, but for marketing and sales as well.
It will allow you to hone in on your ideal customers, and build a brand that appeals to them.
You want to incorporate the core values into your brand that your target audience stands behind.
Also, when branding and marketing to a specific audience, make sure to do it in a language they speak and understand.
Then, craft your written, spoken, and visual messages accordingly.
Remember, customers are the lifeblood of your business. By showing them that your brand is build around helping them solve their burning problems or achieve a certain goal, you'll forge a deep, meaningful connection.
This will ensure that your brand stays top of mind, and help you build brand equity.
There are several different strategies you can employ while building your brand:
Name Branding  –

This strategy revolves around branding your company as a whole. Generally, it involves creating a logo, choosing specific colors that represent your brand, and even slogans. The idea behind it is to create a memorable brand your audience can easily identify and relate to.

Individual Branding

– This strategy takes a slightly different approach. Instead of putting the spotlight on the company, you're essentially branding yourself. There are several merits to choosing this approach. First, companies may come and go, but YOU stay. If you're an entrepreneur, you will greatly benefit from branding yourself and being recognized as an expert and an authority in your field.

Attitude Branding

– Some brands promote a certain attitude towards their customers, and are recognized and loved for it. This strategy can and should be used in conjunction with other branding strategies, to further develop the relationship between your business and your customers. In essence, you want to show the customers that you care. You shouldn't be in it just for the sale. You must let them know that you genuinely want to improve their lives with your product/service.
Marketing:
Your marketing efforts should have a clear connection to your branding.
Although technically two different areas, both branding and marketing aim to introduce people to your business.
They are interwoven and inseparable. Therefore, your marketing and branding messages need to look and sound the same.
Every aspect of your communication—web content, social media, news releases, etc.—should move together and be smoothly synchronized.
The way you address your customers in your ads, social posts, emails, and calls… Everything needs to give off the same vibe and send the same message.
A successful marketing strategy needs to incorporate what you know about your business and about your audience.
For instance, you know all there is to know about your product. And you've done your research and know exactly who the people you want to sell it to are.
Now, you need to combine these 2 aspects in your marketing strategy. How?
Simple – instead of focusing on the product features, explain to your audience what the product can do for them.
Talk about the main benefits they will receive. Also, weave in the core values of your brand into your marketing messages.
Next, think about how you're going to deliver your message.
What marketing channels are you going to use? You want to display your messages where your audience is!
For example, if there's spending the majority of their time on Facebook, that's where you should advertise.
Or maybe they prefer video content. In that case, you should work on your YouTube presence…
Once you've developed branding and marketing strategies, you should create tools for your team to use during sales presentations.
Sales:
Once again, your sales tools need to match with your branding and marketing efforts.
Your toolkit should contain pieces that complement one another. Pull out these two pieces for this customer, a different pair to suit a different one.
From PowerPoint slide sets to elevator speeches, all of your sales tools should be mined from branding and marketing research.
What this means is that, in the final stage, your message mustn't deviate from your previous efforts.
While leveraging different sales tools, always keep in mind that you want to use the same branding and tone of voice you previously used.
There shouldn't be a sudden change in your message, voice, or attitude. If you've opted for a softer approach, don't give in to temptation to start being pushy, just to close the sale.
The audience can even pick up on subtle differences in your approach. So, make sure that you stay true to your brand and marketing message even in the final stage.
Additionally, the data from audience research and your marketing efforts will be of huge help here.
By now, you should have a clear view of who your target audience is and what it is they expect from your business.
That said, you'll notice that different people have different buying requirements and varying levels of knowledge and interest.
You can use this to your advantage and create subsets of your audience – and promote different content and offers to them.
Layering your offers will help you market more effectively, and reach the right people with the right message, at the right time.
You should have entry, mid, and top-level offers, as well as content that complements them.
This will enable you to address each and every customer according to where they are in your funnel, and ultimately – maximize your revenue.
When you are intentional about your business development and carefully arrange all of the moving pieces, you will see real improvements.
Liked this? Want my 1:1 help? Claim your FREE 30 minute Income Kickstarter Strategy Session – Click here.
About The Author
Your Millionaire Mentor
Shaqir Hussyin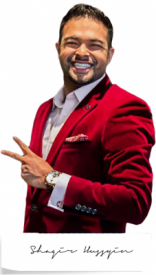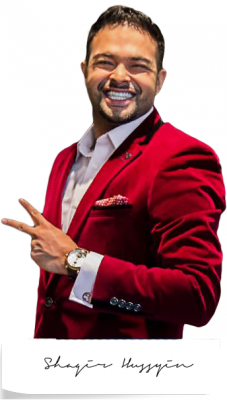 Shaqir Hussyin is the founder and CEO of WealthAcademy.com & Funnels.com. Nicknamed the "Backpack Millionaire", he's invested $350,000 into his own education and training. Whilst traveling to 100+ countries, Shaqir has built over 10+ million dollar brands and attracted over 500,000+ subscribers.
His signature program is now available: Max Income System; 14 Simple Steps To Making Your First First Income Online
Shaqir is also a highly sought-after speaker and direct response "Sales Funnels" global leader. Shaqir's work has impacted over 100,000 businesses in 65 different countries. Connect with Shaqir on Instagram, YouTube, LinkedIn & FB Group.
https://wealthacademy.com/wp-content/uploads/2017/01/Align-Your-Business-Goals-To-Multiply-Your-Success.png
315
560
Shaqir Hussyin
https://wealthacademy.com/wp-content/uploads/2018/02/logo-plain.png
Shaqir Hussyin
2017-01-30 00:00:00
2018-12-20 15:32:00
How To Align Your Business Goals To Multiply Success