A well-written, compelling, high-converting sales letter is an integral part of every successful marketing funnel.
It's the final link between an interested prospect and a purchase.
Therefore, it needs to more powerful and more convincing than all your other marketing endeavors.
A sales letter must "attack" the pain points of your prospects, outline the biggest benefits, present strong sales arguments, and weave everything together into an interesting and enticing story.
After someone reads your sales letter, they should feel compelled to make the purchase. It needs to remove any doubt they might have, and convince them that your product will indeed help them solve a burning problem or achieve a certain goal.
Undeniably, this sounds like a tough challenge for anyone that isn't a copywriter by profession… That's why so many entrepreneurs and business owners are willing to hire professionals to create one for them.
But, you don't have to spend $1,000+ on freelancer fees…
Once you understand the process, you can craft a powerful, high-converting sales letter yourself.
You might not thing of yourself as a great copywriter, but you have an innate advantage… You know your products and your target audience better than anyone.
When you combine that knowledge with the process I'll show you in this article, you'll be able to craft killer sales letters with ease.
The Swipe File
If you're staring at a blank page, waiting for the inspiration to strike, you won't get very far.
Instead of trying to write the entire sales letter in one go, I suggest you take a fundamentally different approach.
First, before you write a single word, you should create what I like to call a "swipe file".
This file should contain information on your product and the offer you're going to present on the page.
List out the most important features and unique characteristics of your products, the main benefits they'll receive, the price, and anything else a potential customer would likely want to know about the offer.
You can also create a "skeleton" of your sales letter, by writing out headlines for different sections and jotting down the most important things you want to cover in each section.
This may seem like an extra step, but it will be a great resource for when you actually start writing.
The swipe file is meant to give you a solid work frame, the basis which you can build upon once you start creating the sales letter.
Sure, you might have all this information in your head, but it's much clearer once you have all the information laid out in front of you, black on white.
Once that's taken care of, it's time to get creative and start crafting your high-converting sales letter.
Here are the 9 steps for a high-converting sales letter:
Step 1 – The Headlines
The headlines are arguably the most important part of your copy, and deserve special attention.
They must be powerful and enticing, since their job is to "pull the reader in" and pique their interest to the point where they want to read the entire letter to find out what the offer is all about.
The main headline should hint at the biggest benefit your customers will receive, without revealing too much detail.
It needs to spark their curiosity and give them a good enough reason to stay on the page and learn more about your product or service.
Here's an example of the headline we used for Guru Funnels:
It's short and to the point. It tells you exactly who the offer is for and what results you can expect.
Throughout the copy, you'll have multiple headlines. Although the main headline is vital for grabbing the readers' attention and keeping them on the page, the headline of each section also plays an important role.
You see, not everyone who lands on your page will be willing to set aside 15+ minutes to read through the whole sales letter. In fact, most people will skim through it and read only the most important parts.
That's why your headlines need to be interesting and informative enough to keep their attention and give them a general idea about the offer.
If you manage to pull this off, they might scroll back up and read the whole thing. Or, they might even click the "buy" button without having read the whole thing.
So, spend as much time as you need to create compelling headlines that will grab and keep the attention of your audience.
I recommend spending at least as much time on coming up with great headlines, as you would on writing the rest of the copy.
Step 2 – Their Burning Problem
The opening part of your sales letter should be dedicated to your potential customers.
More specifically, it needs to talk about their burning problem – the biggest issue that they're looking to resolve with the help of your product.
Remember, your product is the solution. And you don't want to lead with the solution without first dissecting the problem.
So, at the very beginning of the sales letter, create a narrative that revolves around the difficulties, obstacles, frustrations, and pain points your prospects are experiencing.
You need to aggravate that problem and convince them that it can't be left unchecked.
Make sure that, after reading the first section, they are eager to find out what the solution to their problem is.
Step 3 – Relate
Next, make sure the reader understands that they are not the only one facing that specific issue.
Tell them that you've been in their shoes. Empathize with them.
Show them that they're not alone, and that you know how they feel and what they're going through.
And, most importantly – talk about how you've overcome the challenges they're facing.
This segment of the sales letter should help you form a strong bond with the audience.
It also helps gain their trust and boost your credibility.
Once they know that you have experienced the same hardships, and have managed to find a good solution, they'll be far more open to listening to what you have to say.
That's when you can "plug in" your solution to their problem.
Step 4 – The Solution
Here's where you want to introduce your product or service.
However, you need to be tactful…
Naturally, you'll be tempted to start singing praises about your product and talking about every little detail and feature.
However, keep in mind that you are offering a solution.
What this means is that you shouldn't be listing features and telling them how amazing your product is.
The truth is, they don't care.
All your prospects want to know is how the product can help them.
What kind of impact will it have on their life or business?
That's what you need to focus on – the benefits they'll receive, rather than the product's features.
Paint a picture for them. Explain what their life would look like if they solved their burning problem, or achieved their desired goal.
Step 5 – Bullets
At one point, you want to break the monotony and give the readers a much-needed reprieve from the huge chunks of text they've been reading.
This is best done through bullet points.
Much easier to read than a chunk of text, wouldn't you agree?
Not only that, but the readers are far more likely to remember the key benefits if presented in this manner.
"Bullets" are awesome for a number of reasons:
One – they make the copy much easier to read.
Two – they sum up the offer and the benefits for those who'll just skim the page.
Three – the benefits stand out more and are much easier to remember when presented as bullet points, than when mentioned through several paragraphs.
Step 6 – Social Proof
For the readers who are still on the fence, the best way to remove doubt and win them over is by providing social proof.
These can be testimonials or reviews from satisfied customers, or even entire case studies that showcase the positive effects of your products.
If possible, use images of your customers to solidify the testimonials, and showcase that they are genuine feedback from real customers, not just something you made up.
Alternatively, you can include video testimonials as proof, if some of your customers are willing to provide these for you.
Testimonials help portray your community and instill a certain level of trust that you couldn't otherwise attain, regardless of how good your copy is.
So, unless your product is brand new and you haven't received any feedback on it yet, make sure to include testimonials on your sales letter.
Step 7 – The Offer
In this step, you'll need to frame the offer, state the price, and convince them that it's a great investment.
Obviously, first you'll want to tell them what's included in the offer.
However, don't get too technical here. Explain what they're getting, but use the same vocabulary and tone that your audience would use.
Then, introduce them to powerful sales arguments that make the offer irresistible.
Make sure they understand why your product is different, unique, and ultimately – better.
Show the readers that the value they're getting far outweighs the price point, and that you're offering them an amazing deal.
Additionally, bonuses and a guarantee make your offer look even more enticing, so consider including those as well.
Step 8 – The Close
Before you wrap it up, you need to tell the prospects what they need to do next.
In other words, you need to create a strong call to action that will encourage them to finalize the purchase.
It should be clear, concise, and tell them exactly what to do, whether it's to buy a product, enroll in a course, schedule a call, etc.
Once someone is ready to buy, you want to make that process as simple as possible.
So, don't include complicated, multiple-step forms in your call to action.
One line of text, with a CTA button that stands out from the rest of the page will do just fine.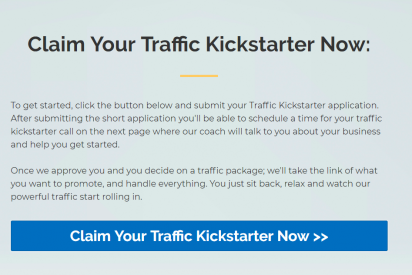 See how the CTA button "pops-up" and sticks out from the rest of the page?
Also, if possible, redirect them straight to check out once they click the "buy" button, and make the process quick and easy.
You can end the sales letter with a heartfelt post scriptum message. It should remind them why they're here in the first place and how much easier their life would be after picking up your solution.
Step 9 – Review
Once you've finished writing the sales letter, it's time to go over it a few times and make sure it's ready to be designed and posted on your website.
First, read aloud a couple of times to see the flow of the copy. If something seems out of place, too complicated, or confusing, consider rewriting that part.
Then, thoroughly go through the copy once more. Make sure there are no spelling or grammatical mistakes.
Also, pay attention to the structure of the copy. Try and envision how it would look after being designed. You want it to be visually attractive, as well as compelling.
Finally, make sure all your clickable links and videos (if you've included them) are working properly.
After you've done editing, your high-converting sales letter is good to go!
Conclusion
Writing effective, compelling, high-converting copy is a skill.
And like any skill, it can be learned. It will also likely take some practice before you get on the level where you're able to create killer sales letters with relative ease and reliably convert prospects into paid customers.
However, the steps I shared with you in this post will give you a great place to start. If you follow these 9 steps and include everything I listed in your sales letter, you can't go wrong.
Want to learn more about the art & science of writing high-converting copy that sells?
Then I invite you to enroll in the Wealth Academy Direct Response Copywriting Certification Program.
You'll learn how to craft powerful, compelling sales copy to consistently acquire new lead & customers and skyrocket your profits.
Click here to discover how you can launch yourself as a Wealth Academy Certified Direct Response Copywriting Specialist.
About The Author
Your Millionaire Mentor
Shaqir Hussyin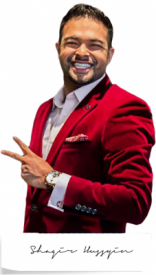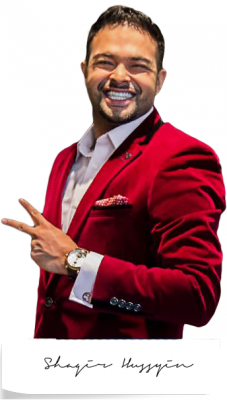 Shaqir Hussyin is the founder and CEO of WealthAcademy.com & Funnels.com. Nicknamed the "Backpack Millionaire", he's invested $350,000 into his own education and training. Whilst traveling to 100+ countries, Shaqir has built over 10+ million dollar brands and attracted over 500,000+ subscribers.
His signature program is now available: Max Income System; 14 Simple Steps To Making Your First First Income Online
Shaqir is also a highly sought-after speaker and direct response "Sales Funnels" global leader. Shaqir's work has impacted over 100,000 businesses in 65 different countries. Connect with Shaqir on Instagram, YouTube, LinkedIn & FB Group.
https://wealthacademy.com/wp-content/uploads/2018/11/9-Steps-For-Writing-A-High-Converting-Sales-Letter.png
315
560
Shaqir Hussyin
https://wealthacademy.com/wp-content/uploads/2018/02/logo-plain.png
Shaqir Hussyin
2018-11-03 11:00:47
2018-12-20 11:18:05
9 Steps For Writing A High-Converting Sales Letter